The orphanage for abandoned children on Weisenhausplatz 2/1 in the city of Königsberg was founded by the first Prussian king Frederick I on the day of his coronation, January 18, 1701, and was even called - the Royal Orphanage.
In the year 1925, a boy was brought there. According to the neighbors, the mother raising him herself had not appeared at home for a week. The kid, according to documents as Ulrich Schnaft, spent the first years of his life in this shelter until he was adopted by one German couple. Over time, he graduated from high school, and in a vocational school received a specialization in auto mechanics.
In 1941, the Third Reich called on the eighteen-year-old Schnaft and sent him as part of the Waffen-SS to the Eastern Front. Near Leningrad in 1942 he was wounded by a fragment. From the hospital they again sent to fight, this time to Yugoslavia, then to Italy, where in the summer of 1944 on the Po River he was safely captured by American soldiers.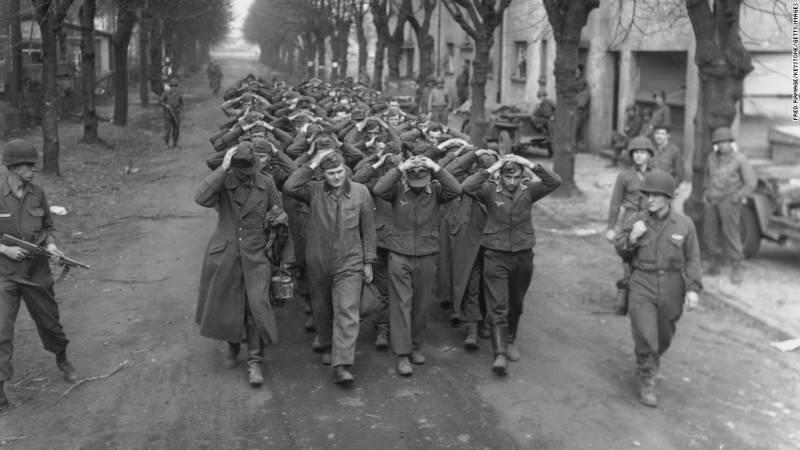 After sitting under the wing of the Red Cross in a prisoner of war camp for three years, he was released in 1947, as there was no evidence of his participation in war crimes.
He could not return to his native Königsberg, since he was transferred to the USSR, and therefore decided to settle in Munich. There Ulrich lived in a working dormitory, where he shared a room with a Jew named Leo Hirschberg. Deprived of income and starving, he listened with admiration to a neighbor who spoke about how charitable American organizations help Jews with food and money.
Who knows if it was adventurism or just an instinct for the survival of an orphanage, but only soon did another name appear on the list of recipients of assistance from the Joint. The Jews who survived the Holocaust often did not have any documents, so Schnaft was simply taken the word. And four months later, the newly-made "Jew" Ulrich Zis, not seeing any prospects for himself in Germany, joined the Jewish group of former prisoners of concentration camps going to Eretz-Israel. A former soldier of the SS troops, of course, did not become a Zionist, but considered that it would be easier for him to emigrate from Palestine to Canada or elsewhere.
On December 1, 1947, Ulrich Schnaft, together with a group of illegal Jewish emigrants, sailed on the steamer Hagan from Marseille to the shores of Palestine. Even before sailing, he changed his German name to a more Jewish one. Now Ulrich Schnaft was called Gabriel Zisman.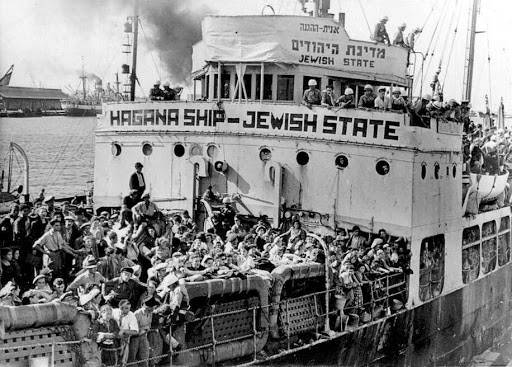 However, the ship did not reach Palestine. He was intercepted by a British cruiser and taken to Cyprus, where his passengers were placed in a camp for displaced persons.
In one of the tent camps, where displaced Jews were detained, whom the British refused to enter Palestine. Cyprus, August 1946 - February 1949
The delivery of Jews to Mandatory Palestine in 1947 was still illegal.
In mid-May 1948, Israel, which declared independence, demanded that the British immediately release all prisoners of the Cyprus camps. However, the Labor government of Clement Attlee allowed only the elderly, women and the sick to leave the camps. Only in January 1949, British Foreign Minister Ernest Bevin announced the complete closure of the camps in Cyprus.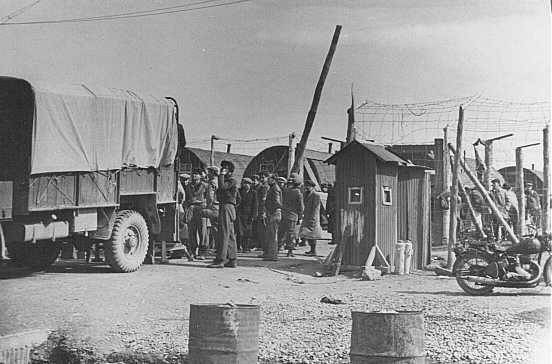 The last group of European Jewish refugees leaves the British camp. Cyprus, February 10, 1949
More than ten thousand repatriates, including Gabriel Zisman, were brought by the State of Israel from Famagusta to Haifa. Zisman was sent to the kibbutz Kiryat Anavim near Jerusalem, where he studied Hebrew.
After a while he was drafted into the army. Having finished the young fighter's course with honors (which is not surprising for a person with combat experience), he was sent to sergeant courses. Schnaft then served as an instructor in a sergeant school for some time and filed a request to go to the reserve. We took into account his "old" age for a soldier of military service (and he was already 27 years old) and the request was granted.
After demobilization, Schnaft worked as a mechanic near Ashkelon. He was quite often called up for reservist training as an instructor. After some time, on the recommendation of the military unit to which he was assigned, Schnaft was sent to officer courses.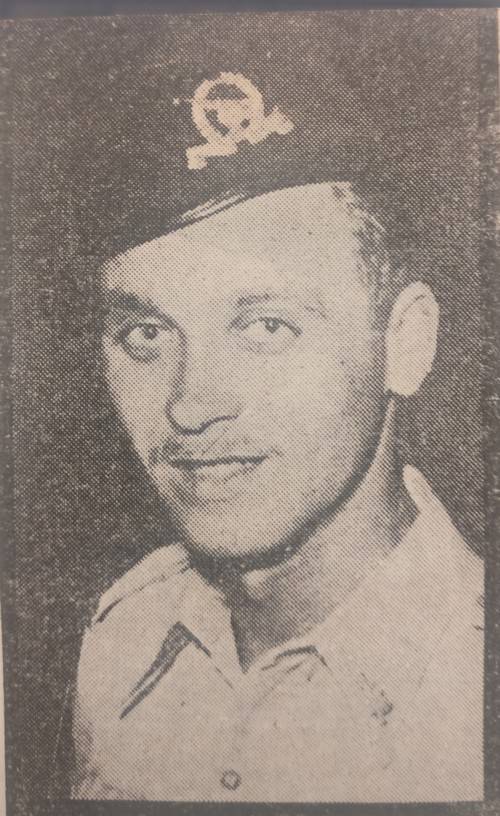 Ulrich Schnaft in the form of the IDF
After graduating and receiving the rank of lieutenant of artillery, he decided to make an army career and filed a request for transfer from the reserve to the personnel service. It can be assumed that this was the happiest time of his life. He had friends, work, a roof over his head. It should be noted that in those days the Israeli personnel army was very small, the number of officer posts in it was very limited, so there was a strict selection of candidates.
Schnaft, who graduated with honors from officer courses, had no doubt that he would be accepted. But, strangely enough, was refused. What exactly influenced such a decision is unknown. Perhaps even then there were some suspicions that Gabriel Zisman was hiding something from his past. There was also a rumor that once, being tipsy, he showed his colleagues the photograph in which he was in SS uniform ...
It is unclear, however, why the investigation of his drunken revelations was not immediately given. One way or another, dismissed from the army Zisman was again left without money. Having rented a room in Ashkelon from a couple of German Jews, he began to interrupt by casual earnings, again thinking about emigration.
Young and handsome, he became close friends with his master's wife, Margot. Their passionate, stormy love did not hinder the fact that she was almost 20 years older than him. Soon, the owner of the room demanded that Zisman get out, which he did, however, taking Margo with him. The newly made couple settled in Haifa, dreaming of returning to Germany, where meanwhile the Marshall Plan was in full swing and the "miracle" of rebirth from the ashes of the future strongest European economy was unfolding.
Two years later, they really sailed to Genoa, where they turned to the consulate of West Germany. But if Margo preserved German documents, then Zisman had only an Israeli passport, according to which it was impossible to enter Germany. Too little time has passed since the Holocaust: Israel boycotted Germany, emphasizing this in its documents. Germany also refused to apply for entry visas in Israeli passports. Upset Schnaft decided to confess everything to the German consul and told him his real
history
. But in the eyes of the consul, it looked like a complete fantasy, so Schnaft was simply put up from the consulate. Upon learning that her lover could not travel to Germany, Margot left him in Genoa and left alone. Soon her former husband followed her, which, however, Zisman-Schnaft then did not know. He had only two dozen dollars left in his pocket, and the instinct of self-preservation prompted him another adventure.
Schnaft turned up at the Egyptian consulate and at a meeting with the consul told his story, proposing a deal: he gives the Egyptians information about the Israeli army, and they give him money for this and provide entry to Germany. After hearing this story, the consul, without thinking twice, went to the Egyptian embassy in Rome, taking with him Schnaft.
Meanwhile, the Egyptian military attache in Italy, notified the Egyptian military intelligence of an unusual guest and was instructed not to enter into any transactions on the spot, but to send Schnaft to Egypt for inspection. Intelligence executives feared that Schnaft was working on the instructions of Mossad.
Snaft flew from Rome to Egypt with an Egyptian passport in a fictitious name issued to him at the embassy. He spent almost a month in Egypt, during which various military intelligence officials spoke with him. In three languages ​​(German, Hebrew and English) he told everything that he knew about the deployment and armament of the IDF units.
After checking the details of his story with the information that they had, the Egyptians were convinced that he was telling the truth. And then they made him an offer to return to Israel, to return to military service (preferably at one of the bases in the south of the country) and from there transfer information to Egypt. However, this was not at all part of the plans of Schnaft, seeking to get to Germany with his Margot. In the end, the Egyptians abandoned attempts to recruit him and provided him with a document that allowed him to enter Germany. And so, on March 16, 1954, Ulrich Schnaft flew to Frankfurt by plane of an Egyptian airline. In Frankfurt, he settled with his adoptive mother, Frau Klein.
In the second half of 1954, Ulrich Schnaft found Margot in Berlin and discovered that she and her ex-husband were together again. In desperation, Schnaft discovered Margo everything - both his German origin and the Egyptian epic. Maybe so he hoped to pity his beloved. His story, however, had the opposite result. It is not known what more shocked Margo: either that Schnaft-Sisman was an SS man, or that he became a traitor. One way or another, she rejected all his pleas and announced that she was staying with her husband. The unfortunate Schnaft said that he was returning to Frankfurt, but left Margot an address in case she did change her mind. Margot's husband somehow found out about his wife's meeting with her old lover and demanded an explanation from her. Locked to the wall, she confesses everything to him and at the same time tells everything that Schnaft told her about herself. The husband reports this "where necessary" in Israel ...
At this time, Schnaft's life finally went wrong. He earned little, but drank a lot and almost completely lowered. In early November 1955, he met at a nightclub with a charming military attache at the Iraqi embassy in France, whose name was Adnan ibn Adnan. They became friends, and Schnaft soon told him his amazing story. Then Adnan invited his new German friend to do a "small job" in the Jewish state. It was about economic espionage. Adnan said that, according to some reports, oil was discovered recently in Israel near Ashkelon. In Iraq, for which oil production is of primary economic interest, they have apprehended this information with great concern and are eager to find out the details. All that was required of Schnaft was to come to Israel and photograph the oil-producing infrastructure near Ashkelon.
Although not immediately, but Schnaft agreed. They agreed on both the price and the departure date. They spent the last week before leaving in Paris together. Adnan drove Schnaft to restaurants and bars. Schnaft was frankly afraid of returning to Israel, fearing the ubiquitous SHABAK, but the Iraqi captain was able to convince a friend that he was completely in no danger with new documents. Finally, on January 2, 1956, an Air France plane delivered Ulrich Schnaft to Lod. Half an hour later he was arrested and taken for interrogation.
Ulrich Schnaft almost honestly collaborated with the investigation. He even talked about meeting with Adnan ibn Adnan, having concealed, however, that he had received a task from the Iraqi, for the sake of which he arrived in Israel. Schnaft never found out that under the guise of an Iraqi, one of the leading Mossad agents Sami Moriah was hiding, who organized the capture of the unlucky spy.
Even in the summer of 1955, despite the fact that the damage from the betrayal of Lieutenant Zisman was minimal, in Shabak they decided to teach him a lesson as a warning to others. The operation was eloquently called "Enema."
As a result, Ulrich Schnaft was sentenced to seven years for contact with Egyptian intelligence and transmitting information to the enemy. There was no charge of espionage, since "Iraqi recruitment" was, in fact, a provocation.
For good behavior in custody, Snaft was released five years later and immediately expelled to Germany. How his further fate came about is unknown. Only once, shortly after the appearance in the West German press of an article describing his ridiculous life, a letter came from him to the Shabak. "Finally leave me alone," wrote Ulrich Schnaft, confident that the article was the work of the Israeli secret services. "I only sinned once, let me start a new life ..."
According to some sources, at the end of his life, Schnaft became a pastor and "friend of Israel." Who knows, maybe this is true, in the end, for the ex-Nazi and the unfortunate spy, service in the Israeli army probably remained the happiest period of his strange life.
By books:
Yosef Arganan. It was a top secret ("Zai haya sodi be-yoter").
Efraim Kahana. Historical Dictionary of Israeli Intelligence.
Eitan Haber, Yossi Melman. Spies: counterintelligence, Israeli wars.
Wikipedia materials, etc.