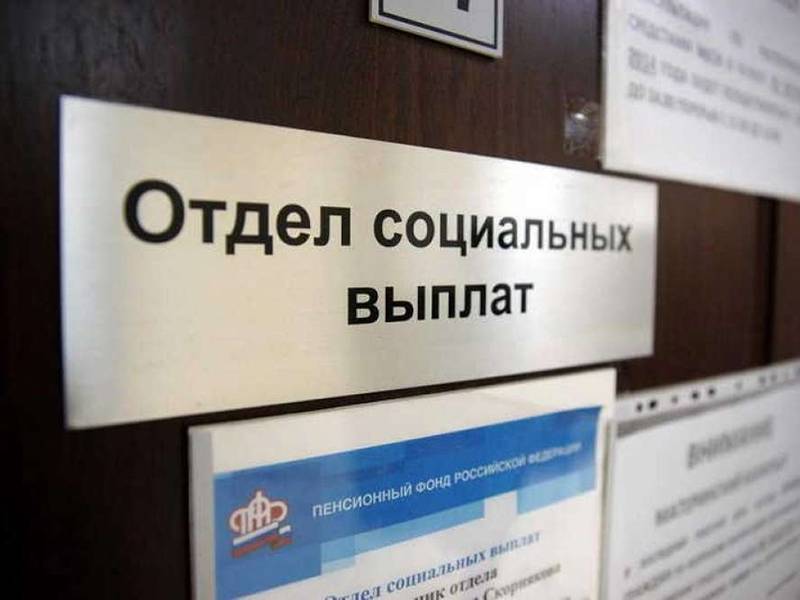 Dismissal as a fact
Shortly before the crisis, the highest-grossing film in Russia, if you remember, was the sci-fi "Serf". Now many people can consider the position of a slave as happiness. Already fit to shoot another box office movie - "Unemployed."
On Monday, April 6th, a call rang in my house in the morning. Together with colleagues, we have been working on a remote site for a week. The head of the department called: he told me to come to the office. However, for how urgent, for some reason I did not speak.
Perhaps, therefore, or not quite, but in general, immediately an unpleasant chill ran down my back. They will fire me, I thought (neither give nor take Stirlitz). Barely forced himself to get into the car and go to the side of work. Although the roads were almost empty, I was in no particular hurry.
The conversation with the boss, but actually a caring leader, began with the usual "about this" topic. We both understood that sooner or later it was necessary to go to the main thing, but we delayed this moment. Premonition did not deceive me - dismissal. Pretty disappointed, I trudged into the personnel department.
At the door to the holy of holies, the office of personnel officers, loomed colleagues who were also fired. They quickly signed documents and ran out of office with a light ambler. There were no scandals, much to my surprise. In fairness, I must say that I was treated fairly fairly, and at least some kind of airbag appeared, that is, money for a rainy day. And they, dark days, as you understand, have already come.
Shortly before dismissal
Be sure to make a small digression into the past. For more than four years I have successfully worked in a rather large company: there were more than 1500 employees, 15000 client companies, it was a recognized leader in the industry, white salaries were always without delay. Nothing foreshadowed the crisis.
And then someone in faraway China coughed, then fell ill, infected one, the other, and off and on went around the world, by April it had seriously come down to us. Of course, knowing our mentality, decisions of the government, the state of the economy, features of doing business and its relationship with the state, it was not difficult to predict a close collapse. And I began to develop tactics in advance on the subject of "what will I do if I remain without work." No job at all.
Of course, one does not need to be a visionary to anticipate terrible unemployment not only in our thriving industry, but also in Russia as a whole. In the world, however, too. Today, at 51, I can only hope for communication or a miracle. But in order not to die of hunger on the way to this miracle, you need to have at least some stable minimum.
That is why, already signing the documents in the personnel department, I asked for a certificate for the Employment Center of the capital. May the readers forgive me for describing already an almost indigenous resident of the region, which the whole country considers, if not overweight, then certainly full. Well, I live here in Moscow, what to do. Naturally, before visiting the Employment Center, I read the information, re-listened to the performance of the guarantor and got acquainted with the new decrees - both of him and the mayor.
Immediately pleased, although it is very similar to sarcasm, that "new" unemployed Muscovites were paid 19500 rubles a month. To the new - this means they were fired exactly in the crisis, and those who were kicked out into the street earlier - let them, they say, continue to interrupt their 7-8 thousand. However, to get, or rather, to get these 19500 for some time, you need a lot of patience and, let's say, some effort.
How to become an official unemployed. Instructions for use
First you need to take care of the set of documents. I must say right away that this instruction is for those who worked in white. For gray, black and IE (and self-employed) it may not be suitable. To have with you: passport, employment certificate, certificate of employment in the form (you should know in accounting), a diploma, or a certificate, who has what.
Next, you must certainly get to the website of the Moscow Employment Center "My work". Probably in other cities and regions there is definitely something similar. There are two ways. Either register directly or enter through the State Services website, which is now unfamiliar only to the lazy. There on the special page there is a detailed instruction on how and what to do.
By the way, they also chew on which pages of which documents you need to scan in order to send them to the nearest branch of the Employment Center. Fill in the required fields, apply scans and press the button. And the site, it turns out, hangs. Still, so many comers.
However, there is a way out if the site does not load. Try it late in the evening, at night, in the morning - it should go for a drive, and you'll coast your nerves. And then stupidly wait for the curator to call. Practice has already shown that it will take three to five days to wait. A lady called me four days later. And in a cheerful voice she began to ask clarifying questions. I suspect that her gaiety was nervous, because there are too many people like me.
Congratulations, you are accepted.
Fortunately, everything I sent came up to the format. And I myself fell into the parameters under the payment "in full." The merry lady was really amused and said that she would send me further instructions. And ... did not deceive. After a while I received a letter from her. Three files were sent to me in it: a communication scheme, a coupon, a memo.
The memo was briefly written about who I will now be in this life, the rules of behavior and the like. A meeting ticket is a relic of our past offline life. That is, it seems that you should come to such an address, to such an office, at what time and to whom.
This is actually not so scary. You don't need to go anywhere, you don't even have to get up from the sofa. All letters. Electronic, mind you.
Finally, the third document is what you need to prepare and send on the day of the "meeting". It's better not to be late and do everything at the appointed date and time. Even a little earlier. I was assigned to 9:15. I sent the documents at 7:45 a.m., just in case. It makes the task easier by sending them to the curator's regular email address.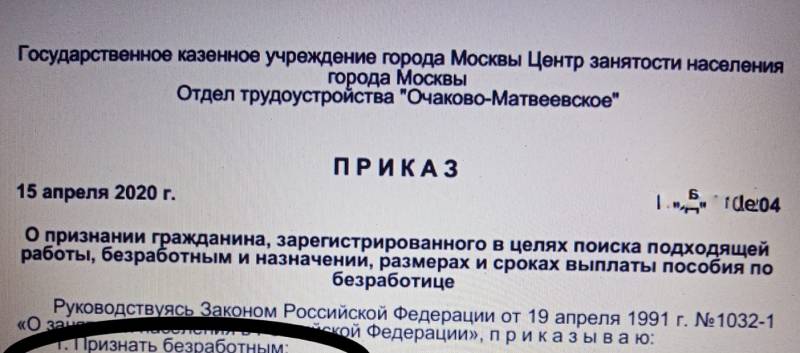 In general, the work has been done, but in a little more detail: what kind of documents? These are scans of the passport and labor pages that he sent earlier. But, now you hold them in your hand, and in the other you have a sheet with a date and signature. It turns out funny, quite for Instagram or other social networks, purely neighing.
But without laughter, the pages of the passport are the first spread, where there is a photo and so on, and a page with a registration. The scans of the labor page are almost the same: the first and the last, which says that you are fired. By the way, I just repeated my letter to the fireman with details and a resume.
Then again you need to wait, but not for long. Literally on the same day I received an order, even several. In the first I was solemnly declared unemployed and assigned a benefit of 12 thousand with a penny. In the next few orders, I was accrued some additional amounts from this and that, and as a result, those same 19500 rubles were accumulated.
What I, frankly, am incredibly happy (again sarcasm, but without fanaticism). I regularly contact former colleagues, friends outside the former company, read information resources as summaries from the theater of operations, and I understand that what could be worse next. So even such an amount may not let you die of hunger.
Of course, I'll try to find a part-time job, as getting a profile at this time is almost impossible. Anyway, the labor market now is a kind of lifeless desert with rare islands of intense activity: couriers, couriers and once more couriers, plus a few drivers and courier drivers.
Instead of an epilogue
Oh yes, when there will be a payment, I don't know yet. I'm waiting for the coveted SMS message and the ringing of money dropped on the card. But still I feel myself standing on the porch, sorting through coins in a hat.
It's interesting, but how does that very "zero" patient feel in China (and whether in China), which brought down the economies of the whole world? I do not mean physical well-being, but moral. Although what to take from him, he did not build economies, but he was able to destroy it with one cough.