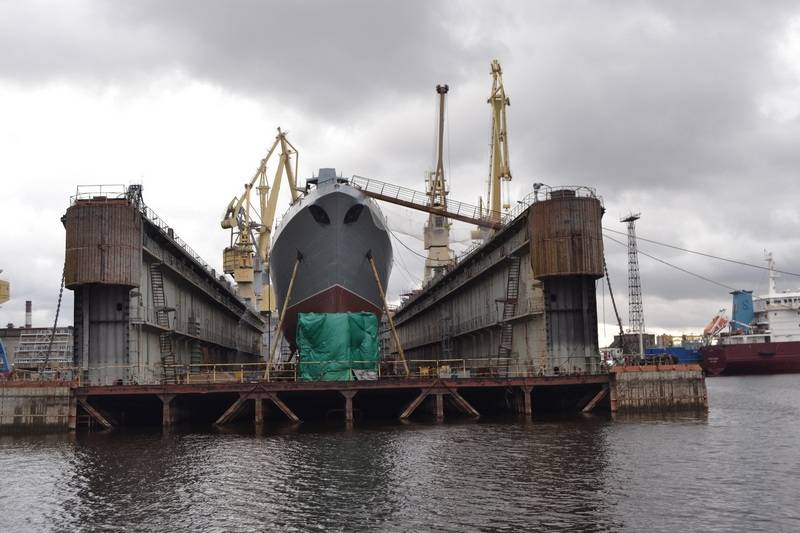 The second serial frigate of project 22350 Admiral Golovko is preparing to launch. The ceremony is scheduled for late April or early May of this year. This was reported by the press service of the "North Shipyard", leading the construction of ships of this project.
According to a press release, the frigate has now been moved to a floating dock; the ship was taken out of the boathouse at the end of March. Outboard work is underway on the ship, the underwater part of the frigate is painted. Launching is scheduled for late April - early May.
Earlier it was reported that the frigate is planned to be launched during the summer of this year.
"Admiral Golovko" is the third ship in the series of frigates of project 22350 and the second serial. Laid down on February 1, 2012, transmission
the fleet
scheduled for 2021. At present, the head frigate of project 22350 Admiral Gorshkov is serving in the Russian Navy; the first serial Admiral Kasatonov is getting ready for commissioning. The fourth frigate of the series (third serial) "Admiral Isakov" was laid down on November 14, 2013 and is under construction. On April 23, 2019, two frigates of this project, Admiral Amelko and Admiral Chichagov, were laid down at the Northern Shipyard at once.
Note that Admiral Golovko is the first frigate of project 22350 with a fully Russian power plant. The leading and first production frigates of Project 22350 - Admiral Gorshkov and Admiral Kasatonov - are equipped with diesel engines of Russian production, but gas turbine units (GTU) manufactured by the Ukrainian company Zorya-Mashproekt are used as afterburners. At the "Admiral Golovko" installed domestic analogue of the Ukrainian gas turbine. According to open information, the main power plant of frigates of project 22350 is a gas turbine engine with a total capacity of 65 thousand liters. from. and diesel generators with a total capacity of 4 thousand kW.
Recall that the ships of project 22350 have a displacement of 5 thousand tons with a length of 135 m and a width of 16 m. The frigate is able to cover 4500 miles, while developing a speed of up to 29 knots. Autonomy of swimming is 30 days. Crew - from 170 people.
The frigate is armed with: the 130-mm A-192 artillery mount, the Poliment-Redut anti-aircraft missile system; launchers for 16 anti-ship missiles "Onyx" or "Caliber", anti-submarine complex "Package", anti-submarine helicopter Ka-27.