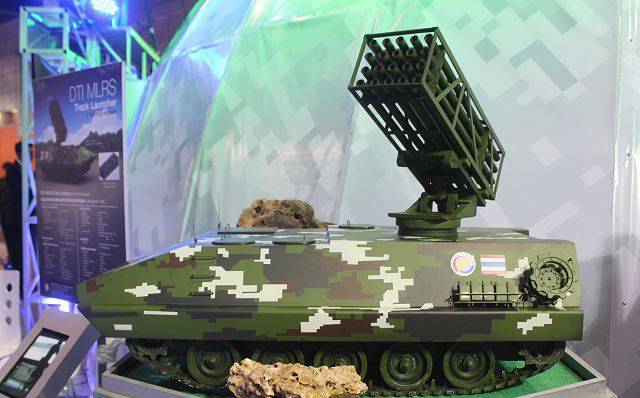 It turned out to be not so easy to choose a photo for your extravagant idea. But, in general, what I intended is most similar to the T-85 MLRS developed in Thailand, only a concrete body, instead of tracks, augers, and instead of a launcher, a manipulator with a cartridge loaded with rockets
In a boring time of the coronavirus epidemic, what else can you think about, if not about future wars and weapons intended for them? No disease will stop this ancient occupation of mankind, and if so, then new ideas in the field of weapons will also come in handy.
Automatic shock robots is my concept, which has been developing in pieces for several years. It differs sharply from what is usually offered in military robotics, and differs in this. Let me remind you of my thought, more than once expressed that
weapon
one end is associated with battle tactics, and the other end is related to industry. This idea is also suitable for analysis, for example, in an article about BMP-1, when it was necessary to identify the tactics under which this machine was created. It is also suitable for creating concepts for new military equipment.
Most often, equipment and weapons are designed from the tactical end. This is a well-known desire to obtain equipment with higher tactical and technical characteristics. The military put forward requirements for performance characteristics, and designers and industry must contrive to make it. This is one of the most compelling reasons for the inhibition of the development of military equipment when the wishes of the military go beyond what is realized in metal or when the requirements are contradictory and there is not enough ingenuity to combine them in development.
But you can, after all, create technology from the industrial end. A model is being made that the industry can produce easily and simply, in-line, with acceptable characteristics, not necessarily outstanding. A typical representative of such products is the STEN submachine gun, in which the main requirement was the simplicity of design and production. Not the best was this submachine gun, but they produced it decently.
So automatic shock robots can be designed in the same way, from the simplicity of production. The simplicity of production allows the production of such machines in-line and flood them with a theater. The goal is mass. The mass nature of automatic and autonomous robots dictates a fairly simple tactic. Either it simply collapses with the whole mass and destroys the enemy due to a sharp superiority in numbers, or simply beat it without stopping until the enemy is destroyed or runs. In the operational-tactical sense, this is the realization of the slogan: "Fight not with people, but with iron," but in a strategic sense it is a direct exchange of industrial potential for the mobilization potential of the enemy. Automatic shock robots need a fully or highly automated industry, and then you can fight and knock down an enemy with an incomparably large mobilization potential, for example, a country like China.
I will not describe in detail the whole chain of thoughts that led to this concept, but I will immediately outline its essence. An automatic shock robot is a fully autonomous crewless machine that can move independently, find targets and fire at them, replenish ammunition and refuel. That is, in addition to purely combat missions, the robot must be able to perform a number of transport and supply functions, which are also part of the fighting.
Shell
The main thing in any combat vehicle is what it hits the enemy with, that is, a shell. The projectile should be at the same time as simple as possible in design and efficient. Only one type of ammunition meets these criteria - a missile. After some thought and comparison, I took the Type 107 75-mm projectile as ammunition. The Chinese model, obviously, came from German rockets during the war, only Chinese designers reduced it in size and caliber, making it more compact and convenient. It does not require a launcher, and even more difficult to manufacture a gun barrel.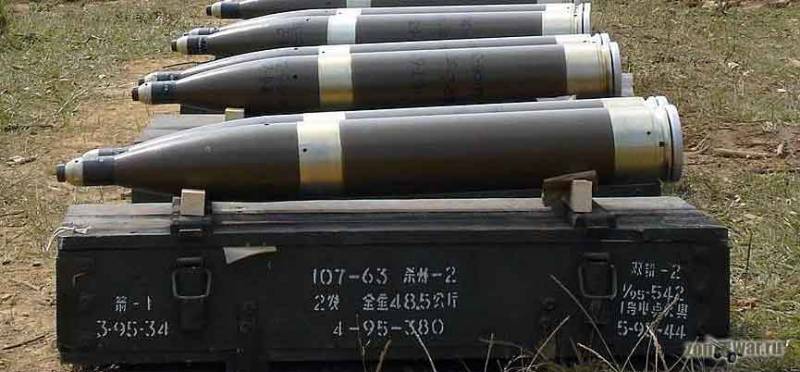 The prototype of the projectile is a 107-mm Type 63 missile. It's hardly easier to come up with
Now improvements to this ammunition. Metal for the warhead and combustion chamber - to hell. Both must be made of concrete or silicalcite. Concrete pipes of the corresponding diameter of about 100 mm and a length of up to 4 meters are manufactured on automated lines, for example, СМА-256. In a similar way, you can create an automatic machine for forming conical head parts. It is possible to make a nozzle washer out of concrete, and a connection of the head part with the combustion chamber, so that in the whole projectile there can be only one metal part - a fuse socket, the size of which is slightly larger than the nut.
The search for the most technologically advanced rocket fuel and explosives led me to an interesting option - ammonium dinitramide. It can be used both as explosives, slightly inferior to TNT, and as a component of rocket fuel. There is an interesting Swedish patent of 2005, in which formulations of liquid monobasic rocket fuels are given. For example: 61% ammonium dinitramide, 11,3% ethanol and 27,7% water or 62% ammonium dinitramide, 12,5% ​​ethylene glycol and 25,4% water. It is believed that the addition of polyethylene glycol can make this liquid rocket fuel solid or gel, which will allow it to be used in rockets.
Ammonium dinitramide melts at 92 degrees C, which allows it to be poured into the warhead as TNT. In addition, the production process allows you to get this substance in a mixture with ammonium nitrate, that is, a finished mixed explosive.
Using the same substance as an explosive and oxidizing agent is a great technological advantage that simplifies the entire ammunition production cycle.
Concrete auger
For the projectile you need a car that will transport them and will shoot them. What it is? First of all, it is a screw conveyor, as the most passable and suitable type of equipment for all terrain. The auger also makes it possible to simplify the chassis design as much as possible: four bearings and a transmission with transmission to two augers. Easier can hardly be imagined.
Secondly, the body of the machine is concrete or silicalcite reinforced with reinforcement. One part of it is a kind of "soap box", which includes embedded parts for installing screws, transmissions, engine mounts and other equipment, as well as connecting elements. This is, in fact, a boat that creates buoyancy cars. The upper part of the case is a block of protective-enclosing structures, also of reinforced concrete or silicalcite, which are connected by embedded parts to the lower part of the case and "monolithic" with it. The technology is taken from block housing construction. They protect the car from enemy fire. In general, protection is not an absolute priority; a wrecked car can be disassembled and used parts suitable for repair or construction of a new one.
Thirdly, the layout. The engine, transmission and current generator are in the lower part of the stern, the fuel tank in the housing between the screws (it does not have to be steel, it can just be a recess in the lower part of the body, closed with a stove top and sealed with polymer), a computer in the front of the body, protected by a steel casing and protective enclosing structures, the thickest in the frontal part and front of the casing. Here is the battery. The compartment for shells is centered in the upper part of the body, in which the shells are stacked in a dense stack.
The engine is rotary, in which the role of the pistons is played by the trihedral rotor rotating inside the cylinder of a special shape. Good idea of ​​the German designers Walter Freude and Felix Wankel. It is the most compact and powerful internal combustion engine. Modern models with a volume of 1,3 liters give 250 "horses", which is quite enough for an impact robot.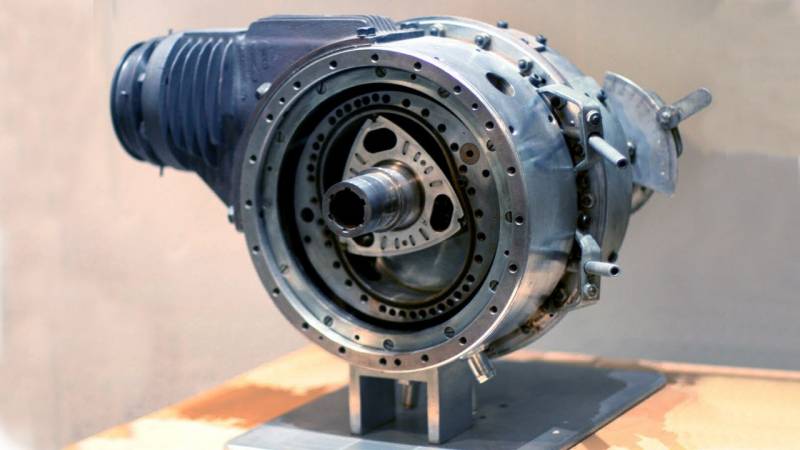 Rotary engine - a miracle of German technology
The engine is very torquey, due to the fact that it gives out power for three quarters of a revolution of the shaft. It has much fewer parts than a piston engine, and the task of processing a complex cylinder can be solved by an automated processing complex or injection molding, if the cylinder is made of silumin.
Such an engine can run on gasoline or ethanol, which is more preferred. The same substance as a motor fuel and a component of rocket fuel is an important technological advantage.
How does it shoot?
Very simple. The shells are packed in cassettes, welded from steel strips, four shells per cartridge. The weight of the equipped cartridge is about 100 kg. Shells are released from this cartridge, which is simultaneously guides for them.
Cassettes are lifted from the ammunition by a special manipulator, similar in design to industrial manipulators.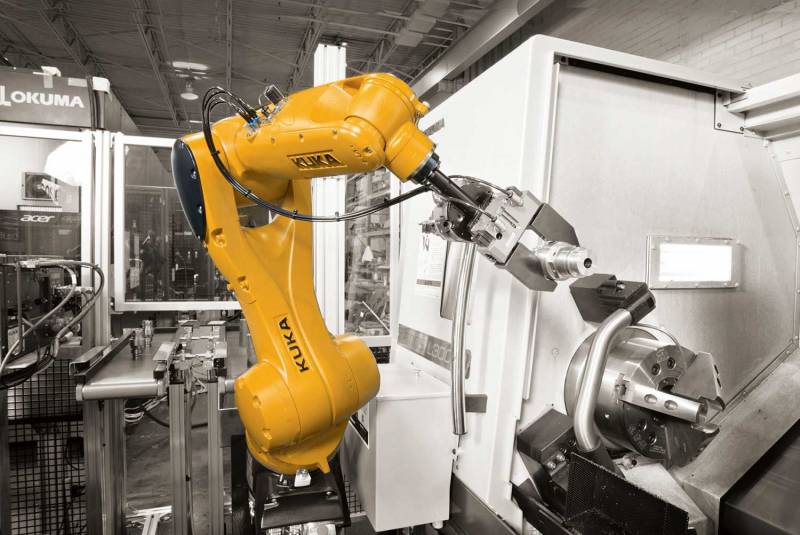 Industrial manipulator at work. They are not made for battle conditions, but manipulators are not so difficult to adapt to this. It can be fully electric, and can also be protected by an armored casing.
This manipulator must lift the loaded cartridge, ensure stability during start-up, be protected from the effects of a jet stream, as well as damage by bullets and fragments. The degree of freedom of the manipulator should be such that without any difficulties take any cartridge from the ammunition compartment, and also, after firing shells, take the cartridge outside the vehicle's overall dimensions and drop it to the ground. Also, the manipulator must have a sufficient reach beyond the size of the machine in order to be able to reload cartridges from another machine or truck, as well as from a stack on the ground. Guidance in azimuth and elevation is carried out by changing the position of the manipulator, for which it is equipped with rotary mechanisms. This will allow shells to fire direct fire, on a flat or mounted trajectory.
If enemy fire was shot down or damaged by a manipulator, the machine can act as a transport machine, distributing cartridges with shells to other robots.
Control, navigation and aiming
Autonomous shock robot is controlled automatically, offline. The basis of management is a digital map of the theater of operations, pre-compiled and loaded into the memory of the machine. The map is compiled according to the Earth's remote sensing data, it indicates the areas accessible for the movement of cars, as well as the main data characterizing the available areas: roads and lanes for movement, their length, direction and width, slopes of roads and terrain, main obstacles, etc. . data. When constructing a route, the robot primarily uses electronic map data.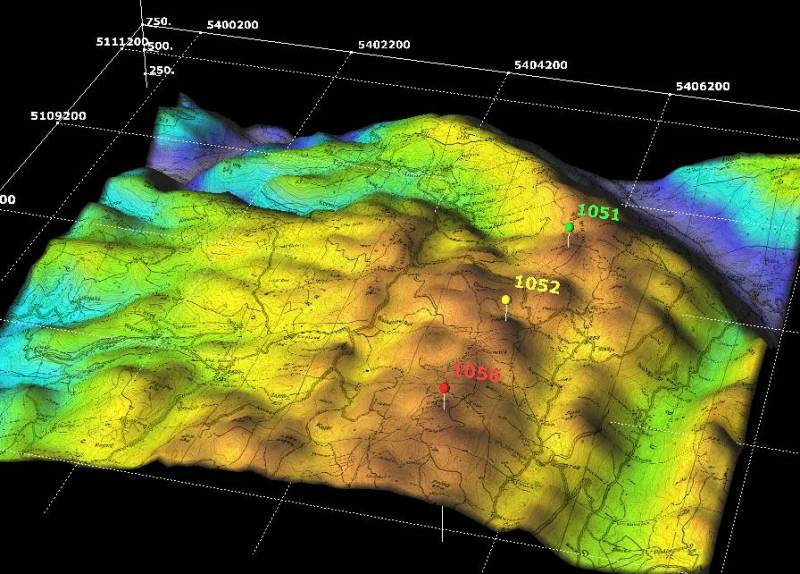 A typical example of an electronic map is a three-dimensional terrain model. The robot does not need to spend computing power on building visualization, it will perfectly manage the digital database
The robot is also equipped with a gyrocompass for determining the azimuth of movement, pitch and roll angle sensors, a positioning system either by satellite signal, or before triangulating the direction to the beacons. An additional navigation system is dead reckoning, which on the earth will be quite accurate. For direct observation of the traffic situation - laser range finders searching for obstacles and measuring the dimensions of the passage in the front and rear of the machine.
For aiming, a matrix thermal imager is used with a resolution that allows you to classify targets by temperature (a person, a machine with a working engine, a flash of a shot), as well as infrared sensors to detect targets near. You can also install an acoustic system to detect the location of the shot. For aiming, external target designation commands can be used, which are transmitted over the air via short messages, for example, the tactical number of a machine or unit, command code, coordinates and type of target.
An infrared laser rangefinder is used to communicate between machines and recognize their own. Their cars are recognized by reflectors (which is necessary to maintain intervals of movement and combat order), as well as by scanning a tactical barcode or QR code printed on the side of the car.
I will confine myself to a brief description of the main percussion machine, without a special deepening in the technical details. But this is not the whole concept, of course. It includes a number of ideas related to the automatic production of machinery, ammunition, fuel, automatic transport from automatic plants to theater of operations, as well as
aviation
reconnaissance and cover, also automatic.
There must be a lot of fighting robots. As a rule, they should act with lava, sweeping away the enemy with fire. Losses do not matter; no matter how much the enemy knocks out or damages robots, others will replace them and repeat the attack, until the moment when there is nothing left of the enemy.