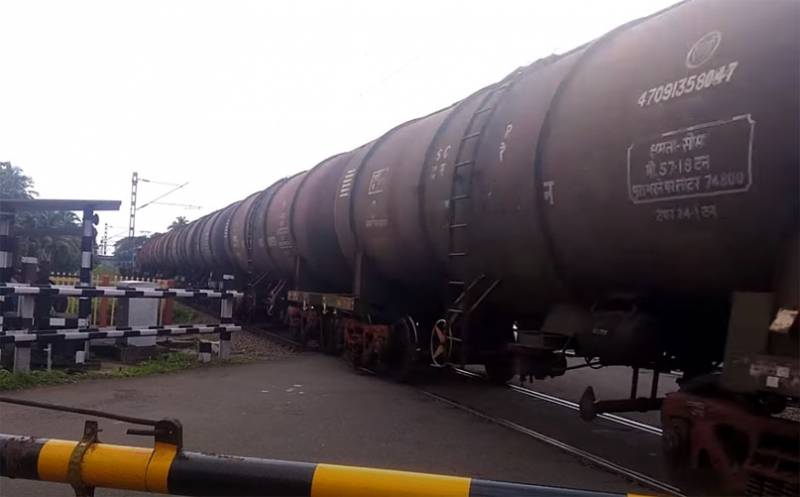 It seems that in countries whose economies are most closely tied to energy exports, primarily in Russia, it was too early to draw a conclusion on the agreement concluded by OPEC + countries on an unprecedented reduction in the production of "black gold". Contrary to expectations and hopes that in this way stabilization of prices in the global oil market will be achieved, practice shows very different trends. Because of this, negative assessments of the further development of the situation sound more and more often, leaving no room for optimism.
Analysts from the reputable business publication Financial Times made one of these forecasts, expressing serious doubts that the agreement reached the other day could play the role of a "lifeline" for the oil industry that is rapidly sinking. According to them, a vicious vicious circle has formed in the markets, which oil exporters are simply not able to break out of. The main obstacle to stopping a further fall, and subsequently everyone's expected increase in hydrocarbon prices, is an unprecedented surplus of raw materials resulting from a record drop in demand caused by the COVID-19 pandemic.
There is every reason to conclude that the current decline in world oil consumption by 30% is not yet the "bottom", starting from which, the industry will be able to start moving to higher prices. The overfilling of oil storage tanks, already practically achieved in most countries, will continue to push exporters to sell "black gold" at low prices, thereby spinning the dumping wheel.
The Financial Times is inclined to believe that countries today are unacceptably delaying production cuts (recall that, according to the agreements reached, it is planned for the end of April - beginning of May) in the future, it will be necessary to take a break - that is, generally stop their drilling rigs due oil storage overflows.
It will be possible to speak of any recovery in the markets, and, consequently, an increase in energy prices, only after humanity, having passed the peak of the pandemic, begins to restore active economic activity. First, the accumulated excess reserves will be used up, and then a new demand for oil will arise, which will form its real, not "coronavirus" cost. A recent deal in this aspect has a meaning and a sense of a rather psychological nature. Perhaps its participants will continue to refrain from too abrupt movements, ill-conceived market interventions and trade wars.
It should be understood that a pandemic that has caused enormous damage to the global economy is still not a global thermonuclear war or a natural cataclysm of planetary proportions. To say that long after the decline in the outbreak of this disease oil prices remain at their current, completely inadequate level would be a great exaggeration. Sooner or later, the world will return to normal life and begin to consume energy resources on a familiar scale. Then, market participants will have to build relationships in a new way, it is extremely desirable with greater understanding and respect for each other than before the crisis.
However, all this is a matter of the future. I would like to believe that it's not too far away ... For the time being, alas, pessimistic forecasts are being justified. In the evening of April 14, oil began to fall on world stock exchanges, for the first time since the last transaction of OPEC + fell below $ 30. The price of the Brent brand fell during the auction by 5,7% to $ 29,93 per barrel, WTI - by 6,83% to $ 20,88 per barrel (20 hours Moscow time). By the way, things are even more sad in the USA: there, for example, CLc1 oil from the US West Texas Intermediate (WTI) fell to $ 20,11 per barrel after statements were made that by mid-May the state had "black gold" in the state I will be filled to capacity.
In this case, it seems, it remains only to be patient and hope that the crisis will be overcome as soon as possible.