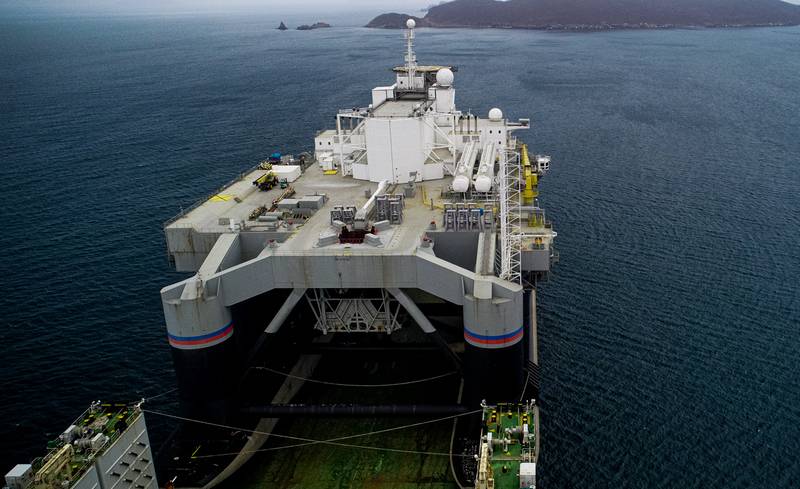 Roscosmos is considering participating in the resumption of launches from the Sea Launch floating spaceport since 2024. This was reported in a letter to the state corporation aimed at enterprises of the state corporation.
Roscosmos instructed its subsidiaries to work out the possibility of participating in Sea Launch. In particular, the RCC "Progress" was charged with evaluating the cost of developing the Soyuz-7 rocket for launches from the offshore platform, the cost of mass production and other costs for launching. In addition, the assessment of the competitiveness of the Sea Launch in comparison with Baikonur and Vostochny should be subjected to analysis, and most importantly, it should assess the cost of repairing the Sea Launch launch platform itself and the command ship, as well as the costs of maintaining them.
Recall that the launch platform itself and the command ship are currently located in Slavyanka Bay near Vladivostok, where they were moved from the US California coast after all rights to the Sea Launch were transferred to the Russian group of companies S7.
As part of the purchase of Sea Launch, the S7 Group transferred the entire project property complex: the Sea Launch Commander assembly and command ship (from which launch control is carried out), the sea launch site itself - the Odyssey mobile launch platform, ground equipment in the Long Beach base port and intellectual property rights owned by Sea Launch, including trademark.
The international Sea Launch company appeared in 1995 with the participation of the Russian RSC Energia, the American Boeing company, the Norwegian Kvärner, as well as the Ukrainian enterprises of the Design Bureau Yuzhnoye and Yuzhmash, which produced the Zenit rocket for the cosmodrome 3SL ", the only one adapted for launch from a marine spaceport. A total of 36 launches were made, of which 33 were successful.
In 2014, the spaceport was mothballed after the last rocket was launched. Russia has ceased to supply to Ukraine components for the production of rockets, including RD-171 rocket engines.