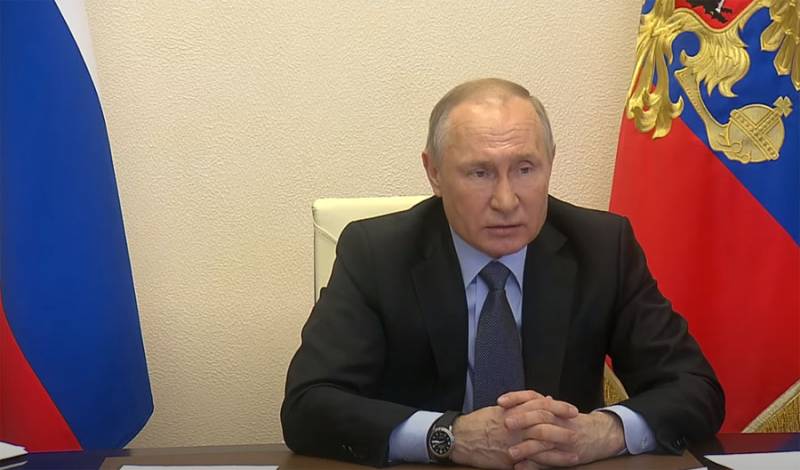 The Levada Center public opinion research service today publishes on its official website the results of a survey called "Attitude to Vladimir Putin". The survey was conducted in the "pre-self-isolation" period - from March 19 to 25, covering 1624 citizens over 18 years of age. A survey was conducted in 50 Russian regions.
Respondents were asked a few questions. The first of them was as follows: "What words could you indicate your attitude towards Vladimir Putin?" (it is reported that the respondents were given a card in which the options were presented - it was necessary to choose one of the presented).
27% of respondents said the answer: "I can not say anything bad about him." 20% declared sympathy for the incumbent president, 9% declared "admiration".
16% of respondents said that they treat Putin with indifference, with caution - 9%, with antipathy and disgust - five and three percent, respectively.
Another question was what attracted respondents to Vladimir Putin? According to the survey, 42% said that he was attracted to his political experience, 25% - energy and determination. 5% noted Putin's ability to compromise. 21% of respondents found it difficult to answer.
To the question "What do you dislike about Vladimir Putin?" Levada Center respondents responded as follows: 14% said he was "alien to the interests of the people" and "he is connected with corrupt politicians," 13% said that he had a connection with large capital, 11% said that Putin was not managing the country, 8% of the respondents tend to believe that his actions are designed primarily to increase their own popularity. 3% consider Putin a short-sighted politician.
The answers to the question, "What segments of the population does Vladimir Putin rely on?" Contained the following data: security officials - 46%, oligarchs, bankers, large business - 37%, bureaucracy and the bureaucracy - 27%. Only 18% of respondents believe that Vladimir Putin relies on ordinary people - workers and employees. 9% are sure that Vladimir Putin relies on the former Yeltsin circle.
At the same time, 38% of respondents (and this is a record in Levada Center polls since 2000) believe that Vladimir Putin expresses the interests of the oligarchy as president, 37% - siloviki, 16% - "ordinary people".
Recall that the Levada Center is included in the register of non-profit organizations performing the functions of a foreign agent.