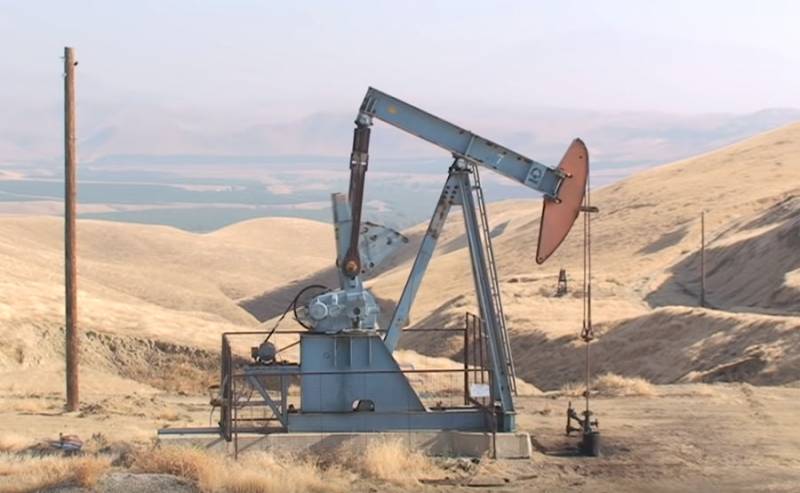 On the night of Friday to Saturday, oil producers of 25 countries, which Mexico soon joined, put their virtual, but legally valid signatures on an agreement to reduce quotas for oil production around the world immediately by 10 million barrels per day.
Such a decrease should provide the necessary balance of supply and demand, while maintaining oil prices at a level that should provide the opportunity to develop low-margin deposits in Russia and implement shale projects in the United States.
However, let us not rush to the allegations that on April 10 a new oil and gas era began. The real crisis in the global economy is just beginning, and even the return of China from the state of the semi-committee practically does not change anything. The fact is that the process of collapsing sales markets for Chinese products is growing, although quarantine in Europe may have to be completed quite soon. Just because further it will only get worse. And not only according to the very statistics of deaths stretched.
Oddly enough, the signing of a new agreement from the OPEC + series was a surprise for many. But was it worth it to count that the game of Russian roulette with six rounds in a drum would really continue? Now it remains only to assert on the Internet that Russia is "bent", and in any case it will be a loser.
I would like to ask the authors of such posts and blogs: why did you vote that way about the divorce from OPEC and the spectacular March demarche of Minister Novak? They raised a panic, drove a wave, as is now done with a pandemic? Most likely, it is, although it is not necessary to blame for the engagement of those who are ready to vote for free at least ad infinitum. And it doesn't matter which way.
So, on the night of April 10, after hours of vigil at the huge monitor screens of the country, oil producers signed an agreement in the OPEC + format. At first, not everyone signed: Mexico started, which a week before was ready to ship "black gold" to American tankers for nothing. Just not to completely cover up your oil production.
But passions subsided unexpectedly quickly, unlike the negotiations themselves. However, the negotiations turned out to be protracted largely due to technical problems and translation difficulties. Mexicans were generally taken away surprisingly promptly, in just a day, and not without the personal participation of the American president.
It soon became known that the United States simply took over almost the entire Mexican quota. And with what promises Donald Trump managed to cope with American private miners, more precisely, with the entire oil lobby, is not so important. After all, Russia had previously been told about Russia that it had refused the deal in March only because the United States was not attracted to it.
Well, it turns out, and did it right? And let the current levels of decline can not be compared with March. But the situation in the world economy is much worse now, which means that there is no reason to count on the return of demand. The new agreement, we repeat, assumes the largest
stories
reduction in oil production. It will be 10 million barrels per day; this is a tenth of global consumption before the onset of the coronavirus pandemic.
These strange old scores
The OPEC + deal in the April edition, with the participation of 26 countries at once, seems to put an end to the price war on the oil market that erupted in early March between Russia and Saudi Arabia. But whether it poses a big question. The XNUMXst century is not the time when any treaties are respected for a really long time and by all. Over the past few years, the United States has accumulated too rich experience in this regard.
We must not forget that the same owner of the White House always has a "excuse" in his pocket in the form of a reference to the fact that the American oil industry is by no means state, but almost 100 percent private. Russia, on the other hand, entered into tougher agreements with OPEC not at all threatened by a more serious decline in production volumes.
Characteristically, this is exactly what very many are ready to say now, starting with Leonid Fedun, who is by no means the last post in LUKoil, who compared the deal with the Brest Peace. The comparison, of course, is beautiful, but the representative of Russia at the talks, Minister of Energy Alexander Novak, was simply satisfied with the fact that someone else would not be able to use the deal.
In fact, it is unlikely that anyone seriously could doubt that in the month after the "oil divorce" in Vienna, the minister did not manage to get acquainted with the position of not only authoritative representatives of the industry, but also the president of the country. Now it is absolutely certain that the time has come to draw some conclusions, albeit intermediate ones: too many unknowns arise with the pandemic and the crisis.
But in any case it is necessary to evaluate the gains and losses. It would be nice to figure out who is right: those who are already blowing fanfare in honor of the great victory of Russia, or stubborn defeatists. But first, let's say a special thank you to the American leader for having involved both Mexico and Brazil in the agreements with OPEC, and also did not play too openly on the contradictions with Venezuela, leaving even the "favorite" topic of drug trafficking out of the blue. And quotas, production volumes at least three to four months in advance and the prospects for new fights for markets will be considered and evaluated later, at the exit from the coronacrisis.
So, we are told that Moscow will now have to reduce production by almost four times against what it refused in early March. We verify this statement. Now Russia and Saudi Arabia have to cut production by two months by 22 percent from 11 million barrels per day, that is, up to 8,5 million barrels per day. We get no more than 2,5 million barrels.
Critics of the Russian delegation at the virtual conference now recall 600 million barrels, for which Alexander Novak came to Vienna in early March. Most likely, this is really a real number, but Moscow already understood that it was unlikely that it would be possible to defend this "minimum" quota, although it was very suitable as a starting position for bargaining.
However, the OPEC proposal with a quota of 1,5 and even 1,6 million barrels, which followed almost immediately and without any hint of the possibility of discussion, was an unexpected and extremely unpleasant surprise for the Russians. In such a situation, the departure of our delegation from the meeting of the monitoring committee was, you see, quite justified.
It is difficult to say what would have been possible to bargain with OPEC in a different way, but most likely it would have been a million barrels with a very solid hook - in the amount of 200-300 thousand barrels at best. Russia, in fact, preferred to put the entire oil and gas market on hold, accepting as a necessary evil a very substantial financial loss. Solid, but temporary. And all this, we recall, was still under the March, fairly steady demand for hydrocarbon raw materials.
Everything did not change all of a sudden
Over a month after that, too much has changed: both in the sphere of oil production and in the global economy as a whole. After an unprecedented drop in the market of millions of Saudi barrels, the natural reaction of the markets was a catastrophic drop in oil prices, reaching 27 percent in just two trading sessions.
But at the same time, quotations of the national oil company Saudi Aramco fell along with oil prices. Meanwhile, Donald Trump for some reason decided to share optimism about low oil prices, and immediately gave the go-ahead for large-scale purchases of fuel in the US strategic reserves. And after that, China hurried to acquire a record high amount of Russian oil.
The demand for "black gold" continued to decline, not only and not so much because of the oil war, but for a completely different reason - due to the stagnation of the world economy that began. The increase in the notorious Russian "reduction quota", as we see, is approximately twofold, now no longer looks any unique. For example, Saudi Arabia has a new quota more than March quota by at least 60 percent.
In addition, there is no certainty that Riyadh seriously intended a month ago to "squeeze" immediately by 1,6 million barrels. Otherwise, why then try to "bend" Russia so? A simple calculation shows that, compared with the March proposal from OPEC, Russia now also faces no more than a 60 percent increase in the quota.
Summing up, we note that other countries in April also incur significantly increased reduction commitments, in addition, as you know, the new deal turned out to have much more participants than in March. By and large, there are simply no dodgers now. Not at all - this is exactly what Russia sought first.
However, Russia, like other parties to the OPEC + deal, is worried that the new quotas may turn out to be an "insufficient response to the crisis." The imbalance in oil production and consumption due to the coronavirus pandemic is enormous. OPEC Secretary General Mohammed Barkindo estimated it at 30 million barrels per day and called it "extremely frightening."