Photograph by Camillus Sidney, 1849-1901. Library of Congress Jeronimo - with a long rifle in his hands on the right
Before judging the flaws of other people, look at the traces of their moccasins.
Aphorism of the American Indians
Native American War.
Among the Indian leaders who fought with the US Army, the name of the leader Jeronimo (in the Meskalero-Chiricauan dialect of the Apache Goatlai, "The One Who Yawns") is one of the first. He was born in June 1829, and died on February 17, 1909. The legendary leader of the Chiricahua Apache, he led the fight against the invasion of whites in the lands of his tribe for 25 years, and only in 1886 was forced to surrender to the American army.
Shirt Apaches. National Museum of the American Indian, Washington
It is believed that he was an outstanding leader and healer of the Bedochka tribal group, among whom he was born and which belonged to the Apache tribe. From 1850 to 1886, Jeronimo, along with three Indians of the Apache Chirikaua-Chihende, Tsokanende and Nedhi, carried out numerous raids against the Mexican and American military in the northern Mexican states of Chihuahua and Sonora and in the southwestern American territories of New Mexico and Arizona. Jeronimo's raids and related hostilities were part of a long conflict between the Apaches and the United States, which began immediately after the end of the war with Mexico in 1848.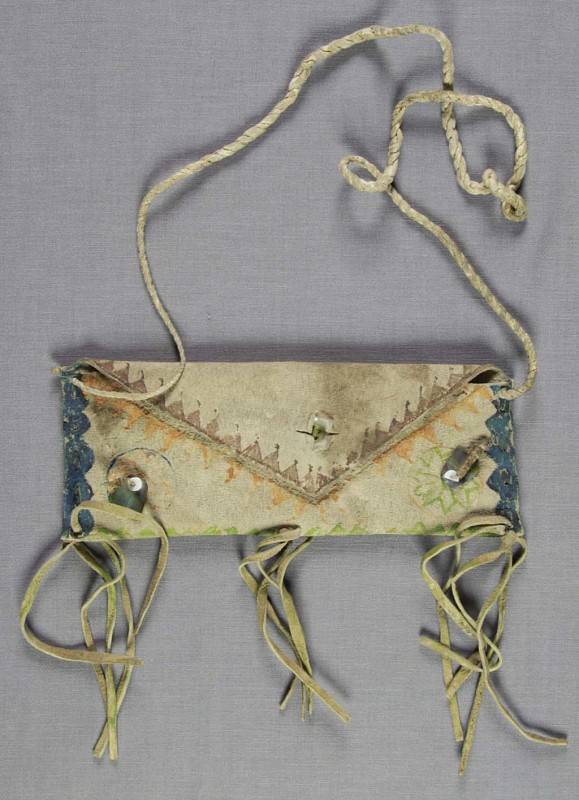 Apache Handbag for little things. National Museum of the American Indian, Washington
We note right away that the concept of leader among the Indians is not exactly what the "leader" of civilized countries is. Often, all his power rested only on one authority, and he could advise his fellow tribesmen, but not order. In addition, there were usually two leaders! Peacetime and war. And then the tribe subordinated to the leader of peace, and only men to the military. Jeronimo was precisely the military leader (although he was also a healer), and even if he was well known, he was not the leader of the whole Chirikaua tribe or Bedonkhe. But because of his fame and fortune, he could call warriors to himself at any moment, and 30-50 Apaches immediately appeared to him. He fought with the whites when he was sure of victory, but he did not grieve when they turned out to be stronger.

Apache Arizona. Mace National Museum of the American Indian, Washington
From 1876 to 1886, he surrendered three times to pale-faced and went to live on a Apache reservation in Arizona. But then he got bored there, and he again went on the warpath. He was caught again, he again "raised his hands up", promised to "bury the tomahawk of war", but then he was digging it out again! It was only in 1886, after the persecution in northern Mexico by U.S. troops that followed his third escape from the reservation in 1885, that Jeronimo surrendered for the last time. And not to anyone, but to Lieutenant Charles Gatewood, a graduate of West Point, who ... spoke the Apache language, and whom Jeronimo respected very much when he met him several years earlier. He handed over the captive to General Nelson Miles, who treated Jeronimo as a prisoner of war and first transferred him to Fort Bowie, and then, along with 27 other Apaches, sent him to the rest of the Chiricahua tribe, who had previously been relocated to Florida.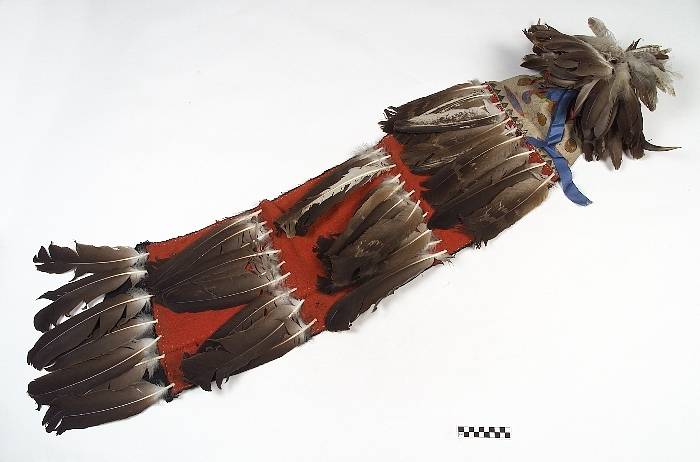 Apache Headdress. National Museum of the American Indian, Washington
With Jeronimo as a prisoner, the United States made him a good PR, attracting him to participate in various events. For the government, this was proof of his success in pacifying the Indians, but Jeronimo was also very favorable to such an attitude, since he himself earned a lot on this. In 1898, Jeronimo was brought to the Trans-Mississippi International Exhibition in Omaha, Nebraska. After her, he became a frequent visitor to fairs, exhibitions and other social events. He earned money by selling his photographs, as well as bows, arrows, buttons from his shirt, and even a hat made by him. In 1904, he participated in the World Exposition in St. Louis, Missouri, where he sold souvenirs and his own photographs. In 1905, the Department of Indian Affairs invited him to participate in the inaugural parade of President Theodore Roosevelt. Actually, how did you invite? He simply took it and "presented" it, because it was considered a prisoner of war, that is, it was, as it were, the property of the military authorities of the US government. However, his advantages were not infringed upon. For example, in Texas, he even participated in a staged bison hunt, where he shot one bison, and although the soldiers accompanied him at all such events, they did not bother him with their supervision. By the way, the organizers of this hunt did not know that neither the people of Jeronimo nor he himself were bison hunters. By the way, being a participant in the inaugural celebrations, Jeronimo appealed to the president with a request to return his tribe back to Arizona, to the land of his ancestors, but he refused.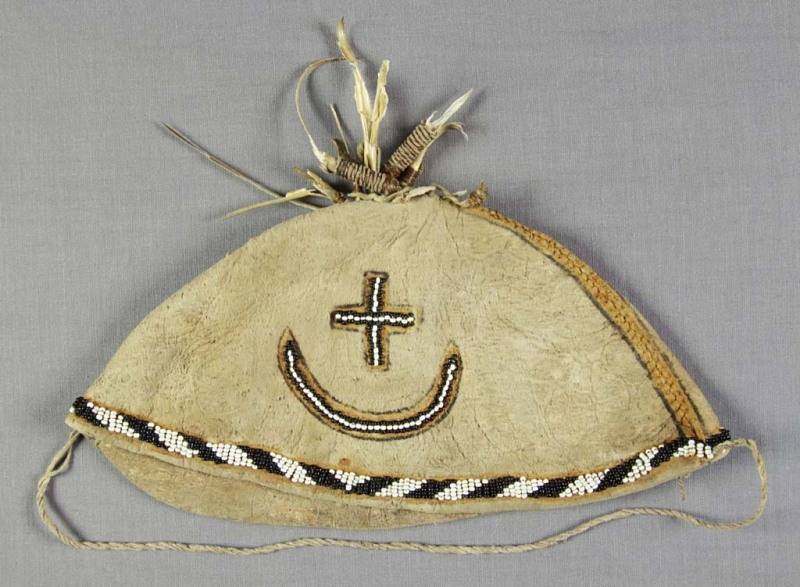 Apache A hat trimmed with a pattern of beads. National Museum of the American Indian, Washington
His life ended in early 1909. Jeronimo, 79, fell off his horse and lay on the cold ground until morning, and three days later, on February 17, 1909, he died of pneumonia in Fort Sill, where he was buried in a local cemetery among other captured Apache Indians.
Jeronimo. "One who yawns." US National Archives
Such, in general terms, is the fate of this wonderful man of his own, which we will now examine in more detail. To begin with, who are these same Apaches, whose leader was Jeronimo and how many of them there were.
So Apache is a collective term for several culturally close groups of Native Americans hailing from the southwestern United States. Currently, these include Western Apaches, Chirikaua, Mescalero (who was the leader of Winnetu in the works of Karl May), hikarilla, Lipan, and lowland Apaches (which were previously called Kayova Apaches).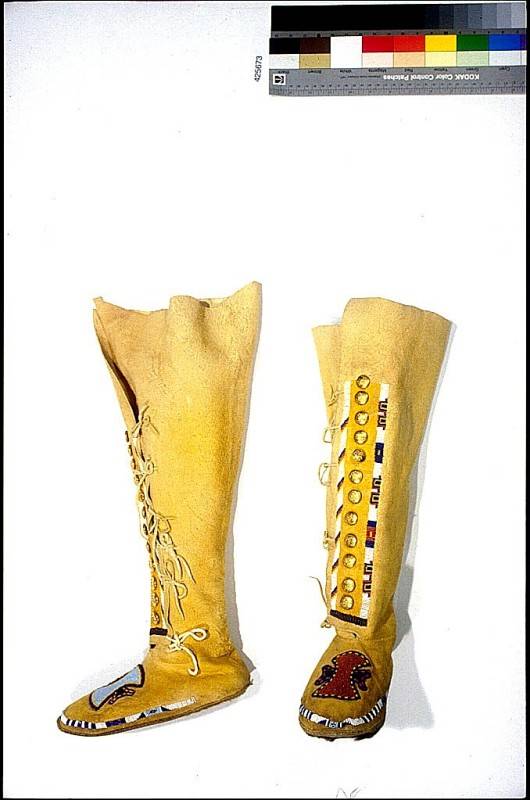 Kiowa. Moccasin leggings. National Museum of the American Indian, Washington
For decades, the ongoing conflict between Mexican Apaches and Apaches living in the United States has been an integral part of their lifestyle, which they presented as a kind of "economic venture." The Indians attacked the white settlers to steal livestock and other prey, and also captured them for ransom or killed, sometimes with the help of torture. Mexicans and Americans retaliated, which were no less brutal and very rarely confined to identifying the true initiators of these raids. Such "strikes" and "counterattacks" fueled the flames of a fierce war for many years. This war rolled like a tennis ball between Apaches and Mexicans, and later between Apaches and Americans. By this way, by the way, Jeronimo himself lost his whole family when, on March 5, 1851, a detachment of 400 Mexican soldiers from the state of Sonora, under the command of Colonel Jose Maria Carrasco, attacked the camp of Jeronimo. It so happened that just at that time, most men went to the nearest city ... to trade, so there was no one to defend themselves. Many women and children were killed, including a wife, three children and mother Jeronimo. According to Native American concepts, such revenge was unfair and, in turn, required revenge!
Apache shield. National Museum of the American Indian, Washington
That is why all the time from 1850 to 1886, Jeronimo not only lived in a war, like many of his other tribesmen, he also sought to avenge the killing of his family by Mexican soldiers, set a kind of record of cruelty for all this time, which was unparalleled in any from the Indian leaders of his contemporaries. The American captured by him could still hope for salvation. In this case, the Mexicans would have suffered a painful death. Jeronimo himself described it this way:
"One late evening, when we were returning from the city, we were met by several women and children who told us that Mexican troops from some other city attacked our camp, killed all the men, captured all our ponies, captured our
weapon
, destroyed our supplies and killed many of our women and children. We quickly split up, hiding as best we could before dark, and when it became dark we gathered at the appointed meeting place - in the thickets by the river. "We quietly crept into our camp one by one, put out the sentries, and when all of our dead were counted, I saw that among them were my old mother, my young wife, and three of my young children."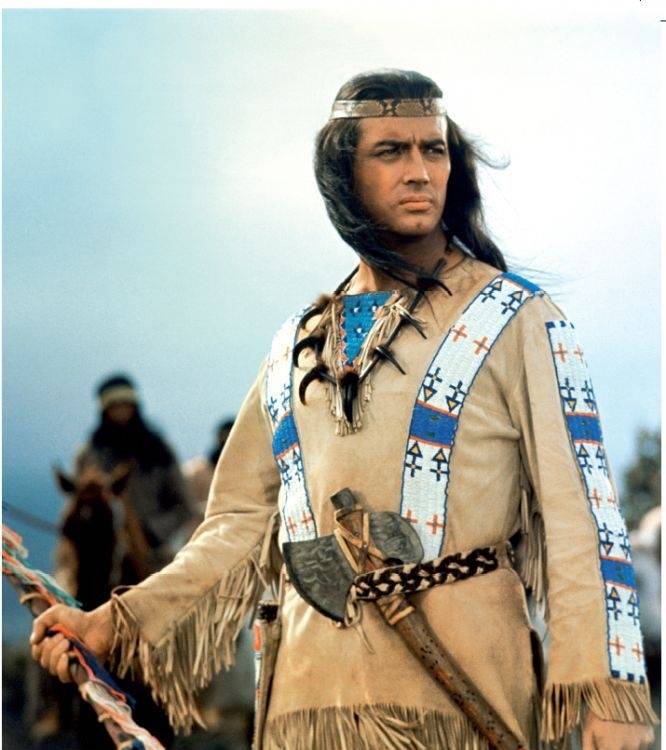 The main apache of the planet is Pierre Bryce as the leader of Winneth. What a tomahawk he has here - just shine! But just these, broad-blade, like axes, were delivered by the Spaniards to the Indians. And they themselves made samples similar to them
The leader of the tribe to which Jeronimo belonged, Mangas Coloradas (in Spanish, Red Sleeves), sent him to the Cochiz tribe for help in order to take revenge on the Mexicans. It was from this time that the name Jeronimo became famous, because he, ignoring the deadly hail of bullets that Mexicans showered with Apaches, attacked Mexican soldiers with a knife and cut his throat with the first blow, and removed the scalp with the second. Some believe that this is how his nickname Jeronimo was born, as Mexican soldiers turned to his holy patron Jerome ("Jeronimo!") In this way, asking him for help. Others attribute this to the incorrect pronunciation of his name by Mexican soldiers.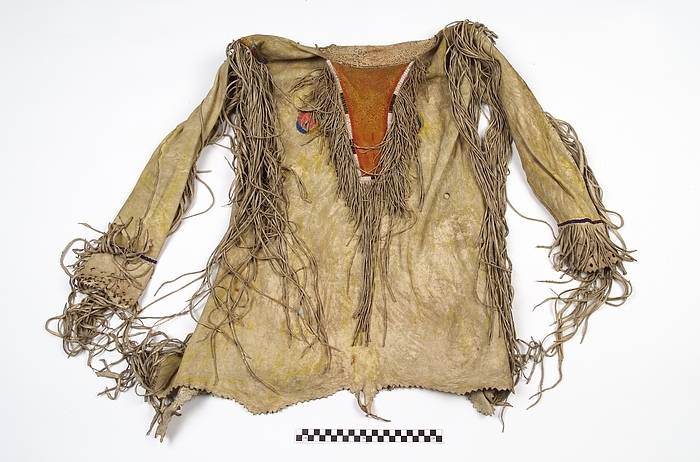 A real shirt of Meskaler's Apaches. National Museum of the American Indians, Washington)
In his autobiography, published in 1905, there were such lines relating to his attitude to the Mexicans:
"I killed a lot of Mexicans, I don't know how many, because I often didn't count them. Some of them were not worth recounting. A lot of time has passed since then, but I still don't like Mexicans. With me they were always insidious and vicious. "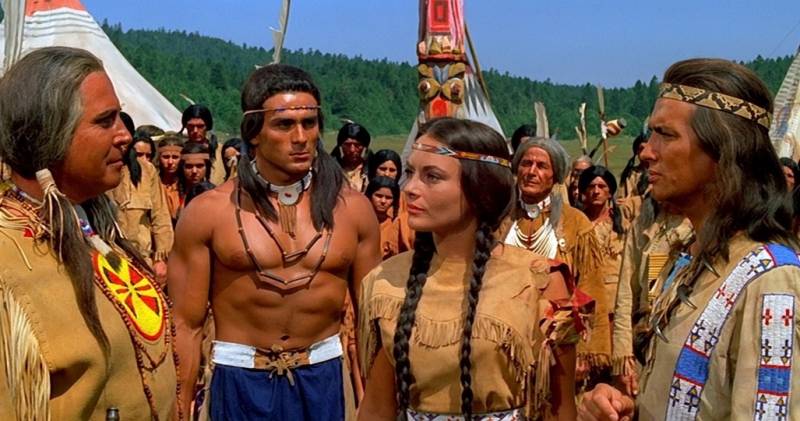 And ... the future (and still very young!) Indian of all times and peoples Goyko Mitich. Still with Pierre Bryce's assistants
As for the Chiricahua tribe, here many had mixed feelings for Jeronimo. On the one hand, he was respected as an experienced military leader, but many Apaches did not like him, mainly because he placed his personal revenge above tribal interests. Nevertheless, the Apache people were awestruck before the "strength" of Jeronimo, which he repeatedly demonstrated. These abilities clearly indicated to them that Jeronimo had supernatural abilities that he could use for the benefit of people or to the detriment. It was said about him that Jeronimo was able to foresee the events that then occurred in the future. He also had the ability to heal other people, which for the Apaches was a clear indication of his close connection with the spirits. It is clear that none of them simply dared to oppose such a person!
To be continued ...