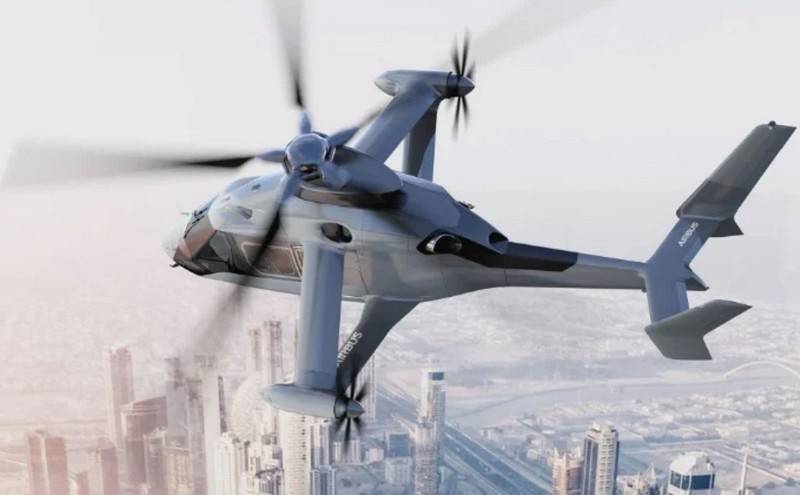 The first flight tests of the European promising high-speed hybrid RACER rotorcraft are scheduled for the end of 2021. It is reported by Flightglobal.
The European consortium Airbus Helicopters moved from 2020 to the end of 2021 the first flight tests of the RACER rotorcraft. The reason is technical difficulties that arose during the development of the aircraft.
The concept of the RACER high-speed helicopter (Rapid And Cost-Effective Rotorcraft) was introduced in June 2017 at
aviation
exhibition in Le Bourget. The machine is being developed as part of the Clean Sky 2 research program. The goal of Airbus is to create a helicopter with a cruising speed of more than 400 km / h.
Rapid And Cost-Effective Rotorcraft is equipped with one rotor and two thrust tips. It is stated that the rotorcraft will be able to reach speeds of up to 220 knots (407 kilometers per hour) and fly at distances up to 740 kilometers. The cruising speed of a rotorcraft will be 190 knots.
The creators of the RACER rotorcraft claim that their aircraft, in order to save money, will be able to turn off one turboshaft engine during the flight. This will be possible after the developers install a special electric motor on the rotorcraft, which will help cope with the load of the main engine. However, to date, two main problems have not been solved: designing the main gearbox and developing a transmission that will transfer part of the power to the wing propellers. It is planned to solve these problems and start production of the gearbox and transmission before the end of 2020.
Technology tested on Rapid And Cost-Effective Rotorcraft will form the basis of the production helicopter, which is due to appear by 2030.