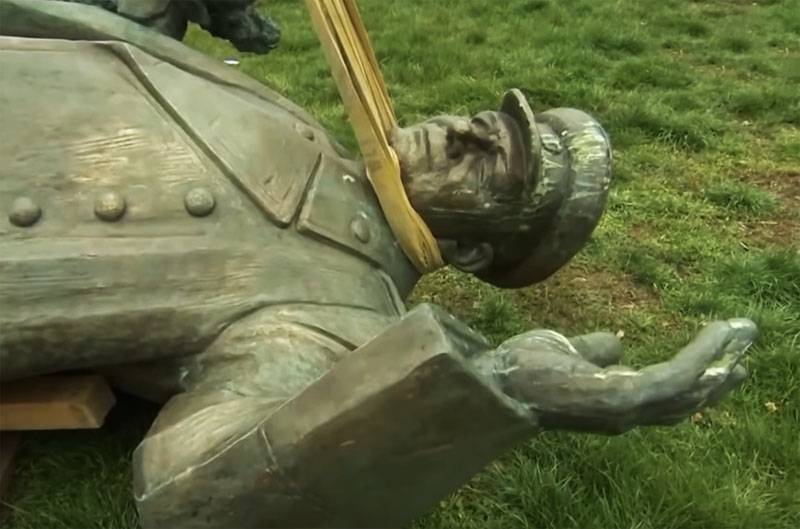 The statements of representatives of the Russian authorities that the demolition of the monument to Marshal Ivan Konev in Prague will not be left unanswered are reacted both in the Czech Republic itself and in Poland. Apparently, the Polish reaction in this case is due to the fact that in this country, too, they are used to demolishing monuments to the liberating soldiers.
In connection with the demolition of the monument, the Investigative Committee of Russia opened a criminal case under the article of the Criminal Code of the Russian Federation, which provides for criminal liability for the desecration of the symbols of military glory of Russia, committed publicly (Part 3, Article 354.1). On the basis of this case, criminal prosecution threatens Czech municipal officials who ordered to demolish the monument to the Soviet marshal-liberator of the Czech capital.
In Prague, they hastened to announce that Russian legislation "will not be enforced in the Czech Republic." Additionally, the Czech Foreign Ministry noted that Moscow should deal with the municipality of Prague-6 with all questions regarding the demolition of the monument and the return of the monument to the Russian Federation.
In the Czech Foreign Ministry:
At the same time, we expressed hope that the dismantled monument will be treated with dignity.
But how "worthy" the monument was treated in the Prague 6 area, the whole world saw when the statue of the Marshal was on the ground with a noose around his neck.
The Polish media reported on the situation, noting that "Russia was extremely negatively impressed by the decision of the Czech municipal authorities to dismantle the monument shortly before the 75th anniversary of the end of the war."
Let's introduce a few comments of Polish readers to the material in Defense24, as well as in social networks. Many of these comments openly breathe Russophobia:
The return of the monument will become a dangerous precedent, as a result of which the Russian Federation will occupy the supreme position over the Czech Republic in
historical
politics.
Here you need to understand the Russians. Their entire thousand-year history is under a layer of science fiction and submission to the Tatars and Turks. Even the real number of victims in 2 MB is secret, so that people do not think badly about power.
And we have long wanted the Russians to return the plane to us (meaning the Tu-154, which crashed near Smolensk in 2010, - approx. "Military Review). So Russians can want anything.
And I believe that this is the right reaction of the Russian authorities. If this is their hero, then let him be taken to his home.