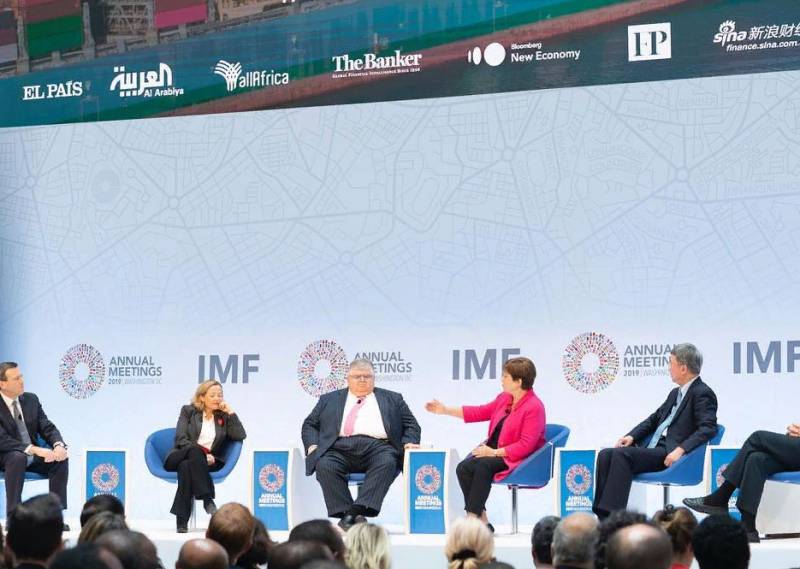 Director of the IMF (International Monetary Fund) Kristalina Georgieva for the first time gave her assessment of the economic dynamics that the world expects in 2020. Georgieva actually recognized that the global economy is sliding into a deep recession. At the same time, the estimates of the IMF managing director are extremely harsh.
From the statement:
In 2020, the global economy will face the worst economic downturn since the Great Depression.
Recall that the Great Depression is usually called the economic crisis that erupted in the United States in October 1929. Moreover, the crisis continued virtually until the outbreak of World War II - throughout the 1930s, striking various sectors of the economy. And only with the beginning of WWII in the USA did the economy begin to not only grow in volumes, but grow at a rapid pace, which ultimately allowed the States to become the first economic power in the world for many years (not without known actions to "appoint" the dollar as the main reserve currency in the world )
Kristalina Georgieva:
Coronavirus undermined public and economic order. This happened instantly, and on a scale that had never happened in our memory. This will lead to an unprecedented crisis over the past almost one hundred years.
According to the director of the IMF, "this crisis no longer knows the boundaries, and no one can say how long it will last."
From the statement:
Over the past two months, portfolio outflows from emerging markets totaled about $ 100 billion, more than three times more than during the same period of the global financial crisis. Exporters of goods receive a double blow from falling commodity prices. And remittances — the lifeblood of so many poor people — are expected to decline.
At the same time, the IMF believes that in order to smooth out the situation, it is necessary to focus primarily on those economic expenses that should go towards supporting medicine - in order to defeat the pandemic.
Ms. Georgieva added that he would affect not only economically developed countries, but also countries with developing economies.