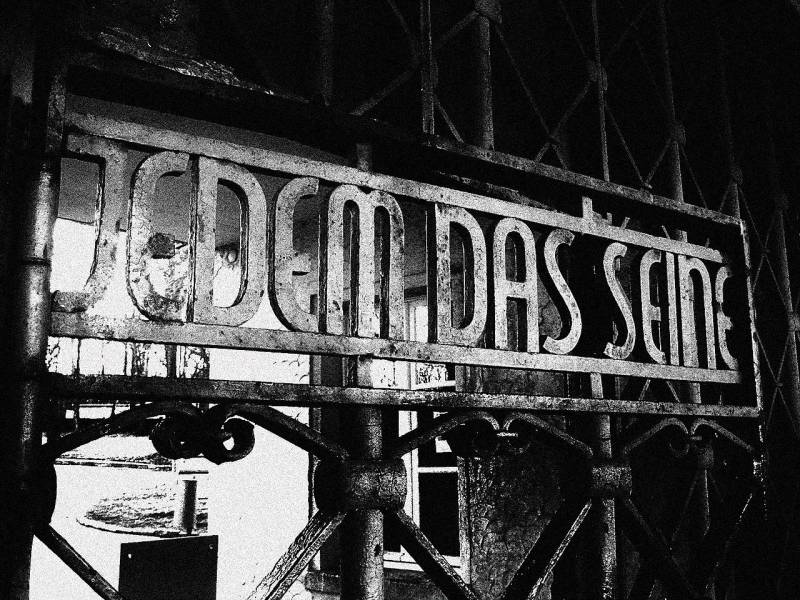 On April 11, 1945, there was an uprising of prisoners of the Nazi death camp Buchenwald, one of the largest concentration camps in Germany during the Second World War. The concentration camp began to operate even before that day, which is officially considered the beginning of WWII. It was discovered in the summer of 1937. According to the most conservative estimates, in less than 8 years of its existence, over a quarter of a million prisoners passed through Buchenwald, one in five of whom had never gone beyond this terrible place.
An uprising began in the camp against the backdrop of the Allied offensive.
For the first time in years, prisoners massively began to refuse to obey the guards, did not go to the general structure. Against this background, one of the groups of prisoners, using a makeshift radio transmitter, tried to contact the advancing Soviet or American troops. It should be noted that the Soviet prisoner of war Konstantin Leonov was directly involved in the creation of that Buchenwald radio transmitter.
On April 11, prisoners launched an assault on the concentration camp towers, attacked the guards, seized the commandant's office and held the defense for several hours. At the beginning of the fourth (15:05, according to other sources - 15:15), military personnel of the American military contingent entered Buchenwald. It was the 3rd American army.
In memory of that uprising, the International Day for the Release of Prisoners of Fascist Concentration Camps appeared in the calendar of memorable dates. This is a day of remembrance for all those who did not return from the Nazi dungeons, as well as those who were released, but until the end of their days could not forget all the horrors experienced. These people are one of the evidence of Nazi atrocities and the countless number of war crimes committed by the Nazis.
Against this background, it is worth paying attention to a remarkable fact. On Wikipedia, material dedicated to the International Day for the Release of Prisoners of Fascist Concentration Camps is currently proposed (attention!) To removal. Such a reaction ...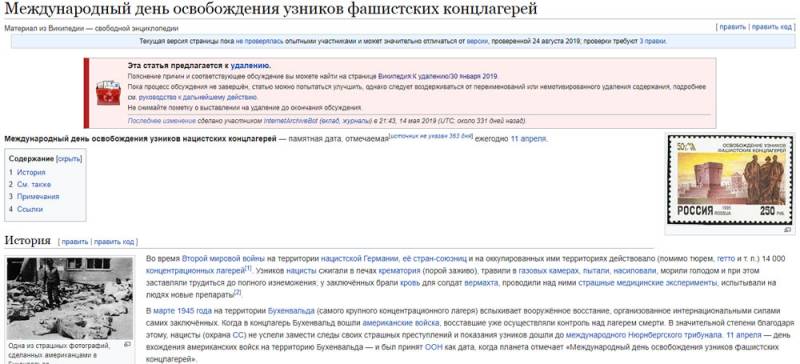 At the same time, the person who offers the article for deletion argues his proposal with the fact that he, you see, did not find a mention of the date, which, incidentally, he calls a "holiday", "neither on the English Internet nor on the UN website".
Another proponent of deleting material writes (spelling and punctuation are preserved):
The mourning events dedicated to the day of the uprising in Buchenwald do not confirm the presence of the declared international day, and its significance, of this very "International Day", and not of the event of April 11, 45th
For this reason, Wikipedia has not been able to decide what to do with the article for more than a year.
This once again testifies to the bias and lack of professionalism of the "fillers" of the resource, claiming to be the "international Internet encyclopedia".