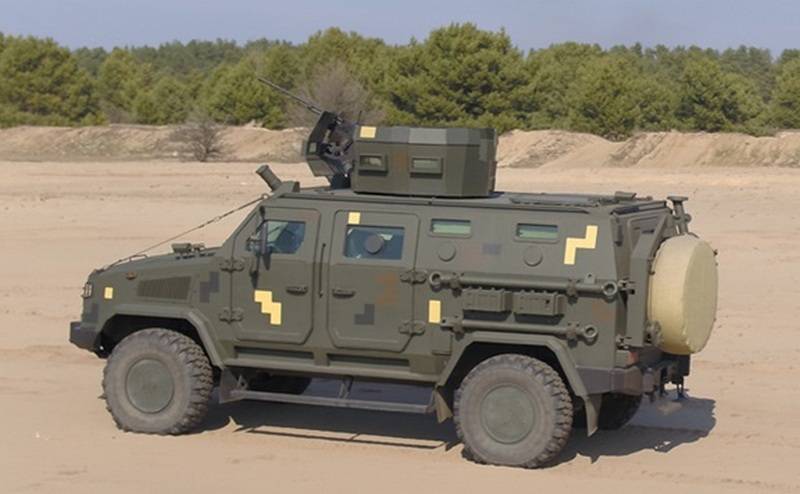 The new armored car entered service with the Armed Forces of Ukraine. By order of the Minister of Defense of Ukraine Andriy Taran, the armored vehicle Kozak-2M1 was adopted for service of the Ukrainian army. It is reported by DefenseExpress.
Armored car "Kozak-2M1" (Cossack-2M.1, Cossack-2M-D) - modification of the armored car "Kozak-2M" for the Ukrainian air assault troops. It is claimed that the armored car meets NATO standards for protection against small arms.
weapons
and mine protection. The armor withstands an armor-piercing incendiary bullet of a caliber of 7,62 mm "in any projection" and an explosion of a landmine under the wheel, corresponding to 8 kg of TNT.
The armored vehicle has a fully bearing armored hull and independent suspension. The mass of the armored car is 14 tons, it is equipped with a 280-horsepower diesel engine with a volume of 5,9 liters and a torque of 950 N * m, ground clearance is 500 mm. The maximum speed is 110 km / h. Crew - 2 people + 6 people landing. A heavy machine gun in a protected turret can be mounted on an armored car.
Kozak-2M1 passed state tests from October 2018 to December 2019.
The basic armored vehicle "Kozak-2M" was developed on the basis of a decision of the Ministry of Defense of Ukraine. Today, there is another modification of the armored car - the reconnaissance and target designation artillery "Kozak-2M2" (Kazak-2M-G). On its adoption in the armed forces of the Armed Forces has not yet been reported.