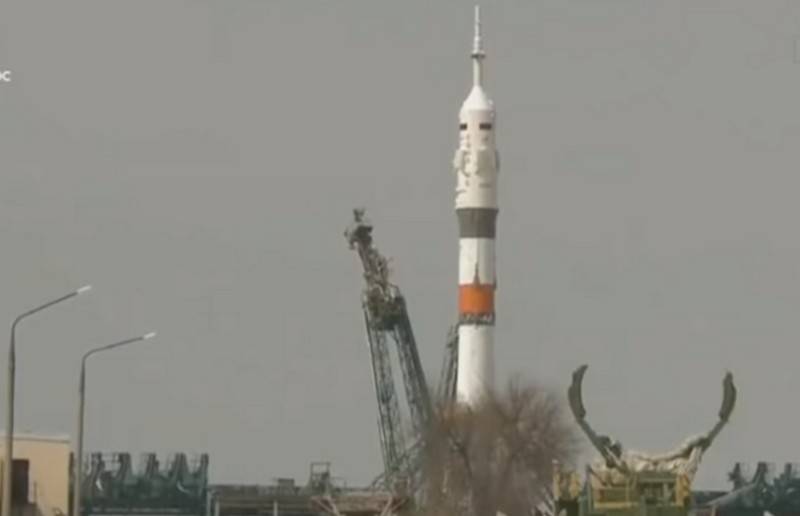 Today, April 9, from the Baikonur Cosmodrome, the Russian Soyuz-2.1a launch vehicle with the Soyuz MS-16 manned spacecraft launched. This was reported by the press service of Roscosmos.
As stated on the website of the state corporation, the rocket launched at 11:05 Moscow time. time from the 31st site of the Vostok launch complex at the Baikonur Cosmodrome. At 11:14 Moscow time, the Soyuz MS-16 manned spacecraft separated from the third stage of the launch vehicle and headed for the ISS. The launch of the rocket and the ship's compartment were normal. The crew includes Russian cosmonauts Anatoly Ivanishin and Ivan Wagner, as well as NASA astronaut Chris Cassidy.
According to the plans of the Flight Control Center, the ship went to the ISS in a six-hour scheme, that is, it will make four turns around the Earth. The docking of the spacecraft with the ISS is scheduled for April 9 at 17:15 Moscow time. It will be carried out in automatic mode under the supervision of MCC specialists and Russian crew members of the ship and station.
The commander of the new expedition to the ISS will be Chris Cassidy, making the third flight into orbit. Anatoly Ivanishin also went into orbit for the third time, Ivan Wagner has no space flight experience yet.
As noted in Roscosmos, the Soyuz MS-16 manned spacecraft was the first ship with a crew launched into orbit by the Soyuz 2.1a launch vehicle. Prior to this, all manned flights were carried out on a Soyuz-FG launch vehicle with a Ukrainian control system. Soyuz-2.1a has a new, fully Russian management system.