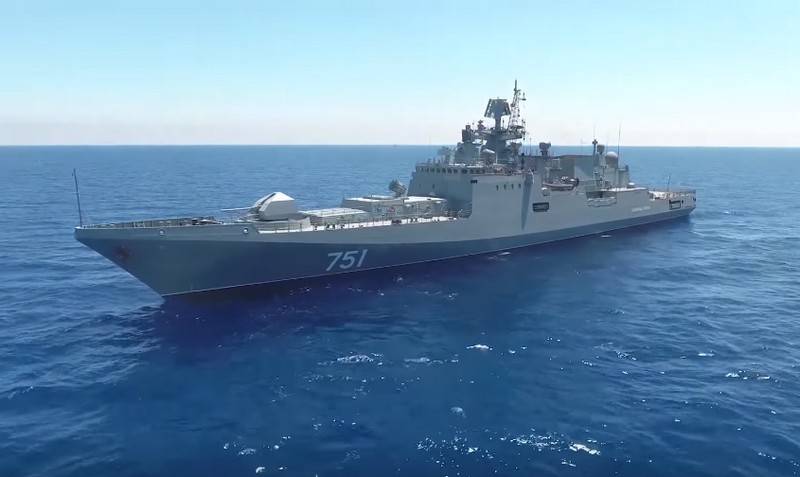 Russia returns from the Mediterranean Sea two frigates of Project 11356 at once - Admiral Makarov and Admiral Essen, and the ships are returning to Sevastopol. This was reported by the press service of the Black Sea
fleet
.
At the same time, two frigates of the Black Sea Fleet began the passage of the Dardanelles and Bosporus straits in the direction of the Black Sea. Frigates "Admiral Makarov" and "Admiral Essen" return to the main base of the Black Sea Fleet, the hero city of Sevastopol from the far sea zone
- said in a statement.
The frigates "Admiral Makarov" and "Admiral Grigorovich" joined the Russian squadron at the end of February this year amid escalation of hostilities in the Idlib province of Syria, where the Syrian government army and pro-Turkish groups collided with the support of the Turkish military. The same type frigate Admiral Essen has been performing missions in the Mediterranean since December 2019. Thus, at the end of February, the Russian fleet gathered all three frigates of Project 11356 as part of a permanent group of the Russian Navy in the Mediterranean Sea, although usually these ships serve one at a time, replacing each other.
Currently, the frigate Admiral Grigorovich, who will later be replaced by Admiral Makarov, remained in the Russian squadron.
Admiral Essen and Admiral Makarov are the first and second serial frigates of project 11356, respectively (the lead ship of the series is Admiral Grigorovich). Built at the Baltic shipyard. Displacement of about 4 thousand tons, speed - 30 knots, sailing autonomy - 30 days. The frigates are armed with Caliber-NK and / or Onyx cruise missiles, the Shtil-1 self-defense missile system, the 190-millimeter A-100 artillery mount, anti-aircraft artillery, rocket launcher, torpedoes, and can also carry the Ka- 27 (or Ka-31).