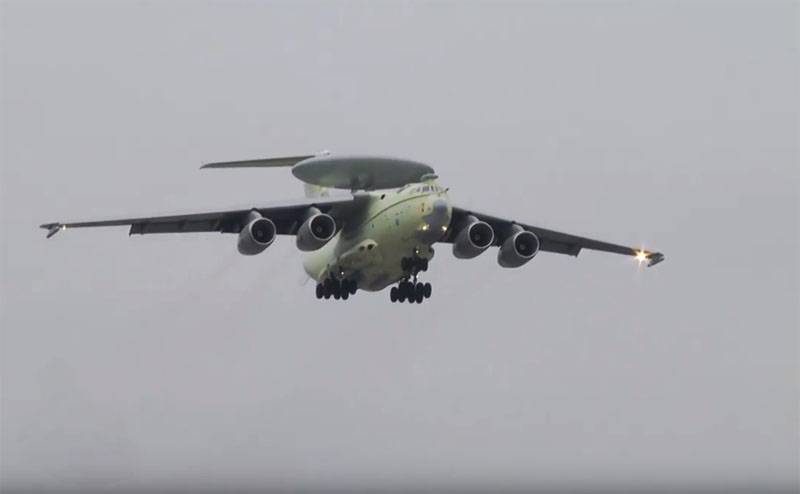 Information was published on the upcoming delivery to the Russian Aerospace Forces of a promising AWACS aircraft (long-range radar detection). We are talking about the aircraft A-100 "Premier", which is attributed to a new generation of funds
aviation
in its class.
As with reference to own sources
сообщает
RIA
News
, tests of the A-100 Premier AWACS aircraft continue on schedule. Moreover, the delivery to the Russian Aerospace Forces of this means of aviation is scheduled for 2024.
A-100 "Premier" is an aircraft that was created on the basis of a transport aircraft in the version of IL-76MD-90A. Moreover, the aircraft is capable not only of radar monitoring, but also of guidance. To do this, it is equipped with the latest radio equipment. Using the latest radio-technical content, an aircraft can track previously discovered targets by transmitting data about them, for example, to aircraft of a fighter wing involved in an operation.
The length of the aircraft is 46,6 m, height - 14,76 m, cruising speed - about 800 km / h. The crew, according to some reports, 6 people.
About any specific parameters for detecting targets and pointing at them so far, for obvious reasons, not reported.
Today, without this kind of aircraft with modern electronic "stuffing", it is more difficult to carry out combat missions against a well-equipped enemy. In the arsenal, NATO has its own version of the AWACS aircraft. This is an E-3 Sentry in various versions.
The parameters of its on-board equipment are such that one side is capable of monitoring the territory of an area of ​​about 300 thousand square kilometers. He is also able to detect aviation at a distance of 500-650 km, depending on the height of its flight.