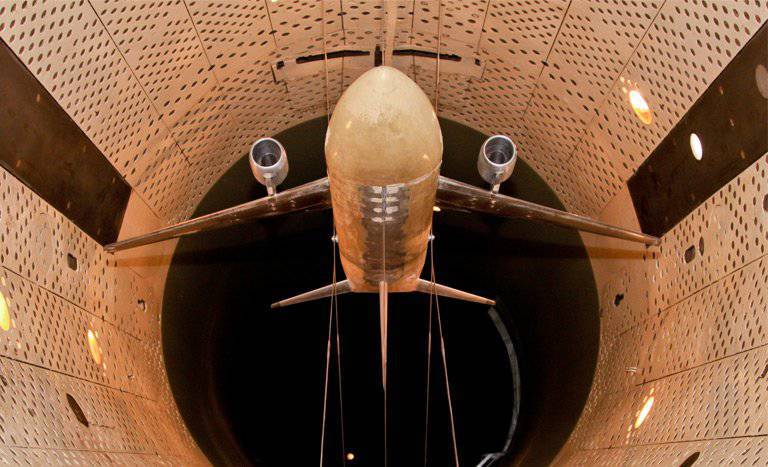 The Central Aerohydrodynamic Institute named after N.E. Zhukovsky (TsAGI) tested the model of the promising Frigate Ecojet aircraft. According to the ARMS-TASS correspondent at the institute, the TsAGI aerodynamics department experts tested the cruising configuration of the Frigate Ecojet aircraft model. The customer of the study, which was conducted in a transonic wind tunnel T-106 TsAGI, was OJSC "Russian
aviation
consortium".
Tests have shown that the developed aerodynamic layout with a carrying fuselage and a wing of large relative thickness ensures the achievement of design cruise flight speeds with a favorable flow pattern of bearing and moment characteristics. The experiment showed the possibility of achieving the stated level of aerodynamic quality.
The data obtained as a result of the experiment will be used in the further design of the Fregat Ecojet aircraft.
In the 2012 year, tests of the Frigate Ecojet model are scheduled in the subsonic ADT T-102 TsAGI. Aerodynamics TsAGI to determine the characteristics of the aircraft on take-off and landing modes in the longitudinal and lateral channels, including the effect of proximity to the ground.
Aircraft "Frigate Ecojet" is a new generation of wide-body passenger aircraft, intended for operation on routes of near and medium range (up to 4500 km). A distinctive feature of this aircraft is the geometry of the fuselage with a cross section in the form of a horizontal ellipse.
The search for the optimal fuselage section was carried out in the direction of ensuring the minimum dimensions of the aircraft, provided that passengers in the 300-350 fuselage were located in three cabins with three main aisles.
The goal of the Frigate Ecojet program is to create a civilian aircraft family that is globally competitive, whose integrated performance indicators by 15-20 percent will exceed the level currently achieved by civil aviation technology.