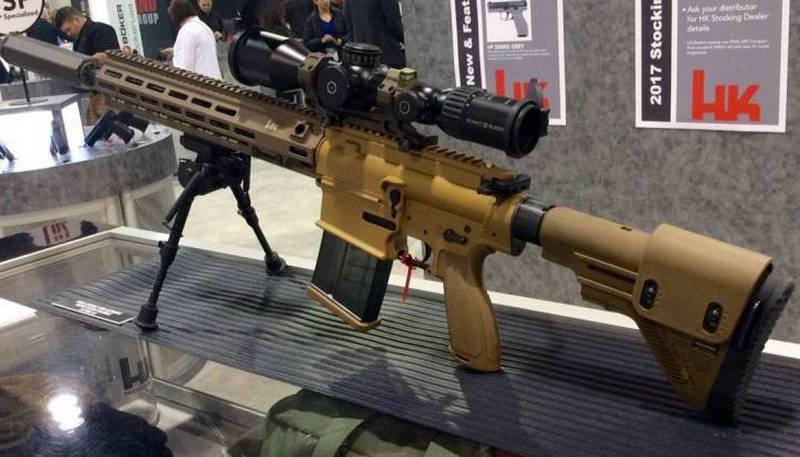 US Army snipers are switching to the new M110A1 rifles. According to thefirearmblog.com portal, the first batch of M110A1 rifles has been handed over to the troops.
Heckler & Koch Defense Corporation is pleased to announce the first batch of M110A1 for the US Army. This delivery is the first of many that will eventually amount to 5000 to 6000 complete weapons systems.
- reported in the press service of Heckler & Koch USA.
The M110A1 rifles will replace the M110 rifles manufactured by the American company Knight's Armament Company in the US Army, which entered service in 2008. The soldiers who used the M110 in combat conditions complained about the low accuracy, unreliability and fragility of the M110 (after 500 shots, the accuracy of fire decreased sharply). Therefore, in 2014, the U.S. Department of Defense announced a new tender for the purchase of compact semi-automatic sniper rifles .308 Win (7,62 × 51 NATO) caliber, which can be effectively used for shooting from distances up to 1000 m, and will also be lighter and more compact than the M110.
In 2016, the US Department of Defense named the German company Heckler & Koch the winner of the CSASS tender. To replace the M110, the army adopted an upgraded version of the HK G28 rifle, designated M110A1.
The Heckler & Koch G28 sniper rifle was developed by order of the Bundeswehr. The G28 employs a short-stroke, gas operated butterfly valve. The effective firing range is about 600 m at the chest target and about 800 m at the growth target. When firing a series of ten shots from a distance of 100 m, the maximum dispersion was 4,5 cm, which corresponds to 1,5 angular minutes.
The length of the G28 rifle is 965 – 1082 mm (varies due to the use of the telescopic butt), the barrel length is 420 mm. Weight
weapons
in the "standard" configuration is 5,8 kg, in the "patrol" - 5,15 kg. G28 has only a semi-automatic fire mode and can be equipped with 10- and 20-charge stores.