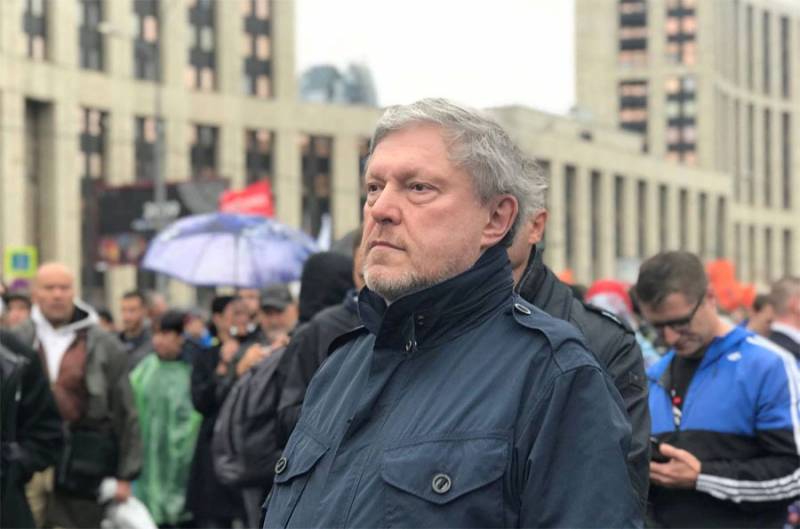 The well-known opposition Russian politician Grigory Yavlinsky (repeated presidential candidate, co-founder of the Yabloko party, economist) published an article in which he reflects on the problems in the Russian economy in connection with the well-known events.
According to Yavlinsky, the problems of the Russian economy are that the level of borrowing of the population has been increasing lately. The politician and economist notes that in this situation there is a growing risk of an increase in the number of individuals who are expected to default. Yavlinsky also speaks of companies' debts growing as a result of the depreciation of the ruble.
Yavlinsky:
A government decision is needed on holidays on debt obligations until at least January 1, 2021, as well as a significant reduction in interest on consumer loans (as proposed, for example, Joseph Stiglitz, Nobel Prize in Economics). However, the Russian government does nothing of the kind in reality: all together - to combat the spread of coronavirus and anti-crisis measures - only 1,4 trillion rubles (about 1,2% of GDP) are reserved. This is unacceptable.
Yavlinsky believes that at the moment half measures are being introduced in Russia; There are no comprehensive measures that have overcome the crisis with less loss. According to him, it is impossible to exempt citizens from paying for housing and communal services, if at the same time you do not allocate compensation to management companies from the budget, it is impossible to defer payment of loans, if you do not compensate for the losses to creditors, it is impossible to allow tenants not to pay rent, if at the same time not exempt from landlord tax payments.
Yavlinsky in the article "Greed or Stupidity?" He believes that the transfer of the fiscal burden in Russia, and not the temporary release of business from it, is "the erroneous logic of the Russian government", which can lead to even greater economic depression.
At the same time, Yavlinsky himself decided to offer his anti-crisis program. It speaks of the need for state subsidies to save wages to workers who stopped the work process of enterprises. It is also proposed to exempt employers from any taxes related to payroll of employees. The necessity of introducing a program for the preservation of jobs with coverage from the treasury of salary costs is noted. Yavlinsky offers the state to take on compensation for losses incurred by the FIU, the FMS and the Social Insurance Fund.
At the same time, Yavlinsky believes that in this situation, a drop in oil prices is not an excuse for the government.