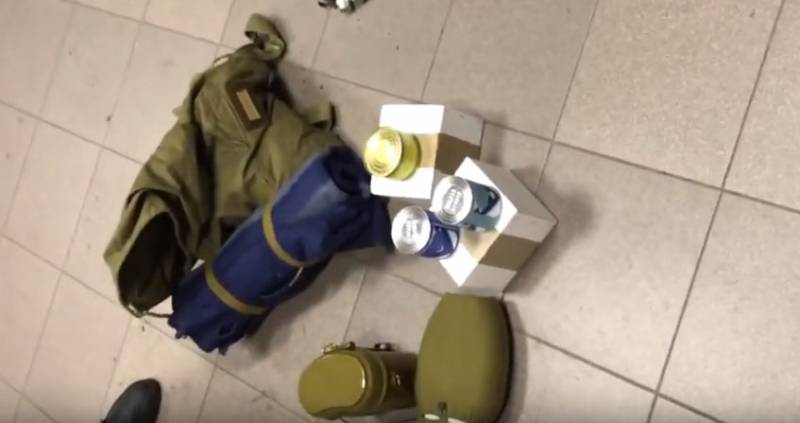 War is not only about battles and campaigns. With poorly provided material support, even the best army will soon become unworkable. And even completely fall apart. The supply of hostilities is not limited to providing them only with weapons, equipment and ammunition. A hungry soldier is not a soldier. Let's remember how the Soviet Army ate in its last war - the Afghan one.
First of all, it is possible to speak about any full-fledged provision of food for the personnel of our troops in the DRA only from 1981, when it finally became clear that the Soviet military contingent, albeit limited, landed there seriously and for a long time. In particular, only from this period, instead of having very limited capacities and possibilities for field kitchens, stationary soldiers' canteens built from light prefabricated structures (CPM) began to appear in the locations of our units and subunits. By 1986, there were already up to two hundred such food items.
At the same time, the harsh and unusual conditions for our soldiers, which were in many respects at the medieval level of the country, made their own adjustments to everyday issues. In Afghanistan, as you know, the most scarce and valuable resource was the most ordinary water. Finding its source, not poisoned and at least more or less pure, was in itself a big problem. However, even the water used for cooking was suitable by Afghan standards for food, it could cause extremely disastrous consequences, laying in a hospital bed or even a hospital unit at once. The same viral hepatitis was a real scourge for our troops "across the river", and all the years of their stay there. Using local products for cooking was also fraught with consequences - for the same sanitary and hygienic reasons.
It is precisely because of this, and also because of the specifics of conducting military operations (in a raid on the mountains or conducting a convoy that you don't painfully organize normal nutrition), the basis of the diet of almost all the Soviet Army personnel who served in the DRA was various canned food, concentrates and dry rations . In particular, in the first quarter of 1980, 70 tons of canned meat, 650 tons of various canned cereals, 410 tons of first dishes, again in the form of concentrates and canned goods, 850 tons of various vegetables and potatoes were put into the boilers of 150 thousand of our soldiers and officers. , but also supplied exclusively in dried form, and 85 tons of crackers. During the same time, 75 thousand sets of dry rations were consumed. Here it is worth stopping separately.
As already mentioned above, for units that performed real combat missions in Afghanistan, "dry land" was generally the main, and for very long periods, the only "daily bread". At the same time, everyone was fed differently. Consider some of the main types of Afghan rations on the basis of the order of the Ministry of Defense of the USSR of 1982, which approved its norms.
So, the military "ordinary" infantry - motorized rifle, mountain rifle units, relied on the basic "Suhpay" at the norm number 1: a pound of biscuits, a can of canned meat, a can of cereal with meat, tea and sugar. The paratrooper soldiers were released according to the norm No. 17 - they had more rations and biscuits in their rations, and there were more rusks and twice as much porridge. And, most importantly, it included even "delicacies" like canned sausage forcemeat, pate or "Tourist's breakfast". In double against infantry again. What is characteristic, paratroopers were supposed to all this even dry fuel - to warm up.
A special article was mountain rations for personnel operating at altitudes of more than 2000 meters. He, in turn, was divided into summer and winter options. The first option included more liquid foods (juices, fruit soup), and the second - more high-calorie foods. There were not only condensed milk and cookies in this "dry tea", but even caramel, vitamin dragees, instant coffee.
Separately in terms of supply was, as you might guess, special forces. Dry rations for it were developed in the Etalon series. They were distinguished by increased quality and improved, as far as possible in the conditions of war, product range. For example, the presence of "Etalon 5", in addition to the same condensed milk, also allowed chocolate for special forces to prepare a hot drink in the field, which turned out to be very useful in the highlands blown by icy winds.
For already very extreme conditions, primarily for actions to perform special combat missions related to a long separation from supply points, during which each gram of luggage was counted, in the mid-80s a "super dry" or small-sized diet was developed . It was a set of briquettes of food concentrate sealed in plastic and additionally packed in aluminum foil. One rations included a dozen of these briquettes with a total weight of 600 grams. A full meal was considered the use of four such briquettes, soaked with fifty grams of water each. Such a "dry drink" was two and a half times lighter than usual, the volume was five times less. And, by the way, it could be stored twice as long. In those days - a real breakthrough.
As you can see, the Afghan war gave an impetus to the development of not only the tactics and strategy of the Soviet army, but also its support, including in the field of nutrition of soldiers and officers.