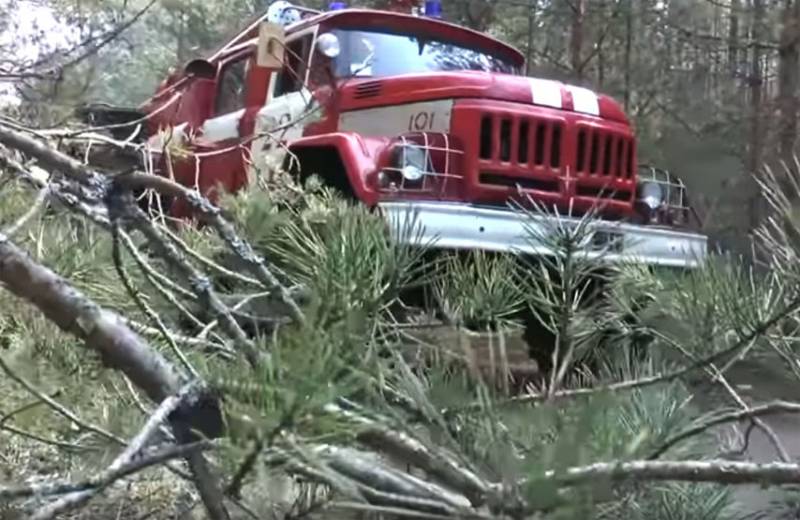 The area of ​​forest fires in the so-called exclusion zone in the Chernobyl region has substantially increased. As reported by the press service of the emergency situations in the Kiev region, the fire area has already exceeded 35 hectares.
Various types of equipment are used to extinguish a fire, including
Aviation
. So, two Mi-8 helicopters, an An-32A fire-fighting aircraft, several dozens of units of automotive special equipment were sent to the fire fighting site.
According to the latest information, firefighters from different regions of Ukraine, including the Zhytomyr region, are being transferred to the Chernobyl zone.
In the morning hours it was reported that in the area of ​​the fire, the background radiation had grown substantially. At the moment, the Ukrainian Emergency Situations Department of Ukraine claims that the radiation level "does not exceed 22 μR / hour."
In the GS Emergencies of Ukraine, they are afraid that smoke from burning forests near Pripyat and Chernobyl may reach Kiev and other cities in the region.
At the same time, Ukraine itself suggests that the fire in the Chernobyl zone is the work of the so-called "black loggers", who often use arson options to hide the felling and transportation of various types of wood from the infected zone. It is additionally noted that in the forest of the exclusion zone there are completely no fire clears, no plowing is carried out, no other work is being done to counter the spread of fire.