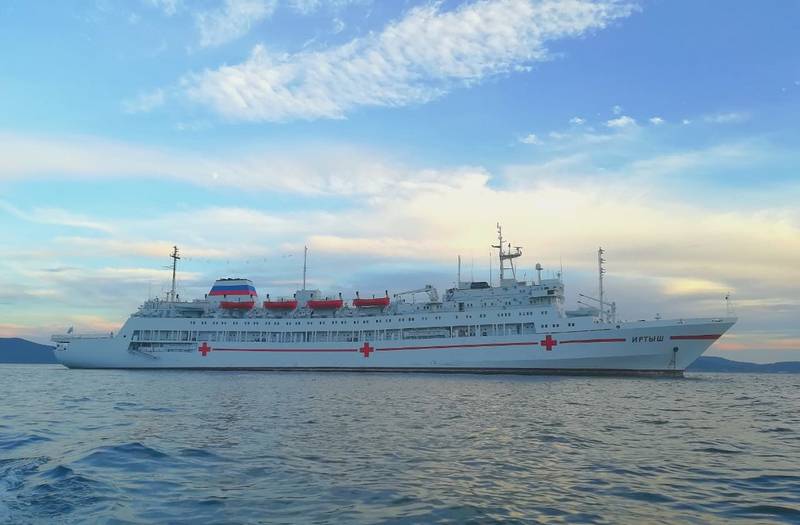 The number of beds on the hospital ship "Irtysh" will be increased for the possible reception of patients with coronavirus. The corresponding order was given by Russian Minister of Defense Sergey Shoigu.
The head of the military department ordered to increase the number of seats on the Irtysh hospital ship in order to relieve the military departments of the military department in the Far East. This modernization should be carried out within 10 days.
I charge the commander of the Eastern Military District and the Pacific
fleet
together with the Main Military Medical Directorate, within 10 days to increase the capacity of the hospital vessel "Irtysh" to 450 seats
- declared Shoigu.
As the minister explained, the need to expand the floating hospital arose against the backdrop of the threat of the spread of coronavirus. The vessel is supposed to house uninfected patients for "unloading medical facilities of the Ministry of Defense in the Far East and preparing them for the possible reception of patients with signs of coronavirus infection."
"Irtysh" was developed in the Polish design bureau "Prorem", and built at the shipyard "Adolf Barsky" in the town of Szczecin. Laid down on November 25, 1988. Launched on July 6, 1989. It was commissioned on July 31, 1990. It belongs to the category of auxiliary non-combat fleet. In 2016-2017, the ship was modernized with the installation of modern medical equipment.
It is also reported that the construction of a new infectious center of the Ministry of Defense of the Russian Federation, which is being built in Kamchatka, is being carried out ahead of schedule. The building is being built taking into account the probability of a nine-magnitude earthquake. The institution will be provided with modern medical equipment, its staff will include about 100 people, including about 30 doctors of various specialties.