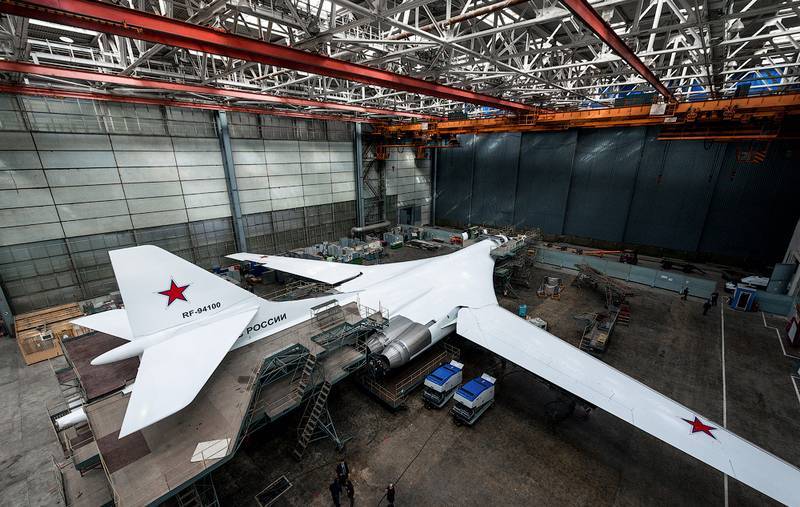 At the Kazan Aviation Plant. S. P. Gorbunov (a branch of PJSC Tupolev) began manufacturing an installation batch of strategic missile carriers Tu-160 of a new assembly. This was announced by Defense Minister Sergei Shoigu.
Speaking at a teleconference at the Russian Ministry of Defense on Tuesday, the head of the military department said that work was underway at the Kazan aircraft plant to restore the production of new strategic Tu-160 missile carriers and the production of the installation party had already begun.
Earlier it was reported that the aircraft of the new assembly and the deeply modernized combatant bombers Tu-160 of the Air Forces of the Russian Federation will not differ from each other, however they received different markings: Tu-160M ​​for the modernized combatant bombers and Tu-160M2 for those built from scratch.
Recall that the flight tests of the first prototype of a deeply modernized strategic missile carrier Tu-160M ​​passed February 2, 2020. The plane took off from the airfield of the Kazan Aviation Plant and spent 34 minutes in the air, flying at an altitude of 1500 meters.
In total, 160 Tu-15 combat aircraft rocket carriers of the Russian Federation Air Force should be upgraded to the Tu-160M ​​level in the future and ten new strategists Tu-2027M160 were built before 2 with the start of deliveries in 2023. The modernized missile carriers will go to the troops in 2021.
Earlier it was reported that the updated Tu-160 will receive new missile weapons.