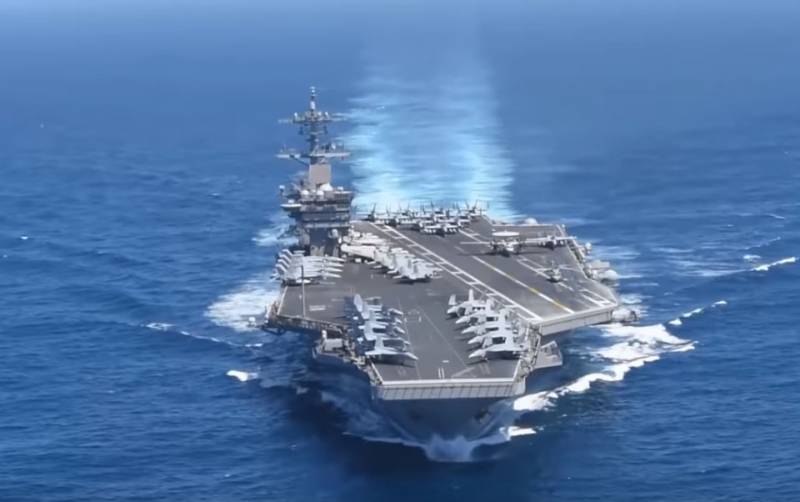 American leadership
fleet
accused the recently dismissed captain of the aircraft carrier "Theodore Roosevelt" of professional unfitness due to his mental abilities.
Stupid or naive
The stormy farewell of the crew of this ship with its commander forced to send the highest representatives of the fleet to Guam, where it was moored. And about. Navy Minister Thomas Modley flew to the US Pacific base on Sunday, where he met with aircraft carrier personnel.
As he explained to the crew, their former commander Brett Crozier violated the well-known to all sailors and soldiers UCMJ [Unified Code of Military Justice] by divulging confidential information about the infection of aircraft carrier personnel.
As I believe, if he thought that this information would not be known to the general public on the same day in our information age, then he was either too naive or too stupid to be the commander of such a ship
- Modley explained to the sailors, indicating that Crozier's actions were a "betrayal of trust", which he enjoyed on the part of his superiors and team.
Как указывает издание Task&Purpose, речь и.о. министра вызвала бурное негодование экипажа и её постоянно прерывали выкриками.
What the heck?!
- spoke out one of the sailors after saying about the stupidity of the captain.
He tried to help us.
shouts another sailor.
Love and ships
Against this background, Modley reprimanded the crew for their loyalty to the captain.
I understand that you love this guy. It's good that you love him. But you should not love him [...] You should only respect him. You do not have to love your job, just do it. You should not expect anything from your commanders, except that they will treat you fairly and put the ship's [combat] mission in the first place
- said Modley.
And about. The minister pointed out that Crozier's actions not only exposed the problems of the American fleet in the face of the Chinese threat, but also caused "great controversy in Washington." According to him, the former captain of the aircraft carrier created the image of a "martyr who did not receive the help he needed."
Opponents of President Donald Trump, in particular Joe Biden, who is aiming for him, have already taken advantage of this situation. Democrats demand to open an investigation into the removal of Crozier. Support him and the general public.
At present, more than 253 thousand people have signed up to the captain's reinstatement petition. However, given its popularity, most likely we will soon see him in big politics.