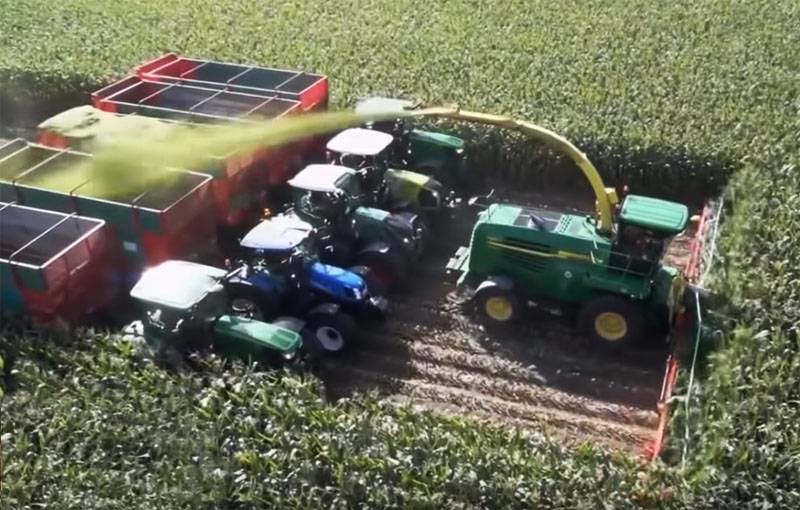 After the release of
material
about the use of hormones and other chemical elements that can affect the human body in animal husbandry, a lot of questions have come up about how things are going in crop production. The questions are really relevant. Just because a person's diet is much more dependent on plant foods.
Choosing chicken or pork chop for dinner, we are well aware that meat produced under industrial conditions is crammed with "chemistry" during the growth of the animal and during transportation and storage. We consciously consume this explosive mixture of hormones, pesticides and other chemicals.
We even came up with dubious scientific research and conclusions that some poisons in small quantities not only do no harm to humans, but are also useful. I myself once came up with an excuse for my own smoking. I read somewhere in the book that 10 cigarettes per day are harmless to the body and for a long time I justified my own weakness with this argument.
Today, plant phytohormones are used quite intensively. With their help, they accelerate the ripening of vegetables and fruits, change the sex of plants and carry out many other works that provide store shelves with year-round supplies of plant foods.
We are no longer surprised by the presence, for example, of new potatoes on store shelves in March. We are used to the fact that for some reason tomatoes began to grow year-round. We are not surprised that the beets in the market with my grandmother are several times more than the store ones, but they also smell completely different.
No, once I was still surprised. When, during a conversation with an employee of our airport, he suddenly found out an incredible thing. It turns out that when inspecting passengers' baggage, employees no longer pay attention to bread in bags. Two or three loaves of simple "Harvest", flying to Moscow or St. Petersburg. If you ask about the purpose of such transportation, the answer is also staggering. "You have bread from bread here. Tasty. I always treat them to friends! "
It is difficult to unequivocally answer the question about the effect of phytoestrogens and other hormones on a person. It is difficult simply because this influence depends on many factors. In my opinion, phytohormones are a hormonal medicine. And like any medicine, phytohormones can benefit or cause serious harm to health. Therefore, they must be treated with caution.
We are not surprised by a tractor that moves across the field and sprayes some kind of "chemistry" over the plants. This has become the norm. But what is used and why, few people know. I'll try to fill this gap.
Gibberellins growth hormones are used to increase the growth of sugarcane and hemp stems. Accordingly, the productivity of these crops increases. In addition, these hormones are used to increase the green mass of fodder legumes. Some townspeople are still surprised to see a field of peas, on which there are many stems, but very few pods ...
Auxins and their synthetic substitutes are used to enhance the root formation of cuttings, accelerate the germination of seeds of some plants, increase the yield of tomatoes (!), Protect the fruits from pre-harvest decay, and restore the root system after transplanting.
But, probably, the most widespread ethylene producers. After reading this term, some readers who knew "personally" with cotton, or, more precisely, with cotton picking, immediately recognized the muck that "corncrackers" had sprayed on the cotton fields and after which there were no leaves left on the bushes.
It is this group of substances that is used to reduce the ripening time of fruits, to induce flowering of certain plants (mango, avocado, pineapple), to strengthen the stems of crops, for example, rye and wheat, to accelerate the ripening and facilitate the harvesting of tomatoes, apples, sea buckthorn, citrus fruits, grapes.
The abundance that a modern city dweller sees on store shelves has also appeared thanks to hormones. However, the disappearance of the normal taste of fruits and vegetables in city stores - also from hormones. Tomato or any other vegetable will not withstand prolonged transportation and storage.
Fruits just rip green. In this form, they begin the path to our stores. But they are brought to a ripe appearance by special treatment. And here is a fruit or vegetable, "just taken from a melon or grape bush this morning" somewhere in Georgia or Moldova. Merchants openly lie to us, and we, knowing this, pretend that we believe them. Yes, and we ask, from which side of the mountain this same grape ...
There are many ways to relate to the use of hormones and other substances in agricultural production. I have already been reproached for not understanding the obvious things like increasing the world's population that needs to be fed. I understand everything. Everyone wants to eat. This is normal. Just what to eat? And will there be any man left after such feeding? Poison can also be eaten. But most often once ...