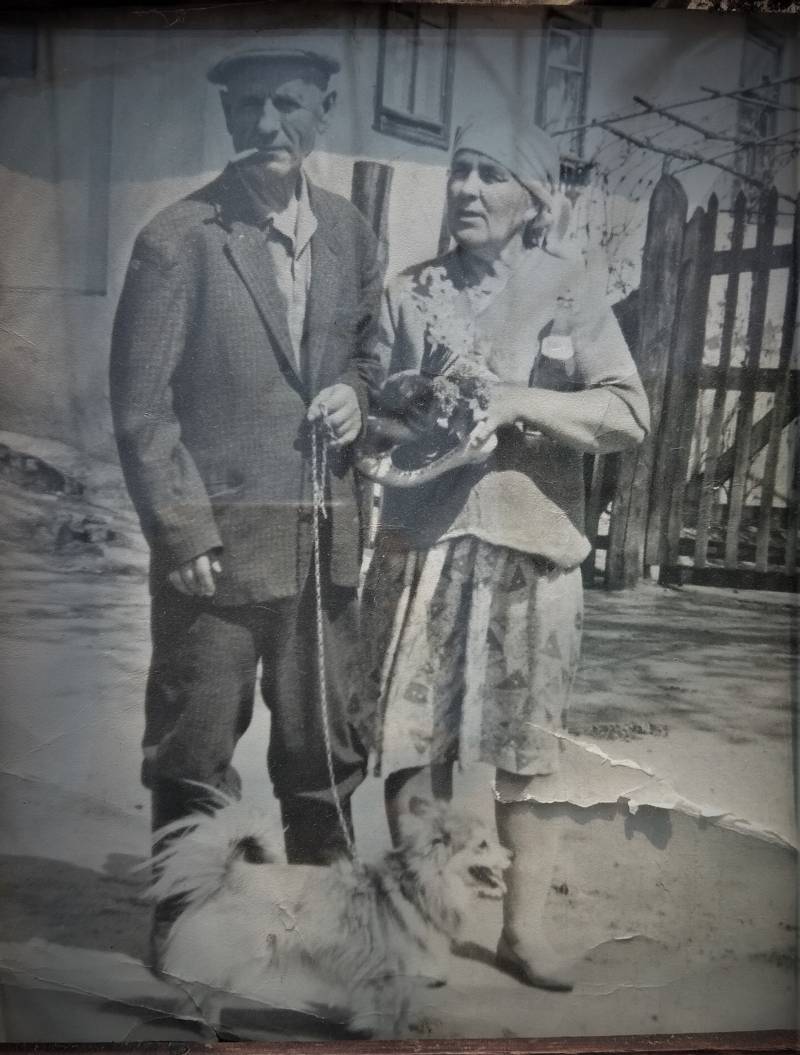 Recollection of the past
An old photograph, not of wartime, as worn out by life as the faces of the elderly depicted on it. More than half a century photograph of ordinary people who survived the war. Most of the family album has similar old peacetime cards.
Looking at the faces, I remember my childhood emotions during the celebration of the 35th anniversary of the Victory Day.
"Grandmother, where are the grandfather's medals? He fought, is he a hero?"
- Well, of course, the hero, he just didn't get medals, he was shocked.
"Grandma, well, at least you were in the partisan detachment, maybe you blew up the trains?"
- No, dear little ones, I was in a vacuum with the children.
All ... Dreams collapsed. Grandfather at least had to be a pilot and shoot down planes or a brave tankman, or sign at the Reichstag, having passed half of Europe. And why grandmother was not a scout in the partisan detachment? "Commissar," the vacuum. "
No feat, no heroism.
Veterans came to school, grandfathers and grandmothers of classmates in orders and medals talked about the exploits of the war. Children boasted to each other. I was silent. There was nothing to be proud of.
Only with the years, knowledge and experience did understanding of those events come for ordinary people from photography. And I would like to ask a lot about them, I would like to know a lot about how they lived, where they lived, what they thought, but alas! ..
All that could be found out.
1941 year. MSSR. Ordinary family. Not involved, not members, not members of the CPSU (b).
War.
Alexander Terentyevich. 35 years. Chief agronomist.
Called, Appeared. The part was manned and sent to the front. Bombing. Commissioned after six months of hospitals with concussion. There they left a clerk.
Justina Maximovna. 30 years. A housewife.
The Romanian army is advancing. An official from the district executive committee loads his junk on one and a half. Justina begs to take her with the children. 4 girls. 13 years old. 8 years. 4 years. 4 months. No. No space on the back. The soldier-driver threw everyone onto the body. Have time. The only suitcase with things remained on the road. Evacuation. Bashkiria.
That's the whole war, in two paragraphs. All that remains in
stories
.
Reflections on the Present
How can this be imagined today for several generations who are fortunate enough not to be part of such a disaster?
How do people appear who openly mock Victory, for whom tens of millions of dead are just statistics, serving them as confirmation of a dictatorial regime, and nothing more? The selflessness and heroism of the fighters and workers of the rear for the people are absolutely abstract concepts: after all, one could "drink the Bavarian".
This "war survivor" is now associated with a shaking old man or a hunched granny. And then they, in the 41st, guys and girls, fell in love, studied, dreamed. Families raised children, worked, planned their lives.
Few people think about what the boys and young men survived yesterday. It is impossible to imagine how they were able to go through all this, especially in the first year of the war. Hundreds of thousands died, were captured, perhaps without even realizing what was happening. But they went to the front, saying goodbye to the family, to the tantrum of their wives and crying children. They went to defend their homeland. Will all "creative and vibrant personalities" now understand them? Can they even imagine a little?
Millions of people were torn out of civilian life by the war and evacuated to the rear. A 30-year-old woman with four children, without a suitcase with linen, without pads, without diapers and baby food and meals in general, without replaceable clothes and money, for two and a half thousand kilometers, without relatives and friends ... And there will be winter again. And not one. Modern "jam" will understand how this is possible?
My ancestors had a chance to survive in this war. They have passed. Every day of the war. For them, this was not heroism. Everything for the front, everything for the victory. This was not just a slogan. That was the norm.
Three years later, they found each other. Without vibera and social networks. Grandfather returned to agronomists, grandmother to kindergarten.
What a joy then
Post-war breathe in the spring,
On the ashes of bread and cities
It was not someone who raised us, but you and I.
May 45th was the happiest month for the entire Soviet people, and in due time, in February 46th, my expectant mother was born.
They left many grandchildren and great-grandchildren on earth. Children grew up worthy people ... We were happy every day. "Lord, how to live well now, not like in a war," the grandmother often said.
They left in the last century, not having seen our life problems, change of formation and new wars. Thanks to them. Rest in peace.
Simple family. Without heroism and feat. One of several million families of the Soviet Union. Invisible and, at first glance, insignificant components of the victory of the Soviet people.
Happy Victory Day, my dears! This is your victory. Proud of you.