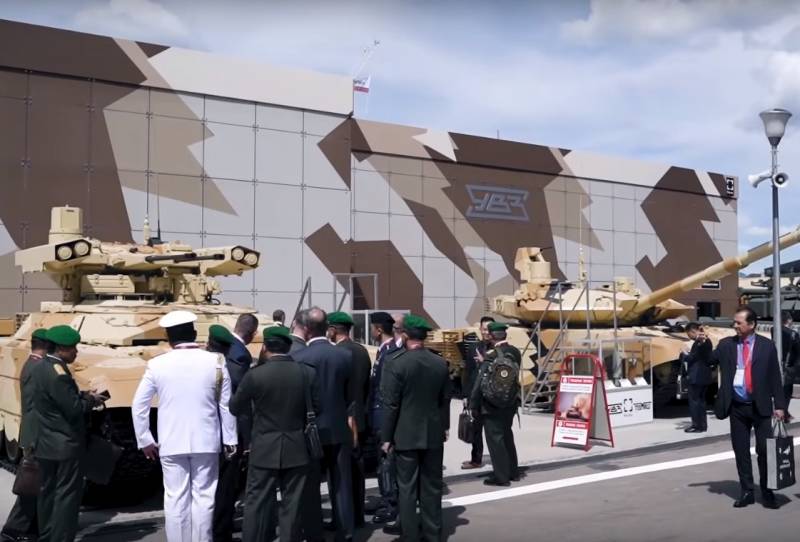 Despite the sanctions regime imposed in 2014 against Russia by the United States and its allies, our country remains one of the world leaders in terms of arms exports. The main buyers of Russian
weapons
- Asian and African countries.
The Ministry of Defense of the Russian Federation published open information about Russian military exports in 2019. According to the military, the total export amounted to $ 15,2 billion, which is more than in 2018 (then military exports were estimated at $ 15 billion). In fact, Russia took second place in the hierarchy of arms exporters, occupying a fifth of the entire world military market. About fifty countries choose Russian weapons to equip their armed forces and security forces.
At the same time, the supplies of air combat and air defense equipment remain the most important article of military export. 54% of military exports fall on air combat weapons and 30% on air defense weapons. The most popular products of foreign military departments include Su-35S, S-300 and S-400 air defense fighter planes. There is no doubt that newer weapons, such as the S-500 air defense system, will also be in demand.
If we talk about the main buyers of Russian weapons, then traditionally they are represented by the countries of Asia and Africa, military-technical cooperation with which was begun in Soviet times. India, China, Vietnam, Syria, Iran, Algeria, Egypt, Sudan remain the main consumers of Russian weapons. For example, S-300 air defense systems were delivered to Iran and Syria. From India, the Russian Federation received an advance for the supply of 18 Su-30MKI, 20 MiG-29, 450 fighters
tanks
T-90, 600 thousand assault rifles and 4 frigates of project 11356.
Interestingly, in recent years, Russia has managed to establish military-technical cooperation at a fairly high level with countries that were not previously among the important buyers of Russian weapons. So, the S-400 air defense systems of Turkey were delivered, which caused a sharply negative reaction from the United States.
Agreements were signed with Saudi Arabia and Qatar, and in Southeast Asia a new promising buyer of Russian weapons appeared - the Philippines, whose president Rodrigo Duterte, with his loud statements, contributed to the deterioration of relations between the country and the United States. Russia already supplies the Philippines with small arms, ammunition, and military trucks.
In Africa, in addition to the above-mentioned Algeria, Egypt and Sudan, Mali, Burkina Faso, Uganda, Rwanda, Angola, Mozambique, Niger and a number of other states show interest in Russian weapons. In 2019 alone, arms worth a total of $ 4 billion were to be delivered to Africa, and the amount of promising contracts is estimated at $ 14 billion. For example, Niger decided to purchase 12 attack helicopters Mi-35. In total, African countries account for about 40% of all Russian arms exports.
The success of Russian defense exports is closely monitored in neighboring China, and this is far from idle interest. China itself is not only an important buyer of Russian weapons and technology, but also one of the major exporters of weapons, so it is interested in the Russian experience in the supply of weapons.
Wang Wenjian of the Xinhua News Agency connects Russia's successes in the global arms market not only with objective characteristics such as quality and relatively low cost compared to American and European weapons, but also with proper positioning and effective presentation of the achievements of the military industry.
In the PR of Russian weapons, according to the Chinese author, the highest figures of the Russian ruling elite are involved, including the Minister of Defense of Russia Sergey Shoigu and President Vladimir Putin himself. For example, Vladimir Putin at the XIV International Aviation and Space Salon personally showed his Turkish counterpart Recep Erdogan the cockpit of a Su-57.
As long as Western countries retain sanctions against Russia, Moscow is successfully operating in the eastern and southern directions. Asian and African countries, taking care of strengthening their armed forces, are also interested in high-quality and inexpensive Russian weapons. Given the unstable military-political situation in many regions of Asia and Africa, for them the acquisition of Russian weapons is a vital necessity.