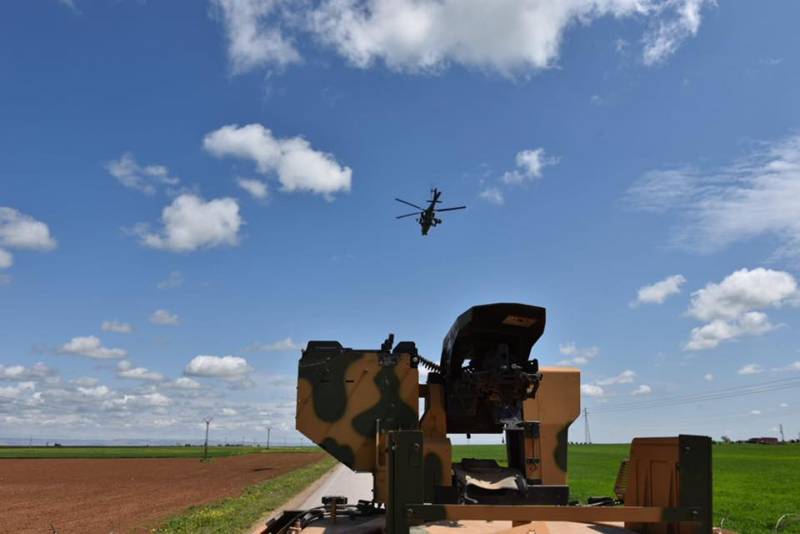 The Turkish Ministry of Defense presented a report on the results of operations in the Syrian Arab Republic in March of this year. Representing the press service of the Turkish military, Colonel Alkay Denizer, head of the public relations department, said that a total of 80 terrorists were killed last month. Moreover, Ankara in this case refers to terrorists as PKK / YPG armed men from the Kurdistan Workers Party.
Drunk Denizer:
The main phase of the operation was carried out by our commandos in the Tel Rifat area, where terrorists tried to invade the territory of the military mission by Turkish troops.
According to him, Turkish troops destroyed 52 shelters, a warehouse and a crypt.
From the report of the Ministry of Defense of Turkey:
More than 250 kg of ammonium nitrate, 2,5 kilograms of C-4 explosive, 92 detonators, and other components of explosive devices were seized.
The same Denizer said that the fight against terrorism is conducted on the territory of Turkey itself. He noted that organized confrontation with the "FETÖ forces" continues. These are the forces of Fethullah Gulen, whom Ankara accuses of sponsoring the coup attempt. Gulen himself lives, recall, in the United States. The Turkish Ministry of Defense said that at the moment, trials in the country are conducted against more than 5 "Gulenists", including former military personnel.
Denizer:
Since July 20, 2016, 19 people involved in the coup attempt were dismissed from the Turkish Armed Forces.
It must be recalled that in 2016, an attempted coup in Turkey failed. Ankara then thanked Russia for providing data on the mood and plans of the opponents of Recep Erdogan, whose fate hung, as they say, in the balance.