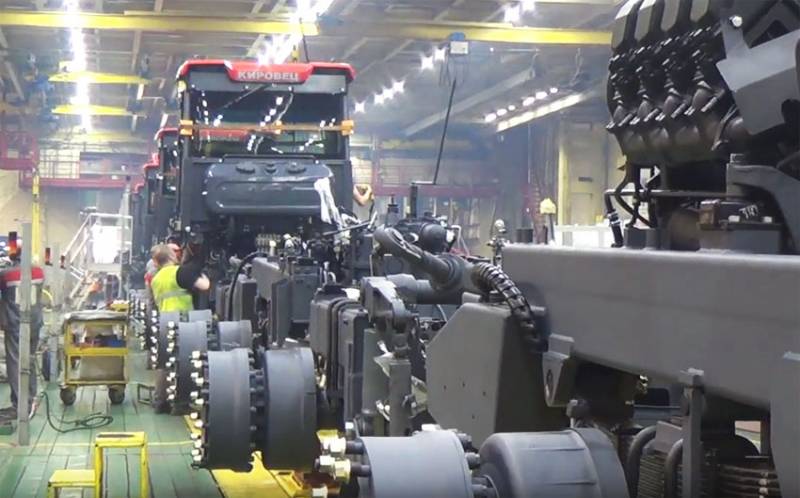 The situation that humanity is experiencing today will cause global changes in many areas of human life.
Already, we can talk about global changes that await us in the coming months and years. Today I want to express my own point of view on how the concept of development of industry and the economy as a whole will change. I repeat, what I will express is my opinion. Just because according to the data that we have, the impact of coronavirus on industry cannot be estimated. It will be possible to evaluate such an impact only with obtaining specific figures for March-June.
How industrial production responds to a pandemic
Alas, we do not have official figures from Rosstat. However, there is operational data from the Institute of Problems of Natural Monopolies (IPEM), which are published in RBC. It is clear that the data will be adjusted as data is received, but the changes in numbers will not be significant.
I will quote:
"The IPEM-production index, which characterizes the state of industry in Russia, declined, according to the institute, by 1,2% by March 2019. In January – March, the decline was 0,6% compared to the same period last year. "
Here it is necessary to clarify the fact that the decline in production occurs not only under the influence of the pandemic, but also for other, completely natural reasons. In addition, the industry has a certain margin of safety, allowing it not to fall instantly, as is the case with trade or service, but to reduce production inertia. Simply put, factories can work "from stock" and "to stock" for some time.
There is one more factor that "hides" the real figure of production decline. The government of Russia "voluntarily decided" suspended the work of a large number of enterprises. Russia has chosen the way to save human lives due to some decrease in economic indicators. At least they argue that way.
If this is true, then, in my opinion, this is a fairly heroic decision. Especially coupled with an understanding of the consequences for the country's economy of such a stoppage of industrial production. Losses must be compensated for from the state "egg capsules." This means that the government has confidence that these "pods" are quite significant.
The average daily economic activity in Russia as a whole, according to the Center for Macroeconomic Analysis and Short-Term Forecasting, fell by 16% (data as of March 30). This is the conclusion that was drawn after analyzing energy consumption to the level of a week ago.
Globalists and anti-globalists
For decades, the world has been arguing about how to live on. Some economists and politicians favor the idea of ​​universal globalization, the creation of a "universal world", where each country would develop and produce certain goods, receiving other necessary goods from neighboring countries.
Another part advocates the preservation of national full-cycle industries as a guarantor of the country's economic security in emergency situations. True, the emphasis in their evidence on the correctness of the theory is made more by antiglobalists on agriculture. They do it deliberately, realizing that "through the stomach" comes faster.
It seems to me that globalists and anti-globalists did not even seriously consider the issue of a situation similar to today. Everyone, for some strange combination of circumstances, considered the world war in the classical sense of the world as the only possible emergency. Politicians also advocated the same point of view. This created the illusion of the omnipotence of some countries in all matters.
As the events of the recent past, and the present, have shown, countries that have retained national industry are more able to quickly respond to critical situations. Those countries that, due to various circumstances, were excluded from the world production system and were forced to independently develop entire sectors of their economy.
Russia, which came under numerous sanctions from the "democratic world", was among them. It is largely saved by the import substitution program, which appeared due to sanctions. Reduced dependence on imported components allows Russia in this regard to look better than a number of countries in terms of combating the pandemic and better than itself, for example, 2012.
What's next?
Even after the disappearance of the coronavirus, the pandemic will continue in the heads. In most countries, or even in certain regions, the population is confident that the virus was introduced to them from outside. True or fiction, it doesn't matter to us at all. Another thing is important: the absence or transparency of borders is personally dangerous for every citizen of the country. This is in the minds of people!
This means that closed borders, economic relations, minimized, prohibitions on labor activity for foreigners and so on must remain until the danger, even if theoretically, disappears completely. Which, for well-known reasons, is simply impossible to achieve. Theoretically, nothing is safe. Remember the saying about a shooting stick.
For some time we are returning to the era of German or American cars, Japanese or Korean computers, etc. German cars I used in the sense in which it was half a century ago. A car made in Germany from German components. And not a set of parts from around the world, combined into a car under the brand name of a German concern.
This is a great opportunity for us to continue the import substitution program. The program for the revival of their own factories. This is exactly what our production workers are waiting for. They are waiting for a repeat of the situation that our peasants are experiencing. With a small (statewide, of course) help, Russian concerns will be able to enter the leading group of enterprises in the world.
A natural question arises about product sales markets. It is clear that such a huge country like Russia will produce much more goods than is necessary for its own needs. Where to export them?
Again, nothing new needs to be invented. Small states, even in conditions of closed borders and political restrictions, will seek for themselves quality products for little money. So it was already in the days of the USSR. We competed in markets with other countries. And quite often quite worthy.
Some particularly politicized readers will now talk about another whining about the collapse of the USSR. Yes, it's not the revival of the USSR, but the place of Russia in the world economy. We talk a lot about this, but we are embarrassed to speak directly. We want to live in a country as powerful as the Soviet Union was. And today we have such an opportunity. We got a chance!
Instead of a conclusion
It is strange enough to link the coronavirus pandemic and the development of industrial production in Russia. But, as life shows, everything in this world is interconnected.
For example, I do not exclude at all that the collapse of the world economy system can lead to wars in the regions, and, possibly, world war. I do not even exclude the possibility that completely unbelievable alliances of states that today are in opposite camps may arise. The wisdom we often turn to is a "perishable commodity," as the two world wars have shown.
Yes, we are still largely inferior to some countries of the world. But today we can influence the world economic system. We are not whipping boys today. So, it is necessary to use the situation for the development of our own industry, for its withdrawal into the leaders of world production.
Is this possible? Why not? How many countries were able to make such a breakthrough in a short time. Recall Japan, Korea, China ... Probably, it is time for us to stop thinking about our own economic revival as a pipe dream.
Have we revived the defense industry? Revived! And we continue to develop further. And what prevents us in the current conditions from reviving civilian industries? We have scientific potential. There is also an engineering building. Money for the construction of production - too. So why not start building? Why not take an economic leap? After all, this is in our
stories
already happened. And more than once ...