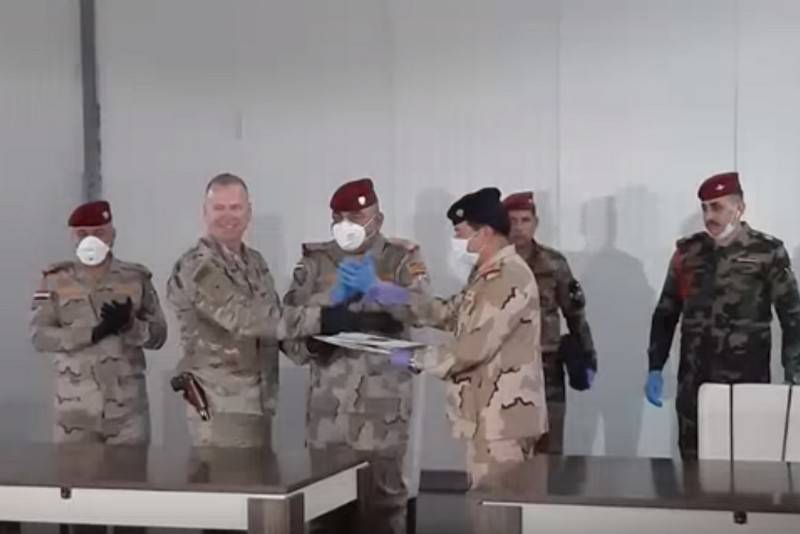 US troops continue to leave military bases in Iraq, transferring them to the Iraqi army. Another base abandoned by the USA has become
aviation
Al-Takadum base. This was announced by the representative of the headquarters of the operation "Unbreakable Determination" Colonel Miles Caggins.
The forces of the international anti-terrorist coalition led by the United States on Saturday left the Al-Takadum air base, located in Anbar province in central Iraq, handing it over to the Iraqi military. According to the operation headquarters, all of Iraq received $ 3,5 million worth of military property.
After months of planning, the coalition leaves Al-Takadum Airbase (...) to transfer 3,5 million worth of property to the Iraqi government. 500 members of Unshakable Determination will leave. Iraqi Armed Forces continue to fight decisively with the Islamic State (banned in Russia) in Anbar province
- said in a statement.
This is the fourth military base transferred from the United States to Iraq. So, on March 26, the Americans withdrew from the base of Al-Qiyar, located under the Iraqi Mosul. On March 29, the Iraqi army was transferred to an air base located in the province of Kirkuk in the north of the country, and on March 30, the coalition transferred its headquarters to the Iraqi army in the province of Ninewa, located in the north of the country near the border with Syria.
Note that the Pentagon does not completely remove the military from Iraq, but moves them to other military bases all in the same Iraq and in neighboring countries, including Syria. It is emphasized that the liberation of the military bases was "planned in advance" and was in no way connected with the attacks on the coalition bases and with the current situation due to the spread of the coronavirus in Iraq.