Google has decided to publish in the public mode data on millions of users of its resources around the world. According to representatives of the management of the information giant, they decided to take such a step in order to assist national governments in confronting the pandemic.
Google publishes
data
for the period from February 16 to March 29 to 131 countries of the world. It is worth noting that the list does not contain data for a number of countries of the world, including Russia, Armenia, Ukraine. At the same time, the list contains information, for example, on Belarus, Kyrgyzstan and Kazakhstan.
From the commentary of the management of the American company:
This information can help officials understand changes in the implementation of basic trips, which can formulate recommendations on working hours or inform about offers of the delivery service.
For example, the data for France is as follows: visits to public places in this country for the specified period fell by 88 percent. At the first stage of the research, the French rushed to the shops - an increase of up to 40 percent. But in the second half of March, the drop in visits to outlets amounted to 72%.
Data for Belarus. Mobility of citizens in catering points, museums, cinemas, libraries, etc. fell by 14%. At the same time, walks along the streets, squares, squares, including pet walking - an increase of 41%. The mobility of citizens of Belarus in relation to jobs increased by 2%. Generally speaking, Belarus turned out to be almost the only state in the world (from the list presented), where growth was noted in relation to walking and activity in the workplace.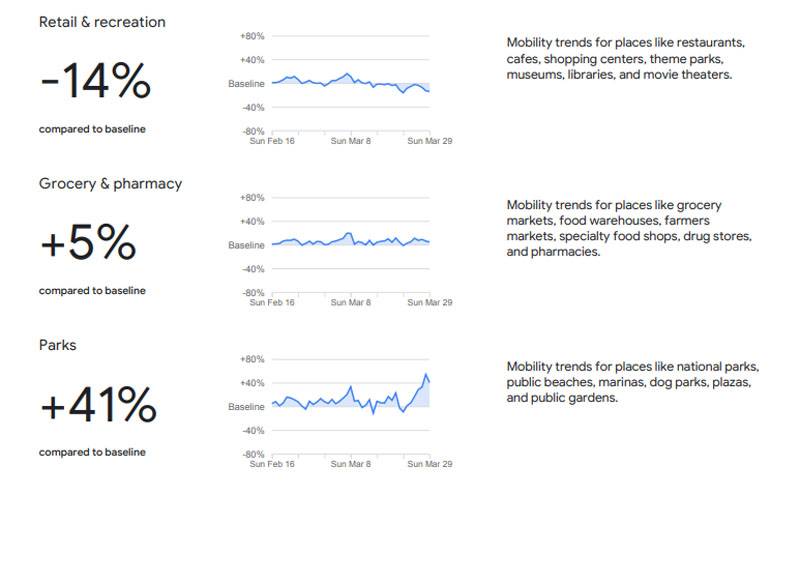 Indicators for the United States: all indicators of citizens' mobility in the red ranging from 19 to 51% (including the use of public transport). In growth, one indicator is the activity of citizens in the areas of their residence: + 12%.
Italy. The mobility rate for jobs fell by 63%, and mobility rates for public places fell by 94%. The activity of Italians in their areas of residence increased by 24%.