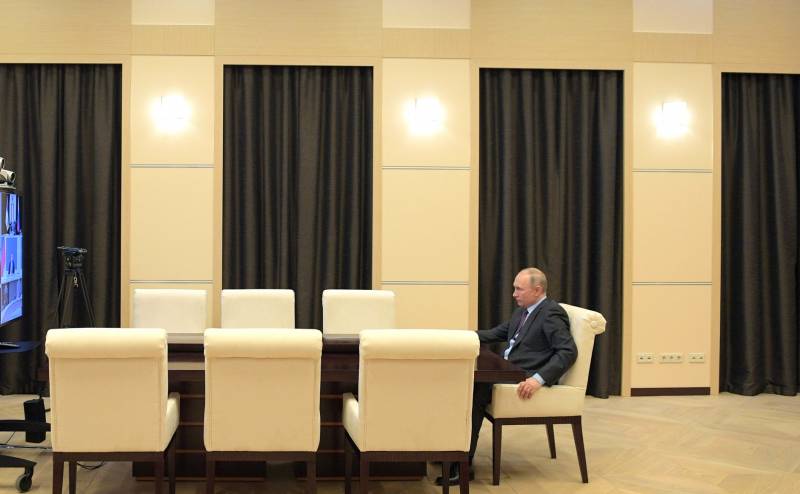 I don't know how about the coup, which some media and bloggers have amicably voiced about, of course, there is something in this. I mean that Putin allowed the FSO to use technology and everything else. They say it is afraid of a coup and overthrow.
I will say this: not without reason. The ratings go there, the knock comes from there, and everything is in the bottom. So there are reasons. About the fact that the FSO will defend ... Well, this, you know, how to approach the issue.
The number of FSO does not exceed 50 thousand people, and even they are scattered slightly. Well, definitely not a panacea, agree. Well, if the "formidable forces", then the FSO is definitely not an assistant. Well, yes, the plane will cover taking off. No more.
In addition, the FSO does not seem to be intended against the rioting population. For the population there is the Russian Guard and the Ministry of Internal Affairs. Against whom then can apply the technique,
weapon
and not bother with the responsibility of the FSO? Against electoral competitors, or what? It's also strange, again there will be a godmother with stupid statements (if they persuade Ksenia) and a couple of eternal "oppositionists".
On Navalny, excuse me, enough of the precinct. And another 30-day arrest.
But I'm completely different. I'm saying that relatively soon (we don't have time to get sick all) I have to choose. Again, either the election without a choice, or the election of Putin, but something like this will happen in 2024.
And here is a consideration, because we need a responsible president. Able, able, understanding and all that. Putin 2. Just Putin. Putin zeroed, in fact, it does not matter. The important thing is that Russia and its population will need a President. Appropriate.
I have nothing (almost) against it being Putin. But not THIS Putin, but THAT ... Well, you understand, right?
Today's Putin doesn't look like a president who can pull Russia out of all the problems.
Probably worth explaining?
Here was a speech. Well, it's not so badly staged, an ambush came out with a watch, but you must admit, this is not such a jamb. The important thing is NOT HOW, the important thing is what the president said.
But in fact, he did not say anything. Neither new nor useful. Yes, extended the "paid" non-working days. True, he did not explain who and where would take the money to arrange a day off for the country for a month.
Well, at the same time (a beautiful move, by the way, I appreciated) put the problem on the governors. In places it is more visible, closer to the people, here you are with the people and understand. Two governors do not be fools - they rushed to resign on their own, Sobyanin heeded the hints and canceled the pass.
I think in other regions where governors have meat testicles, concessions will begin. Because, excuse me, this 1941 reminds me. When the armies broke down and fled, as the headquarters were the first to drape. No, it was a matter of when the lieutenants and captains pulled out the situation, but now is not the right time to elect, say, people's mayors. Not Crimea with the "Russian spring". Wrong tasks are a bit worth it.
Not very somehow it all looks. They invented fines, threw taxes, punished the earth. And that is all. Further on the ground.
I foresee further flight of governors and mayors, because if people are smart, they will realize that in this situation they will still be suspended in one place. Either because the spread of the virus was not stopped, or because, fighting the virus, half of the companies in the region were killed.
In general, it does not look very good. The man who served as president of Russia for 20 years (well, he was the prime minister, but under which president) seems to give fateful orders aimed no less at the survival of the nation, but ... Somehow, he puts all the responsibility on others.
Moreover, I have already said, so I repeat: no support measures have been proposed. The adopted law "On Supporting Businesses" is designed in such a way that no one will receive the fact of this "assistance", which is not so much. Well, with the exception of yourself you know whom ... Heroes of Labor of Russia Rotenbergs.
The situation is rocking. It is not known from which to pay a salary - there is no revenue, it is impossible to produce / render services, it is necessary to dismiss workers for salaries and to wait, it is not clear what. Oh yes, you can take a loan. Two is better. To definitely not go anywhere in the future. And then suddenly the business will survive?
And you cannot declare yourself bankrupt. Not the time.
Honestly - I didn't understand why Putin needed the destruction of small and medium-sized businesses. Probably, they set this task. But what did not work out in 1998 and 2008, in 2020 it turns out not just, but very simple.
Where in a month thousands of employees of small enterprises that were ruined by then will go, Vladimir Vladimirovich is clearly not very interested. And they will have nowhere to go.
You don't need to follow examples; personally, I have a lot of people around me, completely at a loss from what to live on this suddenly fallen month. An employer (as Putin said) is required to pay a salary. And the point.
Who will pay her seamstress in the studio? Shoe repairman? Auto mechanic? To the tire worker?
In general, everything was somehow thought out ... too in Russian. I will not begin to follow the example again. A trifle: the faucet-box in the mixer at the neighbor broke. They were looking for the whole community, well, in the next entrance, the peasant found a spare. Some strange, German. And nowhere to buy.
We return to the time of the 80s, when in every apartment there should be a supply of candles, light bulbs, crane boxes, switches?
And they are already gone, because there are no those who sell them. Well, those who bet, too. At the same time, enterprises must continue to pay loans, leases and taxes. This has not been canceled. Such is the concern for business.
In general, it turned out very peculiarly. We defended the "Russian world" in the Donbass, fought against fascism in Ukraine, against terrorism in Syria, and saved the population of Italy and the USA from the coronavirus.
But as soon as the question arose that the state should (yes, hell, it should !!!) protect its citizens, that's all, the state began to merge. No, of course, governors and mayors are also a state, but I think we will also see their backs.
And, except for a bunch of prohibitive measures, I do not observe anything from the state. Nothing. No price controls that just rushed up, nothing like that. You begin to no longer understand, but to be completely confident that you were needed only to cut taxes from you.
And most of all, it's touching not even the president's self-isolation among the Valdai beauties, but his self-removal from work.
Announcing a vacation is not a job. This is shifting responsibility to those below. This is not the same Putin, honestly. That Putin walked and solved problems. Good or bad, he went to solve them. And this one ...
And this one, sorry, just transfers responsibility to the regional authorities. And it turns out a very funny situation: the president gives instructions on the introduction of all these strange self-insulating weekends with the due payments. Blaming all hemorrhoids on employers and regional authorities. It turns out that the president is good, and the governors and mayors who will decide on the introduction of quarantines and emergency situations, impose fines, and so on, are bad.
It would seem, why not introduce an emergency mode or quarantine at the worst?
Everything again comes down to money. Remember what Putin promised on March 25th.
"To support those who are on sick leave or have lost their jobs, they will establish a sick leave payment rate. Until the end of the year, these payments will be calculated on the basis of at least a minimum wage, unemployment benefits will increase to the minimum wage level - up to 12 rubles. "
So it all becomes more or less clear. Either there is no money (where then did they go?), Or the desire to pay for a banquet. Therefore, powers (and a headache to raise funds) are transferred to the heads of regions who are starting to quit, realizing what this threatens them with in the future.
And here she is, an old tale of a good king and bad boyars in the field. No? In general, it seems.
Meanwhile, doctors from the same regions are shouting for help, saying that they lack elementary remedies. I already wrote about this. But these remedies are sold / transferred to our "worst friend", that is, the United States. And the USA satellite of Italy.
Strange situation. It would seem that we must first of all take care of our citizens, but in reality? But in reality, somehow it doesn't work out very well.
I repeat. I am not opposed to Vladimir Putin-2024 becoming president again. But so that it was the president of the model not in 2020, but in 2002.
I want to live well. No matter what.