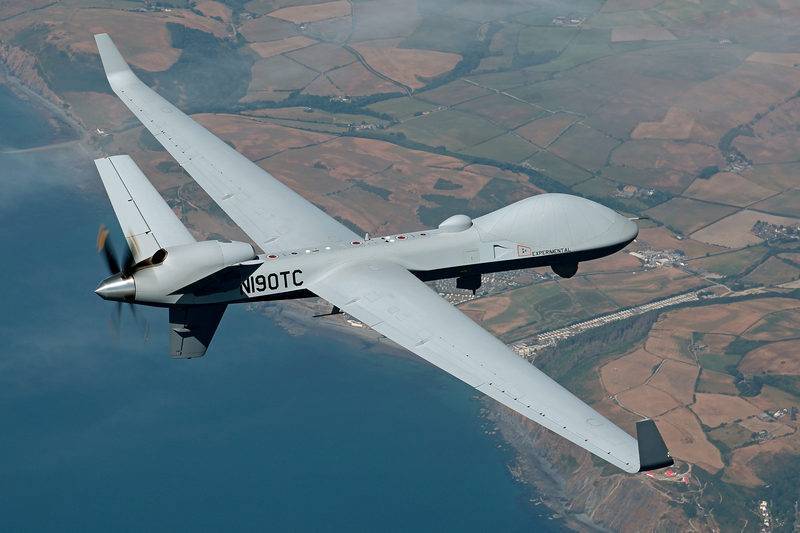 In the United States, flight tests of the first production version of the MQ-9B SkyGuardian Certified Unmanned Aerial Vehicle (UAV) began. The first flight took place on March 30, 2020 at the airport of the enterprise in El Mirage in California and was recognized as fully successful.
The drone was developed by the American company General Atomics Aeronautical Systems, the company intends to certify the first production version of the MQ-9B SkyGuardian and began its flight tests. The ultimate goal of the test program is to bring the attack drone to the possibility of registering the air authorities of the United States and some European countries, after which it will be allowed to fly in general with manned air vehicles in the airspace.
The MQ-9B mid-altitude drone was developed on the basis of the MQ-9 Reaper drone, its first flight took place at the end of 2016. Unlike the basic version of the MQ-9 Reaper, the SkyGuradian drone is equipped with an anti-icing system and a system for preventing collisions in the air with the TCAS aviation standard. In addition, the device is equipped with advanced automatic take-off and landing system and reconnaissance optoelectronic and infrared high-definition video system.
The device is capable of flying at speeds up to 388 kilometers per hour and at an altitude of up to 14 thousand meters. Flight duration is up to 35 hours. The device is equipped with a modular weapons control system that allows operators to launch proprietary rockets from it.
It is assumed that their first operator, along with the United States, will be Britain. The military departments of Italy, France, Belgium, the Netherlands, Denmark, Norway and Australia also showed interest in acquiring UAVs.