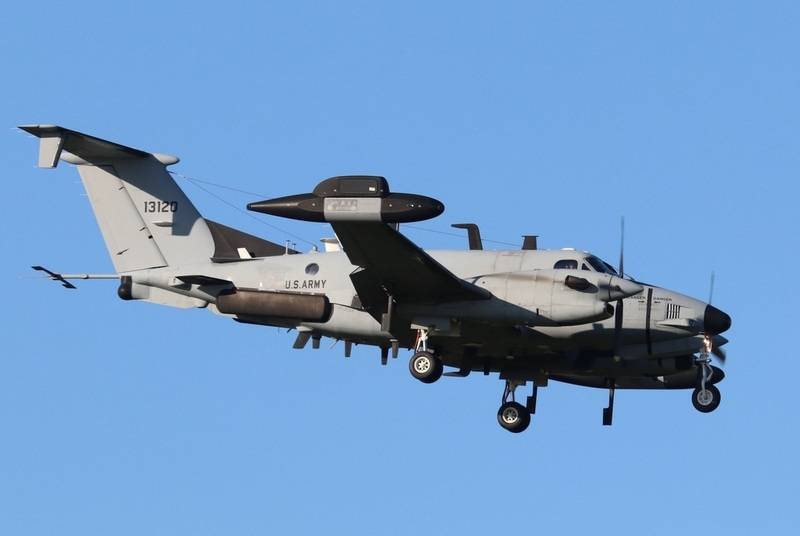 The United States deployed two Beechcraft RC-12X Guardrail army aircraft at Lithuanian Šiauliai airbase
aviation
USA. The main task is reconnaissance in the area of ​​the Russian border.
These RC-12X aircraft have US military numbers 93-00701 (call sign "YANK 01") and 92-13120 (call sign "YANK 02"), both are part of the 204th Military Intelligence Battalion of the US Army, stationed in Fort Bliss (Texas). In December last year, aircraft were relocated to Lithuania with the main task of tracking the Kaliningrad region of Russia. According to Western aviation resources, from the moment of deployment at the Šiauliai airbase, planes daily carry out reconnaissance at the borders of the Russian enclave.
According to the bmpd blog, RC-12X aircraft are one of the special military modifications of the popular Beechcraft Super King Air B200 twin-engine turboprop light aircraft. In 12-2010, the RC-2016X was converted into an airborne reconnaissance variant from earlier RC-12 modifications, originally acquired by the American army in the 1980s and in the first half of the 1990s, as the lead contractor for the conversion, modernization and operation of the RC-12X favored by Northrop Grumman Corporation.
According to available information, the U.S. Army is currently armed with 19 RC-12X aircraft. All aircraft are part of the 204th and 305th military intelligence battalions.