Alexander G. Lukashenko is the unconditional mastodon of post-Soviet policy. Having sat in the chair of the President of Belarus in July 1994, the former political commissar and secretary of the party committee, Lukashenko seems simply "Teflon" to
historical
and political whirlwinds. Nothing sticks to him and nothing burns. Back in the early 90s, he easily bypassed the nationalist party of the Belarusian Popular Front, whose unofficial face was Vasil Bykov himself, who in his old age slid to terry anti-communism and, as a result, to Russophobia. It was impossible to call his purely political tactics subtle and elegant, but it was effective ...
Blossom on someone else's background
Lukashenko was well aware that all the former Soviet republics would always be in the contrasting shadow of Moscow. And they jumped out of the Union solely on the assurance that they would be even richer than Moscow. Therefore, Lukashenko, cleverly manipulating illusions within the CIS and Russia's imperial nostalgia for the Union and the fraternity, maintained order and an adequate standard of living in his country to periodically point a finger toward a neighbor mired in the war for example to his citizens.
And against the background of Yeltsin, Alexander Grigoryevich looked completely brilliant. Yeltsin took up a glass - Lukashenka took a shovel, Boris was taken in a resuscitation limousine - Alexander steers a tractor, the "father" with industrialists walks around BelAZ workshops, and the "tsar" Boris, surrounded by oligarchs, continues to ring in glasses.
From a height of years, all this, of course, seems to be a measurement of the temperature in a typhoid hut. After all, once it seemed commonplace to open large-scale production and seeing off spacecraft into space, rather than trying to save or sell the rest more expensive. But the sympathy of the people, obviously, fell on Lukashenko, although he was clearly not an outstanding figure with such political tricks. Entire volumes of ridiculous pearls were easily forgiven:
"Just picked up the eggs, as soon as the milk disappeared."
"You asked for rain - I gave you rain!"
"And God forbid to cope with his native Belarus. Agree that this piece is enough to swallow it. God forbid, at least somehow chew for five years. "
"We don't need there: an automated system of election fraud. Do not. We will create a state. "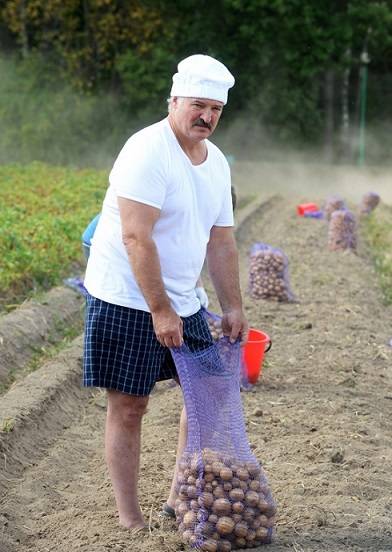 His quotes can compete even with Klitschko. But all this, of course, was forgiven. How can you not forgive, when you look towards the "Tsar" Boris unwittingly start to be baptized. And it is no secret that many promised him the prospect of trying on the crown of the Mother See himself. Therefore, the creation of the Union State, perhaps, seemed to Alexander Grigorievich a real gift on the way to Moscow.
And in 1996, in the St. George Hall of the Kremlin, under the agreement on the formation of the Community of Belarus and Russia, Boris Nikolayevich scribbled a trembling tremor and Alexander Grigoryevich signed his hand with complete hope. And everything went as it should. The contrast continued to work. A potato, a tractor, a barn - a glass, a hospital, oligarchs. And all the same nostalgia helped pump the country with cheap resources.
I'm tired, I'm leaving ...
Suddenly, like thunder from a clear Minsk sky, the news broke that Yeltsin was leaving. Alarming bells about the appearance of a young and active chairman of the government Vladimir Putin, who showed his teeth in the Caucasus, and before that, the "father" had come around with a nervous tick. And now it was worth starting to change the concept, to reach a new level, but it was not clear what to expect from the new leader. Moreover, Lukashenko has already managed to earn the title of "last dictator of Europe."
And the cunning fellow in Moscow stopped organizing photo shoots, and no one saw him with a bottle. On the contrary, a person in the status of president, who had not been seen for years beyond the table, suddenly appeared in an army tent, lit up at a plant not yet dead, managed to get into a combat aircraft, and even began to make quite reasonable offers on the international stage. And what is all this to cover?
And then the inertia of thinking worked. Alexander Grigorievich with a vengeance took hold of a shovel, loaded potatoes, inspected the cowsheds and again walked around his beloved MAZ and BelAZ. But nostalgia for Russia worked, raw materials and purchases of Belarusian products were on, so there was nothing to wipe away tears about failed political leadership.
Time passed, but receptions did not change
Over time, it seemed that Lukashenko came to terms with the situation, as if there were no thoughts about the Russian crown, and took the place of an experienced juggler between the periodic blackmail of Russia by threats to "leave" to Europe and promises to Western countries to take a course towards rapprochement. At some point, Alexander Grigoryevich seemed to begin to enjoy it, repeating the scheme over and over again, not noticing that he had simply begun to engage not only in cheap extortion, but also to lose face.
Well, how many times can you dig up potatoes? And shake your melons, clapping each watermelon like a baby in the ass? And even more so it's time to reconsider the "strategy" of political behavior, when in the cowsheds of the president they even take record-breaking chicks for "their own". Meanwhile, spice is added by the loss-making of MAZ and the actual stop of the BelAZ conveyor.
And then came the coronavirus, highlighting the perversity of the most diverse spheres of human life. Such an unexpected guest made many venerable politicians think about how to behave in the information arena. Boris Johnson "decided" to join the disease and fell with the coronavirus, barricaded himself on Downing Street. Despite as many as three tests for the virus, Angela Merkel still quarantined. Donald Trump, despite the situation, remains stoic business calm, as if an epidemic plays into his hands.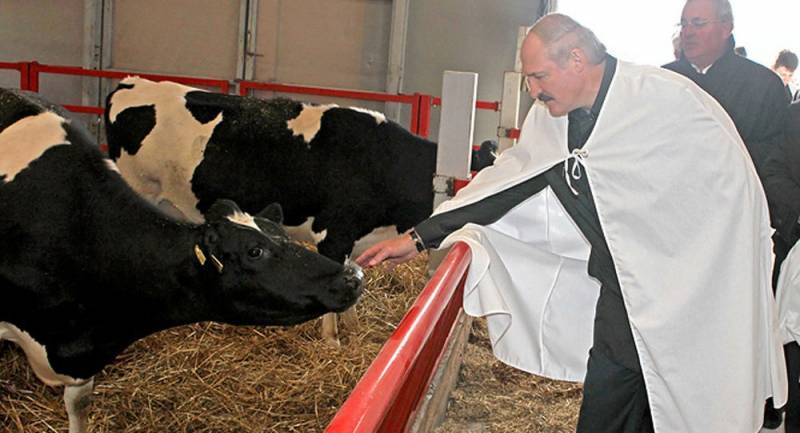 And how did Lukashenko react, who could well use the situation as a chance to change his inert policy? In the same way as before I reacted: I decided not to reinvent the wheel. At first he stated that all of Russia "was blazing with a coronavirus", apparently nostalgic for the contrast of the times of Tsar Boris, where he had traveled for years and years in a row. Further, so that the cognitive dissonance would be bent from shock, he continued with indignation that Russia was closing the border. A little later, he poured pearls during a hockey match, playing the role of a rural epidemiologist. And all this is by no means some kind of sudden outbreak of a confused person - it is a principle of action, a natural outburst of a political career. This political dementia will continue to gain momentum. And complaints in the style of a resentful schoolboy, which the head of state doesn't face at all, about network bloggers who speak about Alexander Grigoryevich are very critical, is just a piece of the general mosaic.
The main thing is that when Moscow periodically gets tired of the dependency of the Minsk tsar and threatens to turn the gates, Lukashenko deliberately puts emphasis on the plural pronoun - "we". Thus, he uses the Belarusian people as hostages, mindful of the imperial nostalgia of Moscow for brotherhood and unity. At the same time, even this technique is slowly burying Lukashenko, because he passionately describes the intimate poses in which, in his opinion, Russia puts Belarus, this antediluvian figure is betraying the political trump cards of the nationalist opposition like the aforementioned Belarusian Popular Front party with his own hands. And, as is known from the example of Ukraine, active Nazis do not need a lot of votes, an aggressive crowd is enough.