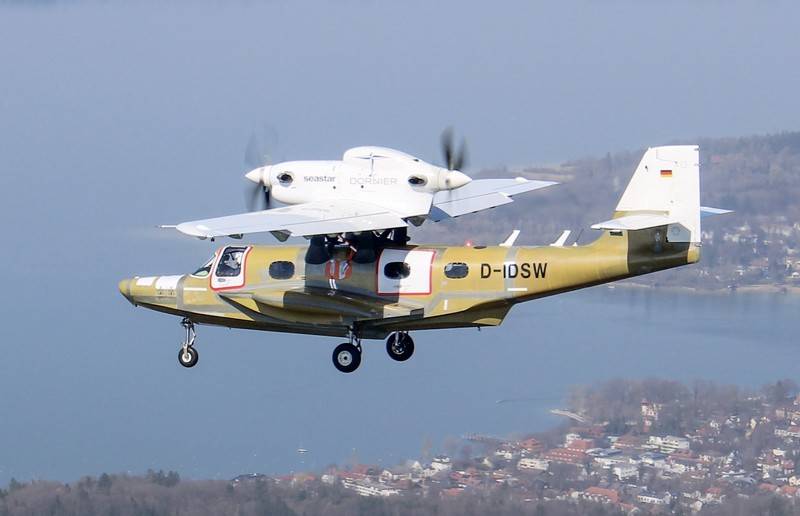 In Germany, the first flight tests of a new generation Seastar CD2 amphibious aircraft passed. The aircraft was created by the German company Dornier Seawings on the basis of a basic model developed back in the 80s of the last century. It is reported by Flightglobal.
Tests of the new aircraft with a tandem engine arrangement took place on March 28 this year. The plane taking off from the airport of Oberpfaffenhofen (Germany), spent 31 minutes in the air. According to the developers, the tests are recognized as successful.
The twin-engine multi-purpose turboprop amphibious aircraft Dornier Seastar was developed in the 80s of the last century under the leadership of Claude Dornier Jr. (son of the famous German aircraft designer). It was assumed that this aircraft will be able to revive the former glory of Dornier flying boats, but due to bankruptcy of the company, it was not possible to launch it in mass production. In total, two aircraft were assembled.
The design of the Dornier Seastar was in many respects similar to the traditional Dornier flying boats of the 1920-1940s, with wide sponson fuselage floats and an elytron arrangement of a combination of engines with pulling and pushing propellers.
The aircraft has a length of 12,7 meters and a wingspan of 17,7 meters, with a maximum take-off weight of 5,1 tons. Dornier Seastar CD2 is partly different from its predecessors of the 80s. Composite materials, new airborne systems and a glass cockpit with the Honeywell Primus Epic 2.0 avionics system, fully digital equipment, etc. are widely used on the aircraft.
The crew is one or two people, with a capacity of up to 12 passengers. Two Pratt & Whitney Canada PT6A-135A-478A turboprop engines with a takeoff power of 650 hp were installed. with four-blade propellers McCauley 4HFR34C760 / 95DA, retractable chassis Sumitomo. A water jet is installed in the tail section.
Declared cruising speed - 333 km / h, maximum range - 1670 km. In economic mode, with one engine turned off, it can patrol over the sea for up to 11 hours.