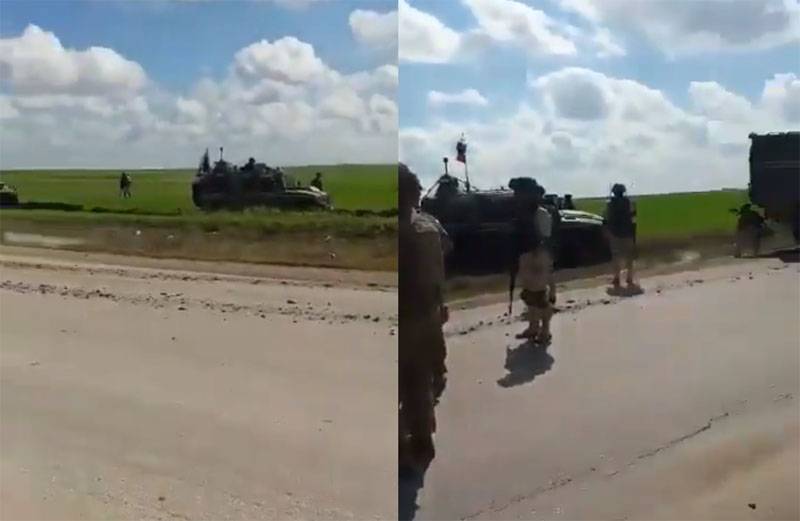 The Western press, as well as resources controlled by the Kurdish military-political forces of northern Syria, relish the episode with the next blocking by the American contingent of the road to patrol the Russian military police.
Oshkosh armored vehicles of the US troops blocked the asphalt road in the north of the SAR, as previously reported by the Military Review. As a result, the Russian military decided to bypass the "traffic jam" on the ground. But, as it turned out, the soil was too wet and soft in this place, and the Russian Tiger armored vehicles could not continue moving.
From the stuff on Defense Blog:
A Russian military convoy tried to get around an American checkpoint and was stuck in the mud on the field. The Russian Tigers and BTR-82A tried to get around the checkpoint, but got stuck in the mud, and they had to be pulled out with the help of Typhoon-K.
On the pages of the social networks of Kurdish users of the north of Syria, malicious comments and ridicule about the "inability" of Russian armored vehicles to go off-road appeared on this occasion. Traditionally, bloggers in Ukraine also picked up an incomprehensible "delight". At the same time, one and the other were reminded that a relatively recent case occurred with American armored vehicles. MRAPs also got stuck in Syrian mud and were forced to ask for help to get on the road - using a rigid coupling.
By the way, the material of the mentioned Defense Blog refers to the "American checkpoint." But this does not indicate the international agreement by which the United States equips the checkpoint in Syria, as well as from when the road blocked by armored vehicles became known as the checkpoint.
US troops 'dumped Russian Convoy in mud' in Syria pic.twitter.com/W0ozTN2cBj

- Dylan Malyasov (@DylanMalyasov) March 31th 2020