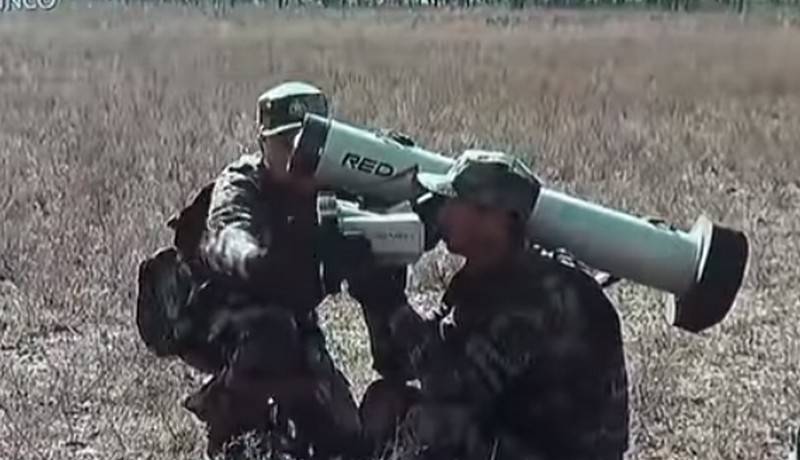 China has begun exporting a "clone" of the American Javelin ATGM, the domestic anti-tank complex HJ-12 Red Arrow. According to the portal defenseworld.net, the Chinese corporation Norinco announced the implementation of the first export contract for the supply of anti-tank systems.
Norinco delivered containers of missiles to a foreign customer last week, according to the planned shipment date, as the customer urgently needed missiles. This is the first export of anti-tank
weapons
3rd generation developed by a Chinese company
- the company said in a statement, while it did not say which country purchased the Chinese complexes.
Materials on the new anti-tank complex HJ-12 were first presented at the Eurosatory exhibition, held in France at the end of June 2014. At the same time, according to representatives of the Chinese defense industry, by the time of the first demonstration at the international exhibition, the promising ATGM had already entered serial production.
It should be noted that the complex HJ-12 Red Arrow even looks similar to the American ATGM FGM-148 Javelin. In an embodiment for use by infantry units, the Chinese-made system is a transport and launch container with characteristic large end caps and a unit of equipment for searching for targets and aiming. The rocket is launched from the shoulder, as when using anti-tank rocket launchers.
According to Jane's, the weight of the transport launch container (TPK) with the HJ-12 rocket is approximately 17 kilograms. The total weight of the complex (container and equipment block) is 22 kg. The length of the container is 1,25 m, the diameter is about 170-180 mm. The guidance system is automatic (fired - forgot). The defeat of the target can go along two trajectories: in the side (frontal) projection or from above. The missile of the HJ-12 complex carries a tandem cumulative warhead. Representatives of the NORINCO company claim that this product is capable of piercing up to 1100 mm of homogeneous steel armor, covered by dynamic protection.