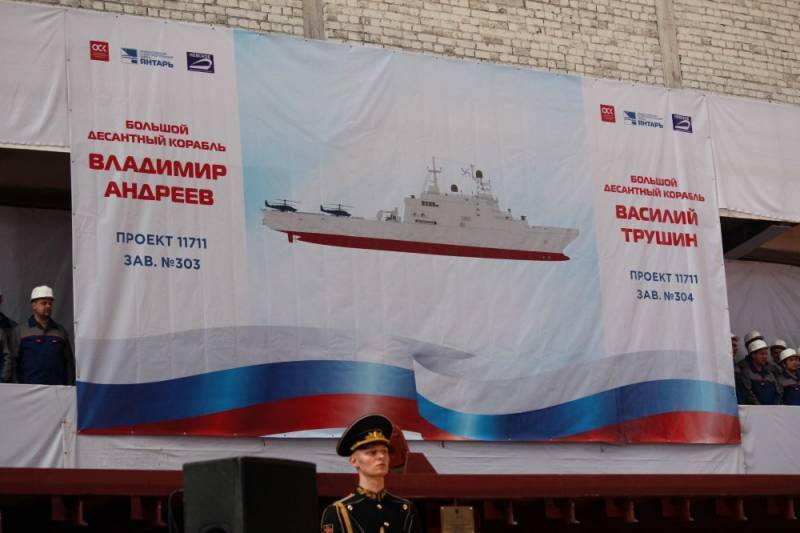 The construction of a pair of large landing ships (BDK) "Vasily Trushin" and "Vladimir Andreev" of the modernized project 11711 is behind schedule. This was reported by TASS with reference to a source in the shipbuilding industry.
The construction of two BDKs of the modernized project 11711 at the Yantar Baltic Shipyard is behind schedule. The reason for the lag is the untimely transfer of design documentation to the ships. At the same time, the lag behind the schedule is not specified.
The delay in construction was due to the untimely provision of working design documentation by the designer
- said the source of the agency, adding that at present both BDKs "are working on the formation of buildings."
The press service of Yantar declined to comment on this information.
Recall that the third and fourth BDK "Vasily Trushin" and "Vladimir Andreev" increased to 6-7 thousand tons of project 11711 displacement laid on April 23, 2019. Russian President Vladimir Putin attended the bookmarking ceremony via videoconference. During the laying of the ships, Putin said that he expects that the planned construction time for newly laid ships in the Russian Federation will be met, since this is of great importance for the country's defense.
Meanwhile, the press service of "Yantar" explained the situation with the BDK "Peter Morgunov" returned to the enterprise. According to the press service, the ship returned to Yantar due to the successful completion of the next stage of sea trials and to "close several mooring certificates." After their end, the BDK will return to the sea again. It was previously reported that the BDK interrupted sea trials for an unknown reason and returned to the CVD.