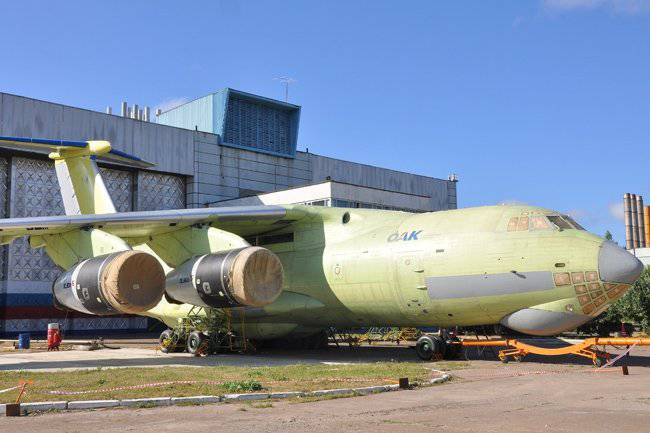 The first experienced, upgraded Il-76MD-90А transport aircraft was built at the Aviastar-SP aircraft factory in Ulyanovsk and is preparing for flight tests. The first flight of the aircraft is scheduled for August. This ARMTASS correspondent reported in Aviastar-SP.
Earlier, a sample of an aircraft was delivered to Zhukovsky near Moscow for conducting static tests at TsAGI named after NE Zhukovsky.
The IL-76MD-90А aircraft is a modernized version of the IL-76 military transport aircraft. The modernization project was launched in 2006 under the designation IL-476 in order to improve flight performance and increase economic efficiency. On the plane, instead of the D-30 engines, four turbojet dual-engine (TRD) engines PS-90А-76 manufactured by Perm Aviadvigatel OJSC are installed. The PS-90А-76 engine has 14,5 tf thrust and specific fuel consumption 0,59 kg / kgf-h, fully complies with all ICAO standards, which allows it to operate aircraft equipped with them with almost no restrictions. With the same payload, the updated IL-76 has a range of 15-18 percent more than previous versions.
In addition to the new power plant, the IL-76MD-90А has an improved wing and chassis. Due to a number of structural changes, the machine should have improved takeoff and landing characteristics. The aircraft is also equipped with a new avionics, has an improved navigation system.
According to calculations, IL-76MD-90А is capable of transporting up to 50-52 tons of cargo. The maximum take-off weight of the aircraft increased to 210 tons.
The program for the production of modernized Il-476 aircraft implemented in Ulyanovsk is associated with the closure of the production of Il-76 aircraft at an aircraft factory in Tashkent (Uzbekistan).
Aviastar-SP is hoping for the release of IL-190 aircraft to 476, as well as their export to China, Israel and India. In addition to the Russian Air Force, Volga-Dnepr Airlines, which has an IL-76 fleet of 13 units, can become customers of the new aircraft.