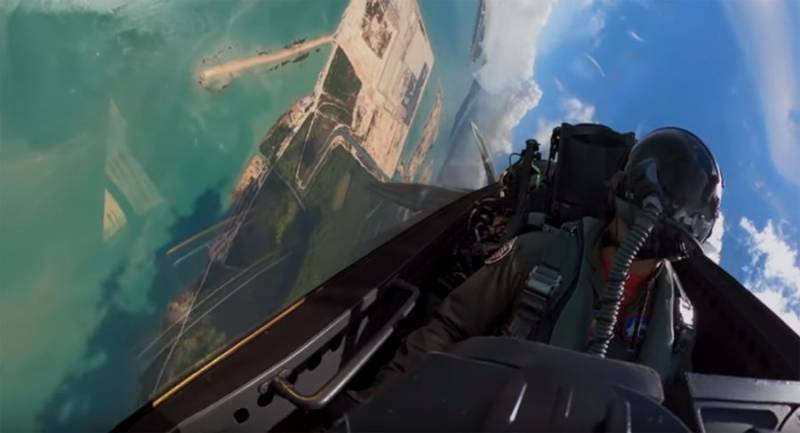 The network discusses the video of piloting an American fifth-generation fighter F-22. We are talking about the publication on the F-22 channel of the Demo Team - a detailed video that was reportedly shot by US Air Force lieutenant Sam Ekholm and presented by Mark Finger.
The video captures the flight, which is performed by Major Josh "Cabo" Gunderson (Josh "Cabo" Gunderson) on the F-22 Raptor during an air show. The aerobatic team, which participates in flights, as it itself reports, is designed to demonstrate the capabilities of the world's first fifth-generation fighter and other aircraft - in different countries of the world.
The aerobatic team is based at the Langley-Eustis base in Hampton (Virginia, USA). For the first time, the piloting of this team of pilots was demonstrated 13 years ago - in March 2007 at the air show, which was held at Tyndall airbase.
Filming shows the "behavior" of not only the aircraft in the air, but also the pilot in the cockpit of the F-22 Raptor.
It is noted that during the performance of aerobatics, the pilot experiences an overload of 9g. The declared radius of the combat turn of the fifth generation fighter. Additionally reported on those weapons that can carry on board an American combat aircraft. We are talking about such weapons as AIM-9, AIM-120, GBU-32, GBU-39, as well as a 20-mm gun.
The rotation of the aircraft around its axis during vertical climb is demonstrated. The American major showed the "barrel", "cobra", the mentioned "combat turn", several other aerobatics.
Users, watching the video, noted Gunderson's high skill and capabilities of the fifth generation aircraft. In the comments, some Americans, apparently impressed by the video, called the F-22 "the best fighter in the world." In the United States, Gunderson's officer is often called an "ace" or "master."
At the same time, it can be noted that everything that an American fifth-generation aircraft does is capable of performing Russian 4th-generation aircraft, for example, the Su-35, without any problems.