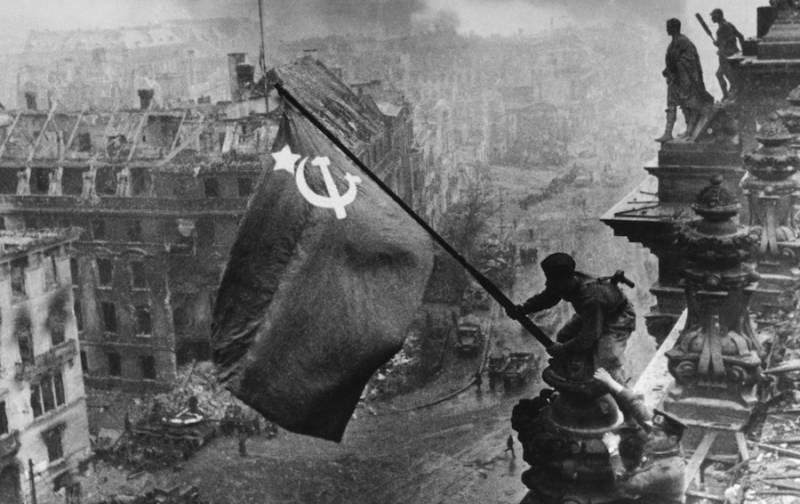 Photo by Evgeny Chaldey (Telegraph Agency of the Soviet Union, TASS)
So, sooner or later we'll have some amendments to the Constitution regarding the protection of the historical heritage, the memory of the Victory, and all that.
Yes, the phrase is read so-so, a certain neglect is felt.
I agree. Immediately, I agree with those who say that it is necessary to deposit. Yes, it's necessary to make, it's necessary ... It's worthless, if everything is going along Chernomyrdin with us? Well, they'll bring it, it's necessary to store. What's next?
Yes, gentlemen screamers, then what?
And, as I understand it, further (since everything is spelled out already in the Constitution), we will tremblingly preserve it, protect it, and not let anyone with dirty paws in
history
, to teach the younger generation, our grandchildren and great-grandchildren if ...
If there is anything. I mean, if we pay.
Now the most active part of readers will begin to ask a question: what are you talking about, the author?
And I'm talking about the fact that the Soviet times, when children and youth were brought up on the examples of the past, have sunk into oblivion. And we have market relations. And in them there is no place for patriotism, love for the motherland, knowledge of history, if you do not pay for all this.
Not those times, you know ... And every heritage has its own master.
You don't have to go far for examples, at least once a month various individuals sue us trying to earn money by allegedly "violating their copyrights".
In general, of course, everything is fine with the so-called copyright. This is a business that makes very good money. And each such resource, which will be discussed now, has a whole department that scans the Internet day and night in search of clues for earnings.
And they find.
By the way, many readers ask me why, talking about planes and now about cruisers, I carefully circumvent the topic of Soviet technology.
Yes, that's exactly why.
When I had the opportunity to remove equipment in the museums of Padikovo and Verkhnyaya Pyshma, I shot and boldly wrote. And here came the plug. To buy from some kind of "copyright holder", which is often not even the copyright holder ... Since there is a very harmonious system for receiving money by offices that have nothing to do with real copyright holders.
So what about him: it's more expensive for yourself (more precisely, "VO"). Who cares, check out how much one photograph costs for a single placement today. You will be pleasantly amazed.
But back to the topic of conversation, or rather, continue.
Recently we received another "hello" from ITAR-TASS.
This is an article by Alexander Samsonov dated July 10, 2012
"Operation" Fishing for sturgeon. "To the 70th anniversary of the fall of Sevastopol. Part 2"
and an article by Dmitry Nikadimov dated July 27, 2016
"The German command:" Kill all Russian ". Part 2"
.
Alexander has 8 photos in article. Of these, 1 is Soviet. The rest are made by German photocovers.
Dmitry has 6 photos.
And this is what FSUE ITAR-TASS exposes.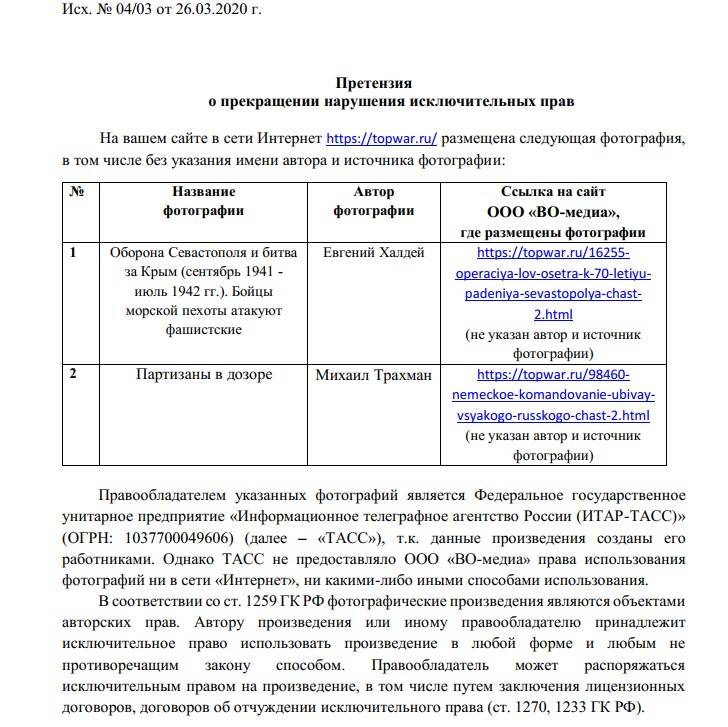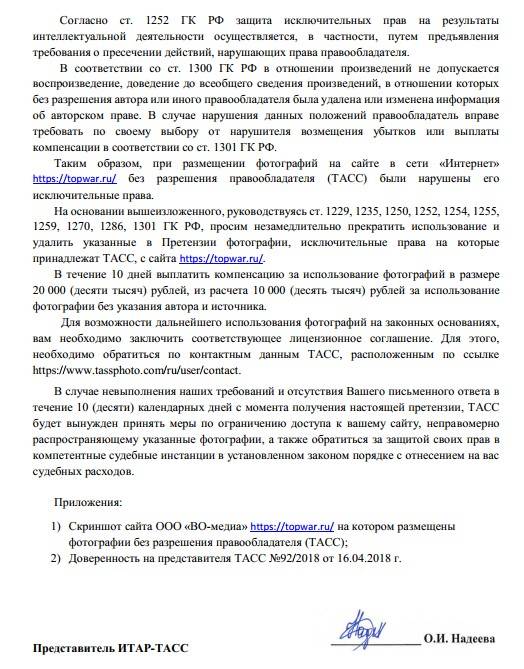 I agree, it's not very good when the author and source of the photograph are not indicated. Indeed, both incorrectly and illegally. And in a good way you need to delete the photo.
But let's look at all this from a slightly different angle.
What does ITAR-TASS exhibit?
1. Conclusion of a license agreement of VO-Media LLC with ITAR-TASS.
2. Removal of photographs owned by ITAR-TASS.
3. Payment of 20 thousand rubles for the use of photographs.
By the way, the requirement is written in the text with an error. They were in a hurry, without feeling their feet for joy.
And if the claim is not satisfied within 10 days - of course, an extensive arsenal of threats. The easiest of which is the court. And ITAR-TASS will also be "forced to take measures to limit access to your site."
Like this. If suddenly, you know where to turn with questions.
I won't dive into the depths of jurisprudence; I'm only interested in one detail. "And who are the judges?"
To do this, look at the one who made the claim. At ITAR-TASS.
ITAR-TASS

So, the sole founder of ITAR-TASS is the government of the Russian Federation. And here questions raced ...
What do we get? But it turns out not very beautiful. The Russian government is actually engaged in usurping the right to information. Yes, ITAR-TASS will simply get rich on the archive of photos that they got "for free." On the rights of successors.
It turns out that even the photos of Chaldean, Carmen, Alpert, Balthermanz, Ignatovich, Zelmanovich, Strunnikov, Ryumkin, Shaikhet, which have long been made publicly available, are illegal?
It turns out like this. That is, now, in a free and democratic Russia, we will have to pay for what was created back in the days of the USSR, when today's business managers, excuse me, were not in the project?
Yes. The law is strong, but it's law.
It is clear that they will definitely not search for those who posted the photo on the Internet. As well as delete. What for? Catch, catch, fish, big and small.
We, again, will not consider the legal side of the issue. Let specially trained employees from both sides do this.
I'm talking about how to educate, educate, persuade, finally. How to deal with the indifference of youth, with the fact that today in open social networks there is an open war for the brains (or rather, the embryos of brains) that are growing to replace us.
So the change is growing. Knowing nothing.
What can I say if the entire history of the Great Patriotic War in the textbook takes 7-8 paragraphs, depending on the creator? We already wrote, compared. Ah, how bad everything is in Ukraine, right? Five paragraphs. And Belarusians had 12, if my memory serves me right. That is more than ours.
Supplement? Fight?
Sure, not a problem. In the Constitution, it will be written that memory must be kept. Here TASS will be stored. And multiply your profits.
And everyone will be what? That's right, carry money to the ITAR-TASS cash desk. That is, the government of the Russian Federation.
No, that's fine. But for some reason, it's customary to maintain patriotism all over the world, but it's customary to make money with it. Capitalism, you know ... Market ...
Well, the words of the next speech of the same president, crowning the May 9 hysteria that we are obliged, must and everything else ... Yes, we are obliged.
Obliged to pay the right to be patriots. Otherwise they will come and demand. To the state treasury.
The funny thing is that ITAR-TASS, which today is proudly trying to call itself "just TASS," has absolutely nothing to do with the pictures on which it makes money.
Tell me, what's so? Copyright ... So this is the question: if the state claims that we need to preserve memory, work with young people and all that, then we need to act differently. At least in relation to those who are really trying to work in this direction.
Give the opportunity to work.
And by this I mean open access to documents, photographs, films. Take it, gentlemen, patriots, work. Sow in the minds and minds of the sensible, kind and eternal!
According to President Putin. It is very necessary to keep the memory. We introduce into the Constitution.
Interestingly, the price tag on patriotism will also be in the Constitution?
Of course not. He will remain behind the scenes. In order not to frighten those who want to write about the feat of fathers and grandfathers and (here it is, a moment of good luck!) Post a couple of photos for illustration.
Although in the case of Samsonov, one was enough. To the joy of ITAR-TASS.
Here is the answer to the question asked. Why not write about the Soviet past tomorrow. It may be disadvantageous. It's not always (or rather, very rarely) you can determine exactly whether they will rip you off for posting a photo or not. It belongs to someone or how.
Under the pressure of our admirers of ships, who openly tortured questions on the subject of Soviet cruisers, I decided that after all, the Svetlana type were worthy ships that were in no way inferior to their analogues. But no. It is unrealistic to make a normal story about a ship without showing it. Agree, this is so.
To run the risk of fines and thereby bring the entire publication? Sorry, no. More precisely, you don't have to dismiss, because there is simply no desire to write on this topic. As well as looking for someone to pay so that you can post material both about the Soviet cruiser Red Caucasus, for example, and about its crew.
Many noted that materials about the heavy cruisers of Japan were with a very colorful accompaniment. I'll tell you a secret: I just found a forum of ship fans and asked them to help with photos of Japanese heavy cruisers of World War II.
In general, the Japanese, it seemed to me, are all fans of the ships of the past. Well, or almost everything.
It was amazing, by the way. The mail burst, because so many photos were sent ... And until now letters have come on the topic "Do you want to write about our light cruisers?" And what about destroyers? And what about the battleships? "
Well, yes, of course, exotic: Russian, respectfully speaking about Japanese ships.
Approximately the same with respect to any other country. For some reason, there is absolutely no fear when posting photos of British, German, American ships. Italian and French planes.
I don't think they give a damn. Just a different approach.
Pay for the right to tell / for the right to show. Talk about the deeds of our ancestors, show their faces. To know, to remember. To tell about battles that did not find a place in history textbooks, to show the frozen moments of that great war ...
Everything is possible. Fill out the application, enter into an agreement and pay the bill. Yes, and do not forget the license agreement.
Where, in what country of the world can you still find this? No, maybe you can find it, just what part did they take in that war?
Such a disgusting taste, to be honest. But alas, nothing can be done. It is unlikely that we should expect improvements, I think that now such a struggle will go down in history that there will be no wet place left from it. As always with us, however.
I don't know how other authors will look, but in this light of recent events, and even in such a crisis, perhaps ITAR-TASS writes historical excursions. An overhead affair is playing patriotic education with the state.
Nowadays patriotism is getting a little expensive. As a form of "Unarmia." And with about the same degree of effectiveness.
Of course, it's stupid to madness to take money from those who would like to bring light into the darkness of historical illiteracy. But since the state so needs money to educate its citizens, well ... I wish you success in this sweet and profitable business.
And we will talk about something less costly than patriotism and memory.
At least, until these in the government will not reach what foul nonsense they are doing with their licensing agreements and charging money.
And we won't be surprised when other soldiers of that war will replace the soldier with the flag on the roof of the Reichstag. For which they will not take money.
And what, we have a market. All is fair.