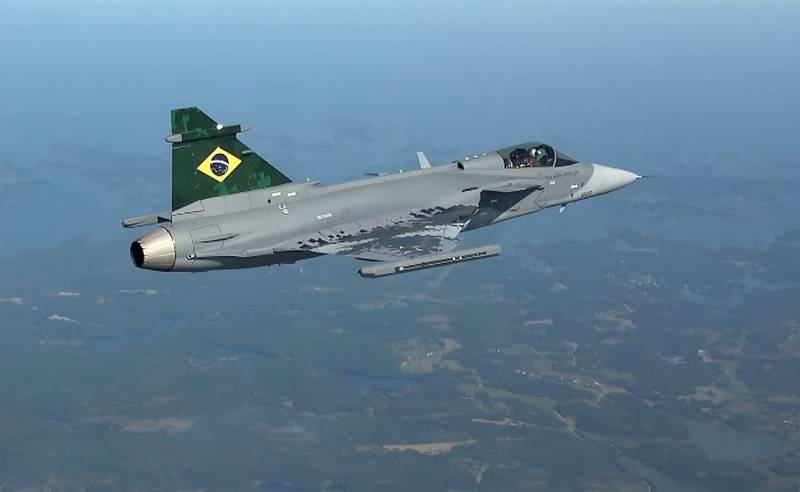 Saab has begun construction of the first Gripen F two-seat aircraft for the Brazilian Air Force. According to the press service of the company, a metal cutting ceremony for the fighter was held at the enterprise in Linkoping, and the first components of the air intakes were assembled.
As stated, the two-seat version of the Gripen F fighter was developed on the basis of the single-seat Gripen E, from which the double is denounced by the installation of a seat, displays and controls for the second crew member. Gripen F will be used both in the training mode of the second crew member and in the mode in which crew members can share the workload by entering various settings on the display equipment used.
The Brazilian Ministry of Defense in December 2013 of the year summed up the results of the tender for the supply of the country's air force to fighter aircraft to replace the obsolete Dassault Mirage IIIE / D, withdrawn from service in the 2005 year. The winner of the competition, which was attended by the Swedish JAS-39E / F Gripen NG, Eurofighter Typhoon, French Dassault Rafale, Russian Su-35, American Boeing F / A-18E / F Super Hornet and Lockheed Martin F-16BR Fighting Falcon, was announced a fighter from Sweden.
In total, according to the contract, Saab will supply the Brazilian Air Force with 36 Gripen fighters: 28 single-seat Gripen E aircraft and eight two-seat Gripen F. Moreover, the contract states that Brazilian fighters must be specially modified to meet the requirements of the customer's air force. In the version for Brazil, Gripen fighters received a dashboard with a central widescreen information display, two auxiliary small information displays and an updated display system on the windshield. Improved flight control system software has also been installed.
It is reported that thirteen fighters will be manufactured at the headquarters in Linkoping, Sweden, eight car kits will be manufactured in Sweden, but assembled in Brazil, and the latest 15 fighters will be built in Brazil from scratch. Aircraft delivery will begin no earlier than 2021 of the year and should end by 2024.