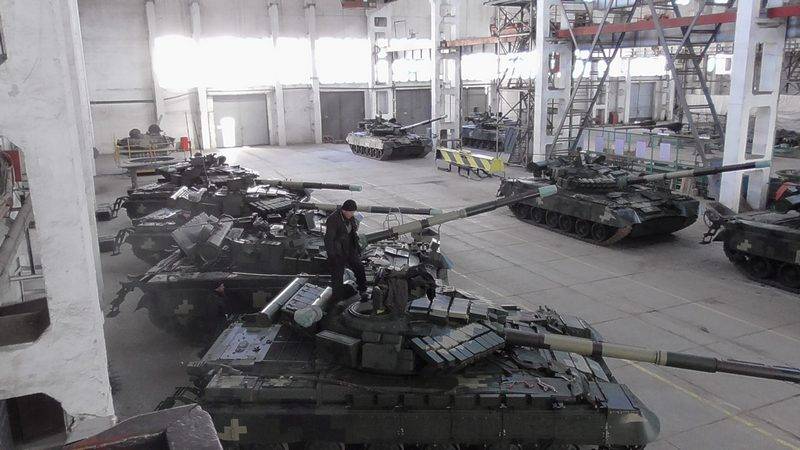 Armed forces of Ukraine received the next batch of modernized
tanks
T-64BV and T-80BV. This was reported by the press service of Ukroboronprom.
Kharkov Armored Plant (KhBTZ) handed over to the Armed Forces a batch of 13 modernized tanks, which included 10 T-80BV tanks and 3 T-64BV tanks of the 2017 model. Shipment of tanks from the enterprise occurred on March 27. As stated in Ukroboronprom, in total, the Kharkov tank since the beginning of hostilities in the Donbass has repaired and modernized about 400 T-64BV and T-80BV tanks.
The T-64BV tank of the 2017 model, modernized by KhBTZ specialists, is the main combat vehicle of the APU armored units. During the modernization, the tank received a thermal imaging sight, a new improved dynamic protection, a Turkish-made digital radio station, night observation devices with a third-generation electron-optical converter, an emergency information warning system, a television environmental monitoring system, and satellite navigation aids.
The upgraded GP "HBTZ" T-80BV tank received similar improvements.
"Kharkov Armored Plant" continues to timely and efficiently fulfill government orders, despite the emergency situation in the region at a special mode of operation of the enterprise during quarantine. Specialists are constantly introducing modern and relevant elements of modernization, thereby ensuring the competitive combat effectiveness of the armed forces of Ukraine
- said the director of the plant Vyacheslav Strilyets.