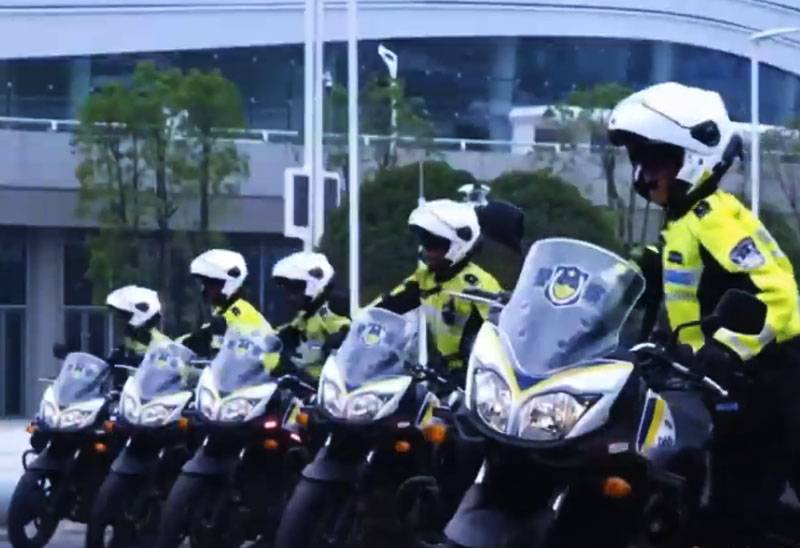 From the Chinese province of Hubei, there are reports of riots and protests. Messages are accompanied by shots where you can see how people clash with policemen trying to turn over cars of law enforcement agencies. It is noteworthy that it was precisely the Western media that began to report one of the first riot events.
The situation in the Chinese province of Hubei tells the American
news
Breitbart network.
Citing eyewitnesses to the incident, the news service reports that the riots initially began on the bridge between the provinces of Hubei and Jiangxi. The reason was that the police allegedly could not share powers to check individuals for a possible coronavirus. According to some reports, the Jiangxi police departments have been transferred to the jurisdiction of Hubei. According to other sources, the skirmishes began when the Jiangxi police refused to open the administrative border with Hubei Province, and people "on the other side" said that opening the border would "kill" them.
After that, the residents of the province, taking to the streets, began to make complaints to law enforcement officers. According to the protesters, during the coronavirus epidemic, police "openly violate their rights."
Soon, police special forces appeared on the streets. They blocked the streets, and civilians shouted outrage against them with their actions. In particular, the claims are as follows:
If the authorities stated that the epidemic was over, then why the police cannot agree on opening borders for free movement inside China.
Wow, mass rioting in China, where citizens trying to cross a bridge between Hubei and Jiangxi. Stiff police control due to # COVID19 fears seem to have provoked people

Source; @fiteray pic.twitter.com/dxZOHpwmmB

- Ragıp Soylu (@ragipsoylu) March 27th 2020
Residents of Wuhan and other cities in Hubei are shouted out to keep them home. On this basis, the Chinese from Hubei, according to Breitbart, "feel discrimination even from their compatriots from neighboring provinces."
Canadian Information Service
Globe and Mail
writes that officials representing the Communist Party of China arrived at the place of passions. One of them, through a loudspeaker, called on the crowd to disperse, as "people expose themselves to the danger of infection." This caused an extremely negative reaction, which led to new skirmishes. On this basis, Canadian reporters concluded that the CCP is now "poorly controlling the situation amid the coronavirus epidemic in Hubei Province."
These videos have already been removed from WeChat and Weibo, presumably by the #CCP. pic.twitter.com/q1U5IdZ0sY

- Things China Doesn't Want You To Know (@TruthAbtChina) March 27th 2020