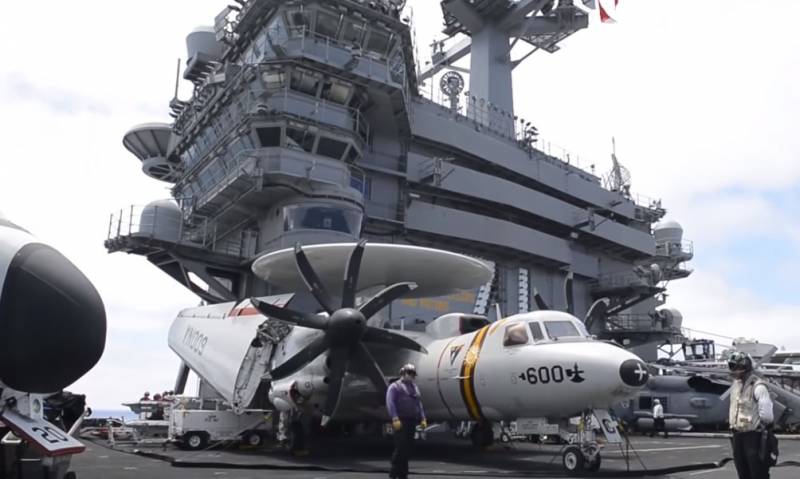 From the USA, reports come that the command of the country's naval forces has made a final decision about the aircraft carrier Theodore Roosevelt. Recall that on an aircraft carrier 25 cases of seafarers' infection with a new type of coronavirus were previously detected, after which the U.S. Navy began to discuss the question of what to do with a warship on a combat mission in the Pacific Ocean.
According to the latest information, the aircraft carrier, on board of which there are more than 5 thousand people, arrived at the naval base of the island of Guam. At the same time, when reporters asked the Acting Secretary of the United States Navy how many sailors were currently infected with COVID-19, the official said that he could not accurately answer this question.
It became known that the first cases of coronavirus infection by American sailors aboard the Theodore Roosevelt appeared approximately two weeks after the US Navy ship entered the Vietnamese port of Danang. The United States Navy Command claims to "see no direct dependency," adding the following:
At the time USS Theodore Roosevelt entered Danang, there were only 16 cases.
Meanwhile, the Pentagon reports that after the arrival of "Theodore Roosevelt" at the US Navy base on the island of Guam, the crew of the warship is quarantined, the duration of which will be "up to a month." We are talking about the naval base of Apra.
Against this background, data appeared on the difficulties faced by the pilot service of Apra Harbor. The fact is that the aircraft carrier's draft is 11,3 m. In this case, the draft of ships that enter the so-called inner harbor of Apra Harbor should not exceed 9,8 m. There is also an external harbor in Apra Harbor, where there is more depth, however, there were problems for the aircraft carrier due to the presence of reefs scattered around the harbor, as well as shallow areas.
According to experts, the arrival of the aircraft carrier "Theodore Roosevelt" in April was a real test for the pilotage service, not to mention the service of military doctors. The medical service is busy identifying everyone who is infected with the new coronavirus. To do this, the necessary test systems have been delivered to the island - the work ahead is large-scale.
The whole problem for the US Navy at the moment is that the aircraft carrier actually dropped out of planned use for at least a month. In Guam, members of his crew will have a long quarantine, and the ship itself will be subject to a "capital disinfection", for which hundreds of US Navy and other forces and services will be involved. Moreover, all of them must be provided with special protective equipment.