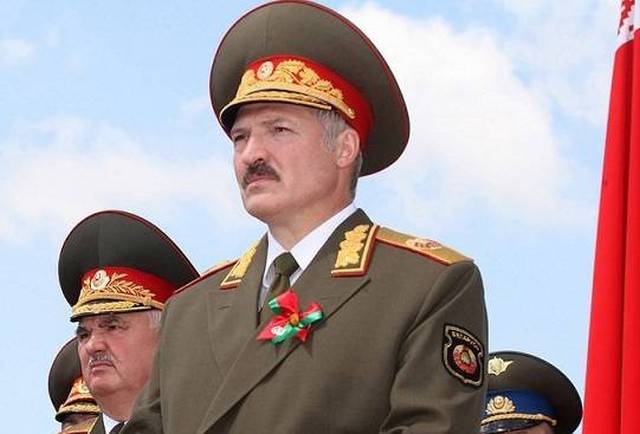 Identification of Lukashenko
There is such a theme, widely known, vividly and convexly shown, for example, in the first film about Rambo. A hero who returned from the war and did not receive not only due recognition from society, but also did not find a place "in civilian life". And much has been written and filmed about this, and the internal psychological conflict here is quite understandable. From the domestic one recalls a sad tale about a pilot, twice a hero of the USSR, who after the war relied on a bust in his hometown, but ... housing was not supposed.
For some reason, it was Mr. Lukashenko who actively played this role and actively (in a difficult situation for himself) raised the topic of "some trenches". And about the fact that there were so many years ago. That way surprised and resentful: are you guys? We are with you ... Well, if the head of Belarus loves to try on the greatcoat of an old soldier, then I would like to answer on this topic.
In general, Alexander Lukashenko did not fight. And practically none of his entourage participated in any hostilities and did not intend to participate. This is so offhand. The partisan generation left a little earlier and neither Lukashenko nor his closest associates have anything to do with it. This moment must be indicated. It's difficult, you know, to live in someone else's glory, all the more so to claim it. In general, the generation of WWII veterans today has almost passed away.
The question is not whether it is good or bad - the absence of war veterans in the leadership of the Republic of Belarus, the question is that it casts doubt on all these "trench discussions". It sounds strange. No, since the time of the Roman Empire itself, it was very popular to begin the career of a civil servant as a grassroots commander in the legion. It was so. It was impossible otherwise. All this is understandable, even on an emotional level: if you love the Motherland so much that you simply cannot live without a state duty, then why not take part in hostilities?
And the military uniform looks beautiful, especially the general's or marshal's. What can I say. But in itself it is incapable of giving heroism. In general, all this tinsel in the absence of real military merit is able to give a Latin American comedic hue.
Belarusians are peaceful people? Perfectly. Then why this topic
in general
lift up? To what? A lot of post-Soviet and foreign leaders do well without this topic in shaping their political image (which of European politicians flaunts parades in general or marshal uniforms? Who from Asian developed countries?). And they feel great at the same time. I understand that the "old man" is impressed by the image of a rude, honest and straightforward old servant, but the whole trouble is that from this standard set of traits Lukashenko has, in the author's opinion, only rudeness.
Excellence Lukashenko
As a matter of fact, this is exactly how they are constantly trying to file it in Russia. Yes, rude, yes, harsh, but straightforward, but loyal and honest. Say, many do not like the bitter truth told in person, and all that. The image, of course, is powerful and collective, the trouble, perhaps, is that Lukashenko himself does not actually correspond to this image. The man is completely different.
There is no "honesty and straightforwardness" in his personality. Originally. As a matter of fact, this is precisely why the author trusted Trump or Obama, Poroshenko or Yanukovych much more. They simply did not try to pretend to be what they were not. "Saying not quite the truth" is one thing, it's important to portray a completely different person (and even believe that you are one) —this is something else (I immediately want to check the documents and clarify the facts of the biography). Strictly speaking, taking into account its capabilities, Russia had even more "trenches" than the late USSR. Much more. Two bloody wars in Chechnya. The attacks. Numerous terrorist attacks, terrorist attacks with massive casualties.
The attack on the peacekeepers in Ossetia, the war of the "Three Eights." The war in Syria and the Donbass. And each time, according to the words of political scientist Suzdaltsev, in a difficult moment for Russia, we had the good fortune to watch the Belarusians quickly running for cover. Then, when the situation "settled down", Mr. Lukashenko again arose "out of nothingness" and began to make very smart, very bold and very harsh statements. With such peasant bluntness, without any diplomatic equivocations there.
The problem is that to find him at the time of the enemy attack was categorically impossible (master of disguise and conspiracy). As a matter of fact, literary masters usually sometimes reveal a character through one bright event, where his (previously not so clearly drawn) character plays with all colors and colors. So, for the author, a similar "event" was precisely the uprising of parasites in February 17th (!) And the flight of Mr. Lukashenko to the glorious city of Sochi.
"It's just that Lukashenko loves executive and tough people who are ready to carry out strictly and precisely any order. Just such qualities are most inherent in the military, "the political analyst said in a commentary to Naviny.by. "Lukashenko has always been good to security officials ..." [/ i]
It, of course, is all great, but why then (if you are so "military and tough") at the fateful hour not to stay at home and not "leave the last cartridge for yourself"? One French politician of the era of the Revolution, calmly replied to the proposal to escape from certain death that "They do not carry away their homeland on the soles of their boots." One Byzantine empress in a similar situation stated that "purple is the best shroud." Alexander Grigoryevich, but why run so far and so fast? But no one had stormed the blackbirds?
In general, the most remarkable thing is by no means the ability to pronounce loud and bold words, the most remarkable thing is the willingness to answer for the consequences of these words. Feel the difference. Unconditional respect (regardless of the correctness and political orientation) causes a person who is ready, proudly raising his head, to die. This inevitably arouses respect.
And frank irony is caused by a character who, having been impudent, suddenly begins to panic in front of the threat of harsh reprisal (classic Ukrainian: "Well, what about us?"). You must be able to tell the truth in the eye, even if it is "fraught". If you put on such a beautiful shoulder straps. Mr. Lukashenko's problem with the leadership of the state in his chosen incarnation of "a true colonel" is precisely the complete absence of "great personal courage".
Exactly and no other way. In 2008, it was necessary to clearly and firmly, directly in the face of Mr. Medvedev, declare: "We will not recognize either South Ossetia or Abkhazia." Why was he so afraid of Dmitry Anatolyevich? Yes, of course, Medvedev is one of the most terrible figures in world politics, but, as they say, he took up his tug ... that is, he put on a beautiful military uniform of the commander-in-chief, made a strict expression on his face - please comply. An ordinary man, of course (especially in today's tolerant times), may not be obliged to meet the highest criteria of masculinity, but when choosing the role of a tough paramilitary manager, these exemptions, alas, do not work. It must be consistent.
And in 2015, when talking about the deployment of the airspace base in the Republic of Belarus, it was necessary to say very clearly that this option is not suitable for independent Belarus. Right at the talks in Moscow, right to Vladimir Putin, right in the face. Then there would be much less questions, and much more respect. But for this, apparently, that greatest personal courage was necessary. Instead, Mr. Lukashenko, returning home, suddenly declared that he knew nothing about any base, and a musical motive sounded from every Belarusian iron that, they say, we did not need any base.
That is, "personally in the eyes" for some reason he could not say. Is your throat dry?
The ultimatum of Lukashenko
Every time when insurmountable problems arise in negotiations with Moscow on economic issues, Mr. Lukashenko prefers to quickly move into the "trench theme".
"Lukashenko lamented that Moscow benefits gas sales to the Germans, while Belarusians and Russians" died in the trenches together "(Naviny.by.) The problem here is precisely in the character of Mr. Lukashenko. "Joint trenches" took place before the formation of "independent Belarus". And this practice of "joint trenches" was precisely decidedly stopped by Lukashenko. For 25 years of his glorious rule, "joint trenches" did not take place
never
.
It is understandable if Russia were a big Switzerland or some kind of analogue of the People's Republic of China, that is, it wouldn't be at war with anyone and nowhere. That is, there is a desire to visit "only trenches", but trenches are absent as a class. But just these trenches in Russia over the past 25 years have been above the roof. Just during the reign of a tough, concrete and straightforward supreme commander in chief from "fraternal Belarus."
But somehow he was never seen in these same trenches. Fate laughed cruelly at Lukashenko: he really liked "war games" and "military-style", liked to imagine himself a sort of "unrecognized hero of all wars" (teenagers of different ages usually do this). But he never got to the front. Not at all. Belarusians are peaceful people, and Russian wars are not their wars? Understand. But then it's better to hide the marshal's insignia in your pocket and do not voice the topic of "joint trenches". And talk half a ton lower, and do not "poke."
Otherwise, some kind of caricature is obtained.
- I was not afraid and said that if, as it was always in
stories
, roughly speaking,
Tanks
will go from there to Russia, we will die here for Russia, and our people should be ready for this. Name at least one state that has openly declared that "we will die for Russia."
This sounded in 2006, that is, Lukashenko was so eager to "die for Russia" that he could not sit on a chair. And already in 2008, he suddenly changed his mind to die. And not only die, but even just provide political support.
You say that, first of all, Lukashenko is a cunning, cautious businessman, well aware of the benefits of his country? Absolutely no problem. It's a normal life position. But then you need to behave accordingly, and make your face simpler, and do not clog the mustache, after all, not William the Second.
By the way, neither Hitler, nor Stalin (until the 43rd year), nor Mao, leading the great powers, during the great war in military (military uniform) uniforms. Although they had "trenches", God forbid, with overkill. But it was considered incorrect. And not one of the three leaders spoke in the style of "an old servant who does not know the words of diplomacy." By the way, de Gaulle was just walking around in uniform, being a brigadier general, but for some reason he talked with the electorate in the style of a provincial college professor, and not an old soldier who did not know words of love (although, of course, a Frenchman who does not know words of love is nonsense). The front-line officer, Kemal Atatürk ("Atatürk" is the father of the Turks), having led the state, took off his uniform, but even in a tuxedo he looked exclusively like a regular officer in a tuxedo (not wearing a man's uniform).
It's just completely incomprehensible why peaceful and neutral Belarusians are actively trying to put pressure on the topic of "front-line brotherhood," while categorically not wanting to support Russia anywhere and in any way, neither politically, nor even more so militarily.
Excuse me, Alexander Grigoryevich, you have a different biography and a completely different character for the image of an old soldier to be convincingly played. And with such a mismatch of form and content, the effect is extremely comic. Tragedy turns into farce.
When a person is cautious enough in terms of personal security and with keen interest in large sums of money, such a purely army bluntness: "And to hell, I ask, this union?" - It does not look like courage, but like lack of culture. European politicians, as a rule, are not so expressed. Asian too. In general, in order to speak out as a General Swan (the head is a bone!) And to make it look organic, one must be General Swan. Then yes, and so no.
The trench truth is born in the trenches, and the front-line fraternity arises at the front. In luxurious residences, it is not customary to talk about such things.