"Give me a deal," I said, "for I am a renegade among my kind, and my sword is wet from the blood of my cousin."
R. Kipling. Kim
Weapon and firms.
Just appeared on the pages of "VO"
carbine material CAR 816
which caused numerous comments. Therefore, it is not surprising that today we will continue such an interesting topic. However, we will start not so much with weapons as with
stories
India in general.
This country is very rich. No wonder it was called the pearl of the British crown. But at the same time, it is a very poor country, where 75% of the population still does not pay taxes. And this is a lot. According to data from October 2019, 1,3 billion people lived in India, one sixth of the world's population. On the other hand, India has managed to create its own nuclear weapons and it has very complicated relations with its neighbors: Pakistan and China. Therefore, India has a large army, which its government is constantly trying to provide with modern weapons.
The British, when they owned India, very skillfully used the knowledge of its culture and customs in their interests. For example, during the famous sepoy uprising, many Indians remained faithful to the English sahibs and fought fiercely for their interests, shedding their brothers' blood without a twinge of conscience. The situation with weapons is the same as in the distant past: a lot is bought not because it is better or cheaper, but according to the principle "you to me, I to you", that is, "respect" is given to the right people, appropriate "gifts are given "- here practically nothing has changed since the time of R. Kipling's novel" Kim ". Bribery in India has been the norm since the days of British rule: after serving 25 years in Delhi, British sergeants returned home to England as millionaires. True, now they are actively fighting this evil in the country. However, what is more important? Process or result? At "VO" this issue was also considered, for example, in the material
"More on corruption in Indian arms deals"
dated April 1, 2014), however, be that as it may, in fact, the very high price for the Karakal assault rifles cannot but alarm. But what this weapon is all about, we'll just tell you today.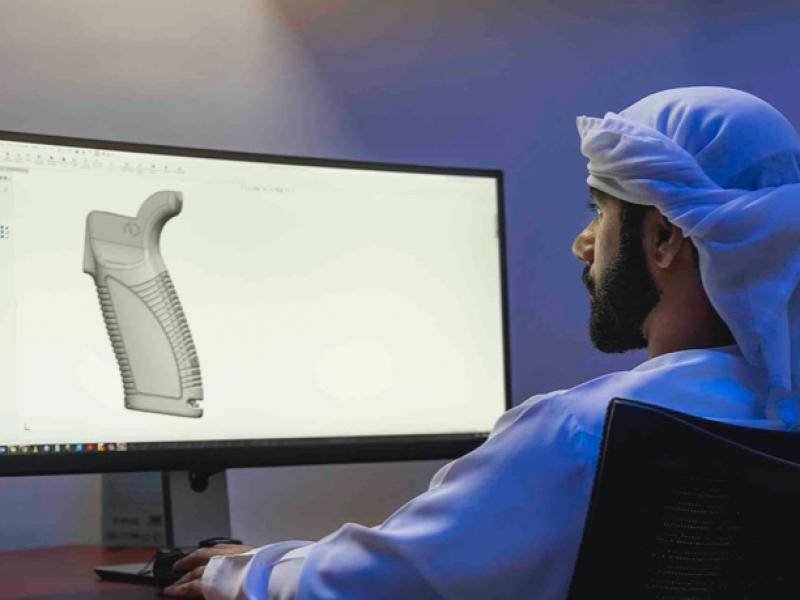 That's how they design these rifles today!
To begin with, Caracal International, with its headquarters in Abu Dhabi, United Arab Emirates, is a regional leader in the production of small arms. "We produce high-quality new-generation firearms on the most modern machines," the company's brochure says, "using some of the best CNC machines in the world, quality control equipment and casting technology for metal and plastic parts. Each stage of our production process guarantees high quality and that all our products comply with strict international standards such as NATO. "
At the same time, the company is in constant creative search. According to the estate of its managers, this is the only way to succeed in the modern arms business. Clients are changing, requirements are changing, technologies are changing.
"We are constantly improving our weapons so that they are in constant compliance with the changing requirements of our customers. As a result, our products allow those who are on the line of fire to have the firepower corresponding to their needs, which they need for the success of any operations they conceived. "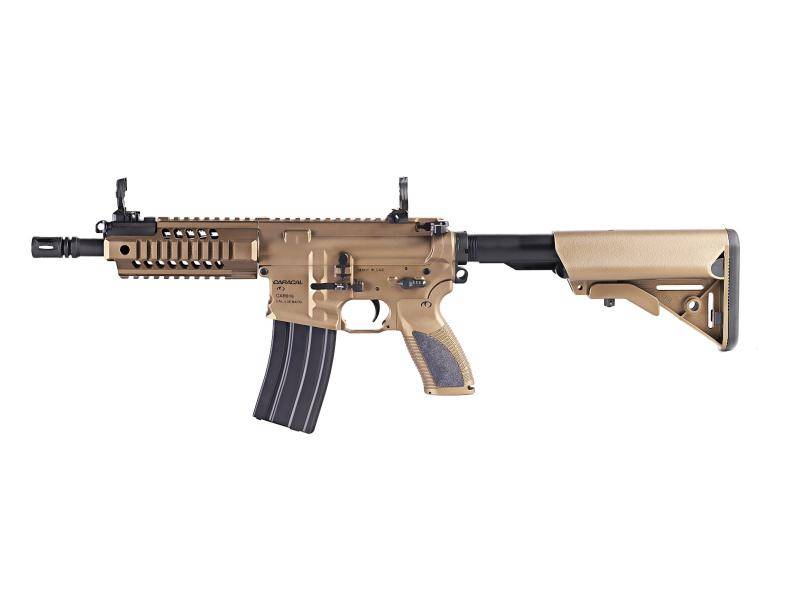 CAR 816 with a barrel length of 267 mm and in the color "bronze"
The CAR 816 rifle, also called the Caracal Sultan or simply Sultan, is an automatic 5,56 × 45 NATO assault rifle. The name "Sultan" was given to her in memory of the colonel of the United Arab Emirates, Sultan Mohammed Ali al-Kitby, who died in battle during a Saudi intervention in Yemen.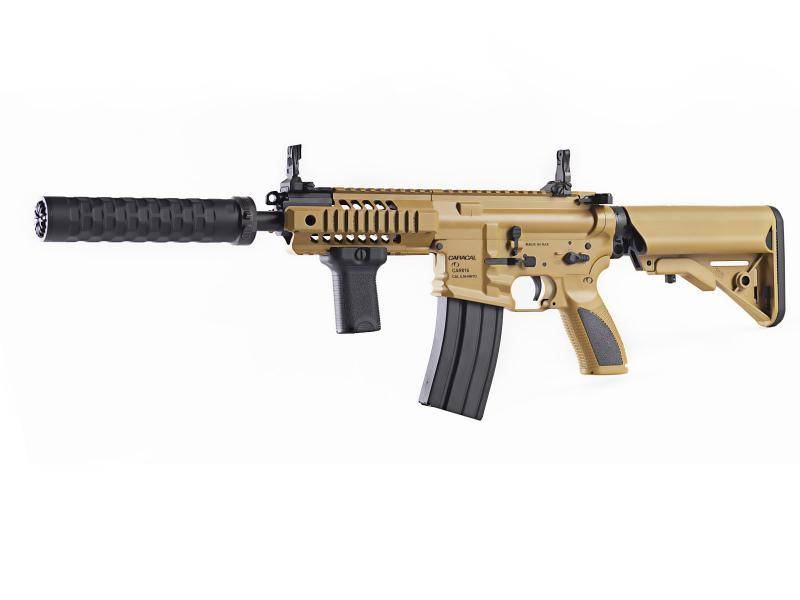 CAR 816 with silencer
The CAR 816 rifle, like many modern weapon systems, is also collected from a pine forest, that is, you can find in it "a Russian hat, and Japanese boots, and American socks and tight Spanish trousers" - everything is like in a song from the Indian movie " Mr. 420. "
Adcor Defense BEAR Elite Tactical Carbine
After the American "arches" (AR) have spread across the planet, they probably aren't let out except by the most lazy gunsmith. Often they are only an emblem on the receiver of the store from the base AR-15 and are different! Well, someone will put a different form of a cover on the sleeve removal hole, someone will think of making recesses under the fingers on the same store receiver or expanding his neck, as the Arabs did on CAR 816, but, in principle, some special there are very few differences from the "arch". Well, except that the direct exhaust gas is replaced by a piston mechanism.
It contains the features of the Adcor Defense BEAR Elite Tactical Carbine, Barret REC7, Colt CM901 rifles, and, of course, many design solutions taken from the German Heckler & Koch HK416 rifle. Which is also not surprising at all, by the way, since the main developers of the CAR 816 were Robert Hirt and Chris Sirua. Moreover, the former was instrumental in the development of the HK416, and then was hired by SIG Sauer to work with SIG engineer Chris Sirois on an improved version of the HK416 - the SIG Sauer SIG516 rifle. Hirta and Sirua were then invited by Caracal to design a rifle superior to both the HK416 and the SIG516. So they went from rifle to rifle and eventually made the model "816", which immediately entered service with the army of the United Arab Emirates.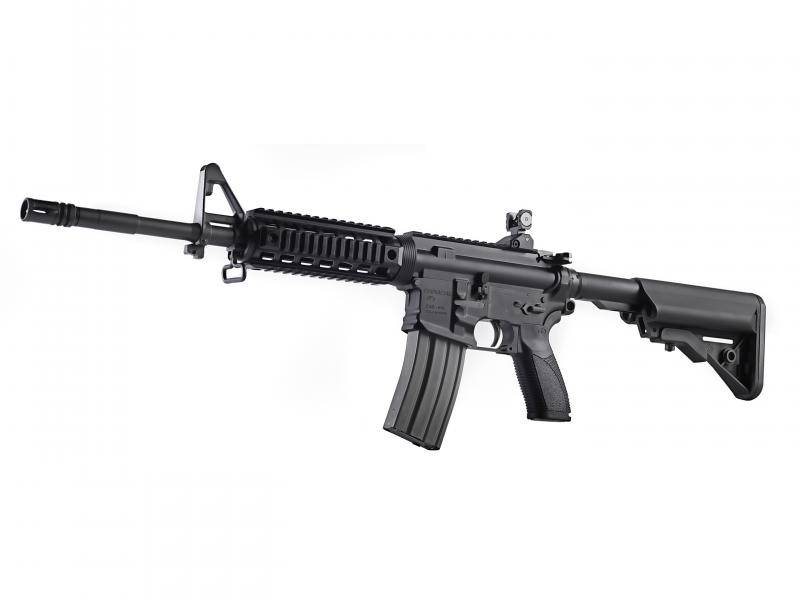 CAR 814
The CAR 816 had a predecessor, CAR 814, which was produced with three types of barrels in length: a compact assault rifle with a barrel length of 267 mm, a carbine with a barrel length of 368 mm, and finally, an assault rifle with a barrel of 406 mm. Three types of fire: single, "automatic", "semi-automatic". Light weight - 3,05 kg without a magazine. Externally, the rifle is very similar to the American M4, but in fact it is its analogue.
Well, CAR 816 was first shown to representatives of the Ministry of Defense of the Emirates in 2013, and to the general public in 2015, so today it is no longer the most modern type of small arms.
But over it, as already noted, the designers had to work a little more, so it even looks a little different in appearance. But the automation is traditional: a gas piston system with a short stroke. There is an adjustable gas valve with three positions. The first position to work in normal conditions. The second position for adverse conditions, when using low-pulse munitions or when the system is dirty. The third position is designed for normal operation, but with a silencer installed. The rifle is available with barrels of different lengths similar to the previous sample, from very short ones for PDW weapons (personal self-defense weapons) to a carbine with a 406 mm barrel inclusive.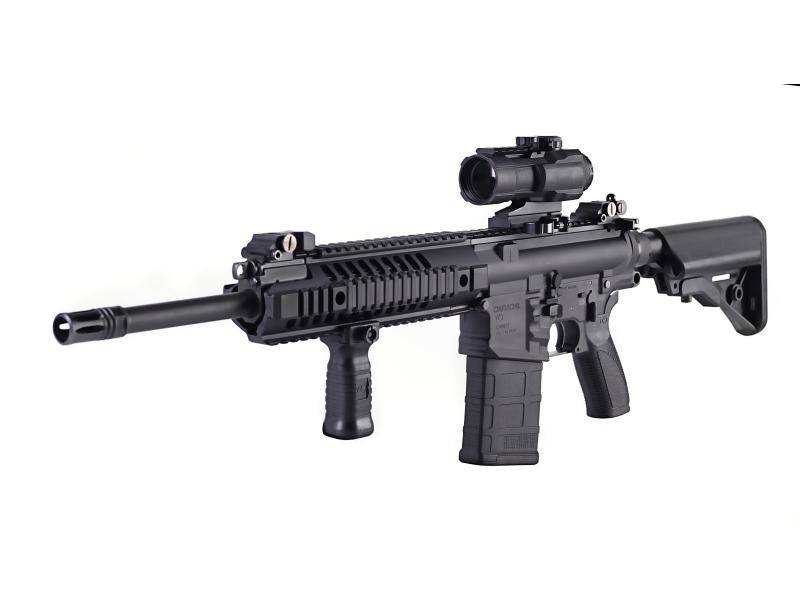 CAR 817DMR
The CAR 817DMR rifle is also available. This is a high-precision semi-automatic sniper rifle, in all respects identical to all other systems that have gas exhaust automation and a rotating shutter. Uses a NATO 7,62x51 mm cartridge (.308 Win). Meals are provided from 10-, 20-, or 25-charge stores.
The CAR 816 is equipped with a telescopic stock that can be adjusted in length. There are 6 fixed positions. A similar butt stock is used on the Barret REC7 rifle.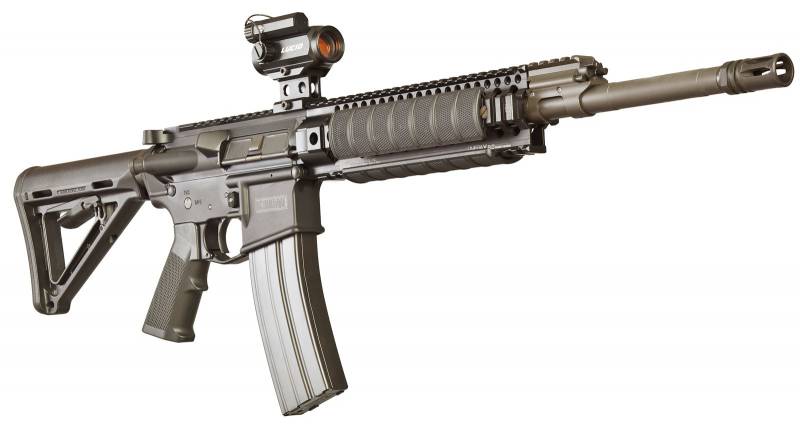 REC7 - an automatic rifle of the American company Barrett Firearms, which is an upgrade of the earlier model M468 (in turn, created on the basis of M16). The machine was announced in a competition for a new self-defense weapon for the US Army in 2008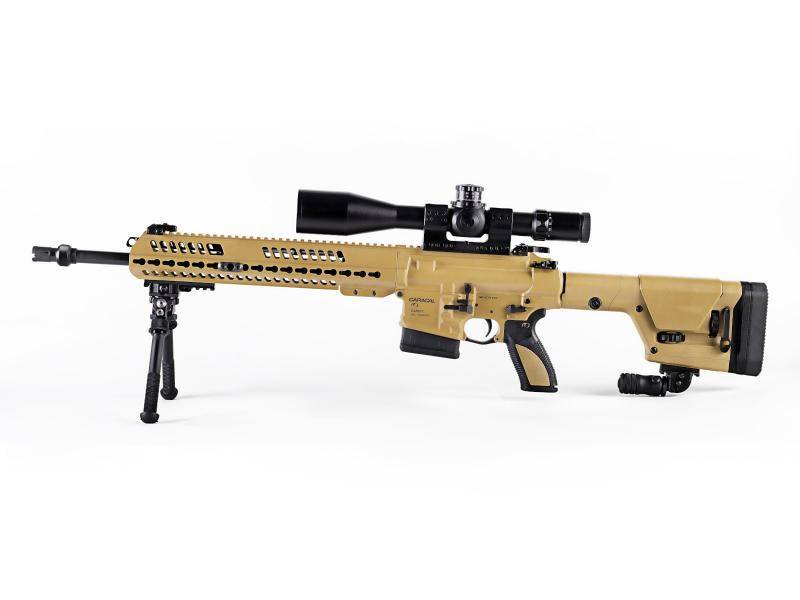 CAR 817DMR2 "bronze"
The rifle has a full-length Picatinny rail, which allows you to install a lot of various accessories on it. Among them are collimator and night vision sights, laser target indicators, tactical lights, handles under the forend, bipod. However, it is unlikely that the Indian side will buy it all. The standard is a complete set of rifles with a set of two removable folding sights. With them, the effective fire range is about 500 meters. The speed of the bullet is 850 m / s, the maximum rate of fire is 750-950 rounds per minute, practical - 40-100.