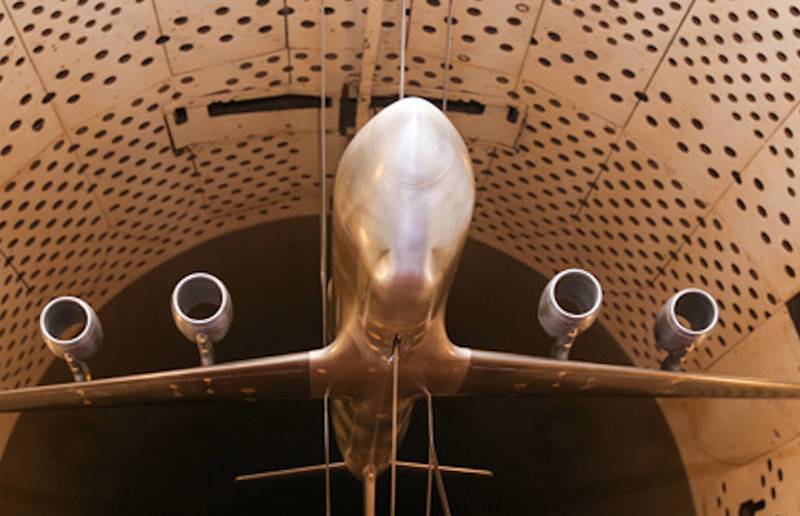 The first cycle of aerodynamic testing of the model of the promising heavy transport aircraft "Elephant", developed as a replacement for the An-124 "Ruslan", was carried out by TsAGI specialists.
Specialists of the Zhukovsky Central Aerohydrodynamic Institute purged a model of a promising aircraft in a wind tunnel, thereby confirming the design characteristics that were determined at the design stage. Checks were carried out in a wind tunnel of variable density T-106 at an air flow rate of 0,2 to Mach 0,85. The second model of the aircraft was apparently purged, since the first, assembled at TsAGI at the end of last year, was without tail unit.
As previously reported, the design of the latest transport aircraft "Elephant" began in 2016 by order of the Ministry of Industry and Trade of Russia. The project involves the creation of an airplane according to the high-plan scheme with the possibility of loading through the bow. The data on carrying capacity vary - from 150 to 180 tons, flight range up to 7 thousand kilometers, speed - up to 850 km / h. Four new PD-35 turbofan engines with take-off thrust of 343,2 kilonewton should be installed on the aircraft.
It is known that the length of the new transporter will be 82,3 meters, height - 24 meters, and the wingspan - from 87,1 to 88,3 meters, depending on the version. The maximum take-off weight of a promising transporter will be from 490 to 499 tons, and the empty mass - 214 or 222 tons. In the future, he should replace the An-124 Ruslan transport aircraft.